Automate Your Client Data Collection Process
You can now automate your client-data collection process in Financial Cents with client tasks & auto-reminders!

Client tasks allows you to automatically request documents from your clients and schedule auto-reminders so you never have to chase down your clients for information again.
In this email, I will give you a brief overview of client tasks and how they work.
Client tasks are found inside your projects because they are meant to help you collect information from your client for relevant work (bookkeeping, payroll, client onboarding, etc.)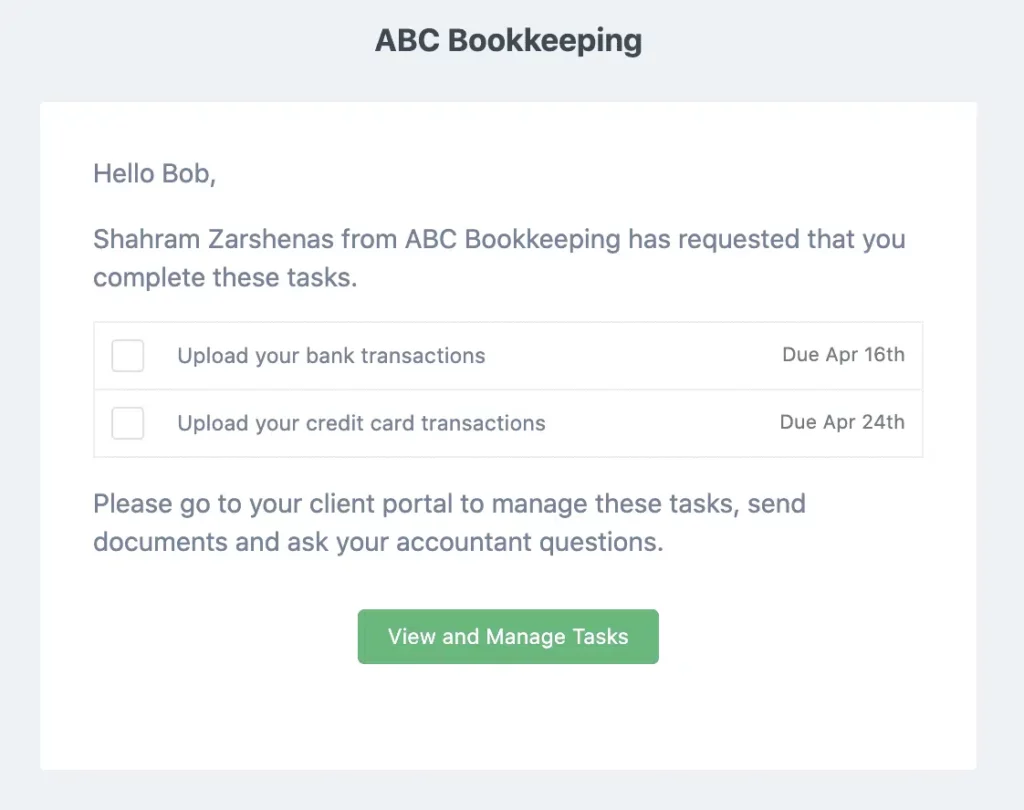 Once inside the "Client Tasks" tab you can start creating tasks for your clients. A client task can be a document request or a simple action. You can also add descriptions, documents and live links to the client tasks.
Once you have finished creating the tasks for your client you can set up automated reminders so you never have to waste time chasing down your clients for information again!
You can send a one time notifications or even schedule automated reminders every few days until they complete the tasks.
Your client will receive the notifications via email where they can follow the secure link to access their portal and manage the tasks. See email below.
Soon we will be releasing an update that will allow you to send notifications via email & text.
When they follow the secure link they will be taken directly to their portal where they can see your firm's brand and view the tasks.
*** We use a secure link technology so your client does not have to create a login or password to access their tasks. This makes very easy for your client to access the portal so you don't have to waste time trying to get them to sign up for a new app.
Once the client is inside the portal they will be able to attach documents to tasks and mark them completed.
When the client attaches a document to a task it will automatically show up inside your "Clients Tasks" where you can download it. See image below.
You will also be notified via email and in the app when a client has attached a document making it is easy to stay on top of your client requests.
Important things to know about client tasks:
If the client tasks are inside a recurring project such as monthly bookkeeping they will recur with the project. You will just need to re-active the reminder settings in the recurring project.
Next week we will be adding a client chat feature to the portal so you can communicate with your clients and answer their questions inside Financial Cents.
Automate your client data collection process with Financial Cents today!