Essential Features to Look for in an Accounting Workflow Software
Author: Financial Cents
I wanted to help small businesses succeed, but I found myself very overwhelmed, not with the client work, but with the administrative stuff where I was either having to hire an admin or systematize. I found systematizing to be a lot more efficient and rewarding. Now, I guide and mentor new and growing bookkeepers to implement systems in their businesses to become efficient and organized, which is a solid foundation for scaling"
Jessica Fox
, Florida Virtual Bookkeeping LLC
People, processes, and technology are the foundation of every accounting firm (like every business), and achieving meaningful results depend on your ability to balance these elements.
For most firm owners, it's easier to get the people aspect right because when things get rough (or busy), they hire more people rather than create processes and buy the right fit technology solution to aid work.
Doing the former gets you a bunch of qualified employees who can't function well because they lack the processes and technology to move  tasks from point A to point B.
Technology and processes work hand in hand to help your firm hit your client work goals and do more in less time, in a secure way. In this article, we focus on one piece of technology every accounting firm needs to get work done and hit their deadlines without getting burnt out – Accounting Workflow Software.
What Is an Accounting Workflow Software?
An accounting workflow software is a tool that helps accounting firms manage their teams to move projects from start to finish.
It stores and organizes work and client information to give firm owners visibility over their projects and staff. It also gives team members the clarity they need over their assigned work.
This ensures that everyone in the team holds as few work details in their head as possible, freeing them up to be more productive and efficient.
Why Do Accounting Firms Use Workflow Software Solutions?
The average accounting firm uses workflow software to:
Gain visibility by

Seeing where client work stands compared with their deadlines.
Easily finding information to give clients feedback and improve client trust.
Spotting and addressing bottlenecks to help their team do more in less time.
In 2022, over 66.7% accounting firms and bookkeeping firms owners highlighted workflow as their biggest challenge.
All of these also help them to make informed decisions to grow their firms.
Avoid missing deadlines due to the inability to track all client work as they approach their due dates.
Know who is responsible for client work so you know who to hold accountable for client work to avoid delays and missed deadlines.
Automate manual, repetitive work, like

creating the same type of work for the same client over and over again, which could increase the chances of human errors.
Work handoff between assignees in client work that pass multiple hands to complete.
Admin work that could reduce your ability to satisfy clients and grow your firm.
Prevent guesswork and ensure consistent client deliverables.
Not having standard operating procedures (workflow templates) to guide your new (or old) teammates can keep them from meeting your firm's standards.
It's easier to grow when you can produce repeatable results in key areas of the business. Having workflows in place allows you to achieve this"
Ryan Lazanis
How to Know When to Invest in an Accounting Workflow Software
Investing in an accounting workflow software never goes wrong, but you need one, especially if
Nobody misses deadlines when they have a client or two to serve. But as your team expands and your clientele grows, your team's productivity will depend more on their ability to quickly find work-related information, know what task is assigned to them, and prioritize work.
Traditional accounting workflow management methods like Spreadsheets and sticky notes wouldn't cut it anymore. Sorting through work data (and guessing the procedures to use) will take your team members more time and effort than they can afford, leading to missed deadlines.
You're Experiencing Busy-Season Overwhelm
You must be tired by now. Every year, you promise to prevent your team members from working their fingers to the bone (up to 60/70 hours a week) from January to April to complete their tax return work.
But you've never been able to keep that promise because your team still does too much manual work.
Using workflow software to document your processes (SOPs) and automating those repetitive tasks will give your accountants more time to satisfy your tax clients during busy accounting seasons.
Essential Features to Look Out for in an Accounting Workflow Software
When you decide you're finally ready to invest in an accounting workflow software, here are the most critical features your chosen solution should have (using Financial Cents features as an example).
1. Workflow Dashboard
"Financial Cents' workflow view gives me a great summary of the status of all of my projects while the capacity management allows me to ensure that I don't overcommit when taking on new projects. Customizing projects is quick and easy."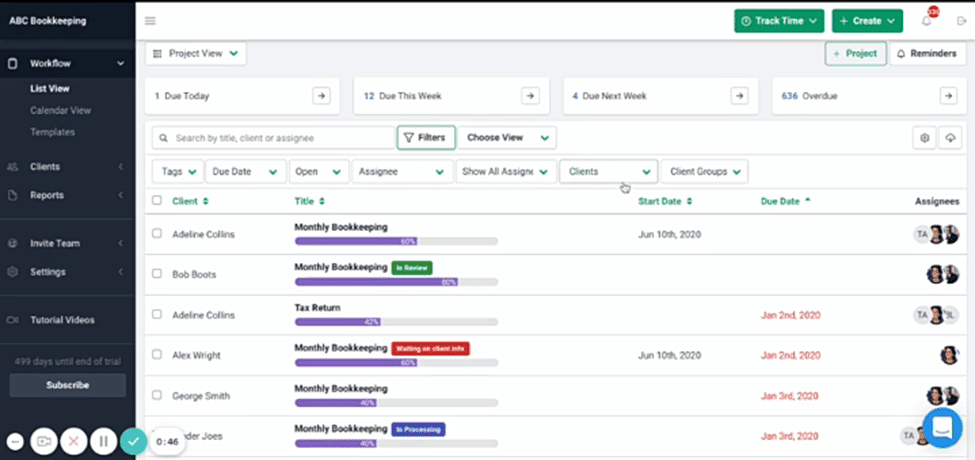 Making decisions that improve your processes and grow your firm depends on how much work, client, and staff information you can find when you need them.
You can't hold enough of the information you need in your brain even if you wanted to. Attempting to do that will keep you from attending to the more strategic functions that growing an accounting firm requires.
Workflow dashboards organize and make your work information accessible to you so that you can
See where you're hitting deadlines or behind schedule.
Know who's overworking and where to redistribute work.
Spot where to adjust your processes for speed.
In Financial Cents, your workflow dashboard provides you:
Workflow Overview
This is where you see what is Due Today, Due This Week, Due Next Week, and Overdue. Having this information at your fingertips will save you unpleasant—deadline—surprises, giving you enough time to meet and exceed client expectations.
Projects
All your firm's projects are below the Workflow Overview tab. Each project represents a client's work and is color-coded to show progress levels. Each project shows the status, the client the work is for, the due date, and assignees at a glance.
Workflow Filters
They allow you to pick out information instead of scrolling through the dashboard to find specific information quickly. You can filter your workflow dashboard by client, assignee, due date, or tags (if you want to see a project by the tags you previously used).
2. Due Date Tracking
"Financial Cents is a task management tool with a simplistic design. It helps organize our tasks by the due date."

Veronica Glac, (Owner, Milky Way Vas)

Meeting client deliverables remains critical to keeping the clients you invest so much into winning. The problem is tracking due dates to meet the deadlines. And missing deadlines is a quick way to lose your clients.
To help you meet client deadlines, accounting workflow software solutions allow you to:
Filter Projects by Their Due Dates
Beyond the ability to see project due dates from the workflow dashboard, you can filter your dashboard to find the work that is nearest to their due dates.
This saves you the trouble of going from project to project to understand which work is due and when.
It gets better. With a workflow software like Financial Cents, you can
Set and Track Internal Due Dates
Some client work requires an assignee to complete some internal processes to meet the deadline for client work (like getting files from the client or colleague or getting approval from the manager).
In that situation, the assignee can visualize the client's work from beginning to end and set deadlines for each internal task so that they can complete all steps leading to the final due date on time.
Set Due Date Reminders
Financial Cents' due date reminders help you remember client deadlines even better.
They remind you when any client work is due, depending on the parameters you set for them. You can set it up to remind you two, five, nine (or any number of days) before any project in your workflow dashboard is due. And you can set up multiple reminders for different days so that Financial Cents will remind you of any project that comes within those number of days to their deadlines. This keeps deadlines from taking your team by surprise.
(You may be interested in due date tracking tips and software for accountants)
3. Assigning Tasks
If the sheer ability to delegate tasks to your teammates is not enough reason to start using a workflow software solution, the ability to know who in your team has room for more work and who to hold accountable for client work is.
For one, accounting workflow software solutions allow you to see the team members responsible for the tasks in your firm at a glance. This visibility enables you to hold the right person accountable (or give them support) for client work.
Also, apart from experience level, assigning tasks to teammates who have the bandwidth for the work helps to ensure work quality and prevents overworking some team members, which could lead to burnout in your team. Because even if you assign work to an experienced employee who is over-capacity, they may not be able to pay enough attention to the work to meet your firm's standard.
Accounting workflows software solutions allow you to see your team member's workload by filtering the workflow dashboard by their name.
In Financial Cents, only the manager can see everyone's workload, but all assignees will have complete visibility over their assigned work.
(You may be interested in the best accounting practice management software options.)
4. Recurring Projects
"Financial Cents provides all of the tools needed to create systems in our firm to ensure nothing falls through the cracks. The best feature for us is the ability to have recurring projects and tasks."

Angel A., Accountant
Accountants deal with a lot of repetitive work, and doing the same type of work for the same client (on a monthly, quarterly, or yearly basis) is one.
Whenever you find yourself in this situation, you have two options. You can recreate the same work from scratch (over and over again) by marking it on your spreadsheet (or calendar), which increases the chances of error and mental exhaustion.
Or you can use the recurrence feature in an accounting workflow software solution to automatically repeat the work across relevant dates in just a few clicks, which will save your team hours of productive time every year.
5. Task Dependencies
As the smaller units of projects, you can assign the tasks in a project to different teammates, meaning that: (i) a team member can be assigned tasks in multiple projects at any given time. (ii) that team members could get confused about which task they should work on at any given time. This will cost them more time and effort than it should.
But a workflow software helps accounting firms to manage this web of tasks with the task dependency functionality.
The task dependency feature helps you to establish a clear order for client work that requires several team members to complete.
Because the tasks in most accounting projects rely on the previous steps being completed, helping your team members know when to perform their assigned tasks allows them to focus on the tasks at hand.
Task Dependencies in Financial Cents works in two ways:
The system locks all dependent tasks until the preceding tasks are completed.
The system also notifies assignees when it's time to complete their tasks in the project. This helps assignees remember to perform their assigned tasks so that nothing falls through the cracks.
6. Standardizing Work with Workflow Templates
Like every accounting firm, you probably have a way you prefer to get work done that might differ—however slightly—from other accounting firms. When you hire new employees, they need to adopt your procedures to deliver work that is consistent with your standards.
Else, you might have to abandon your work to handhold every new employee to complete work to your standard. But creating standard operating procedures (SOPs) will guide them to perform their assigned tasks the way your firm prefers.
This is where workflow templates shine.
Workflow templates are checklists of tasks that go into completing each type of work and admin functions that your firm handles.
They can be overwhelming for firm owners to create, especially since they are not tied directly to revenues. Many firm owners even argue that they don't have workflows to document, but that's not true. If you have done any task for clients, you have a way you prefer your team to complete those work.
You just might not have documented them, which is important for more reasons (than work consistency):
Workflow Templates Save You Time
Jessica Fox tries to avoid creating the same type of email twice. She creates the first one, saves it as a template, and doesn't need to spend an extra minute drafting that email the next time she needs it.
The one or two minutes it takes to compose these emails may not mean much but add them over the year, and you'll have gained or lost hours.
The same applies to other aspects of your processes, like sending engagement letters, monthly bookkeeping, or staff onboarding.
Templates Also Help You Onboard New Staff Faster
If your team members document their processes, it becomes easier to hire new people to take over from them when they leave, helping you to keep your firm running like clockwork, even during transitions.
Financial Cents, for example, comes with accounting workflows that you can customize to take the guesswork out of your firm and keep your results consistent as your firm grows.
Click on the Templates tab to see all Financial Cents' templates.
You can delete, create new ones, or edit the original ones on the templates page.
You can customize the templates by deleting tasks and adding new ones.
And if you want to create your templates from scratch, you can click the green "create template" button at the top right corner of the screen.
You can begin creating projects from templates, adding due dates, and assigning tasks to yourself or your team members.
Even if you're not planning on growing, you have only so much capacity in your brain. And trying to keep everything in your brain: client deadlines, keeping track of ad-hoc requests, getting paid, and onboarding new clients, before we know it, our brain is full of stuff and we are at the mercy of accidentally forgetting something. And if you're planning on growing your team, this becomes critical because a key component of quality service is that it doesn't matter who does the books, they should all be of the same quality, the same standard, and done the same way. And the way you accomplish this is by having standard operating procedures."
Jessica Fox
, Florida Virtual Bookkeeping LLC
Start Using Financial Cents to Gain visibility, Save Time and Make Your Work Quality More Consistent
The best accounting workflow software helps firm owners to track client work, manage clients, organize everything, and collaborate as a team.
Financial Cents is an accounting worklflow software that empowers firm owners with all they need to manage client work (and the people that perform them), automate repetitive tasks, and streamline their processes to ensure consistent work quality.
You can enjoy all the features we discussed above for free for the next 14 days.
Instantly download this blog article as a PDF
Download free workflow templates
Get all the checklist templates you need to streamline and scale your accounting firm!
Subscribe to the blog
We're talking high-value articles, expert interviews, actionable guides, and events.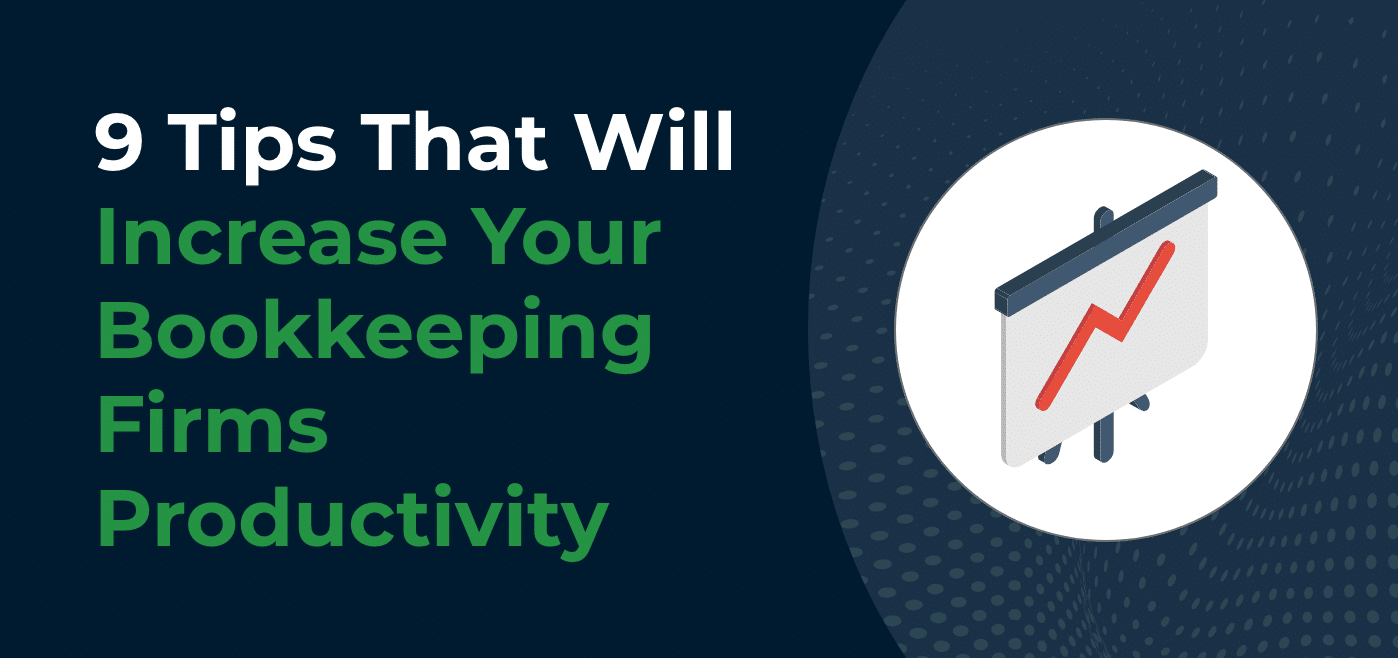 As an accountant, you always have a lot going on, which makes it tough to find enough time in the day to…
Sep 17, 2018 | 5 Mins read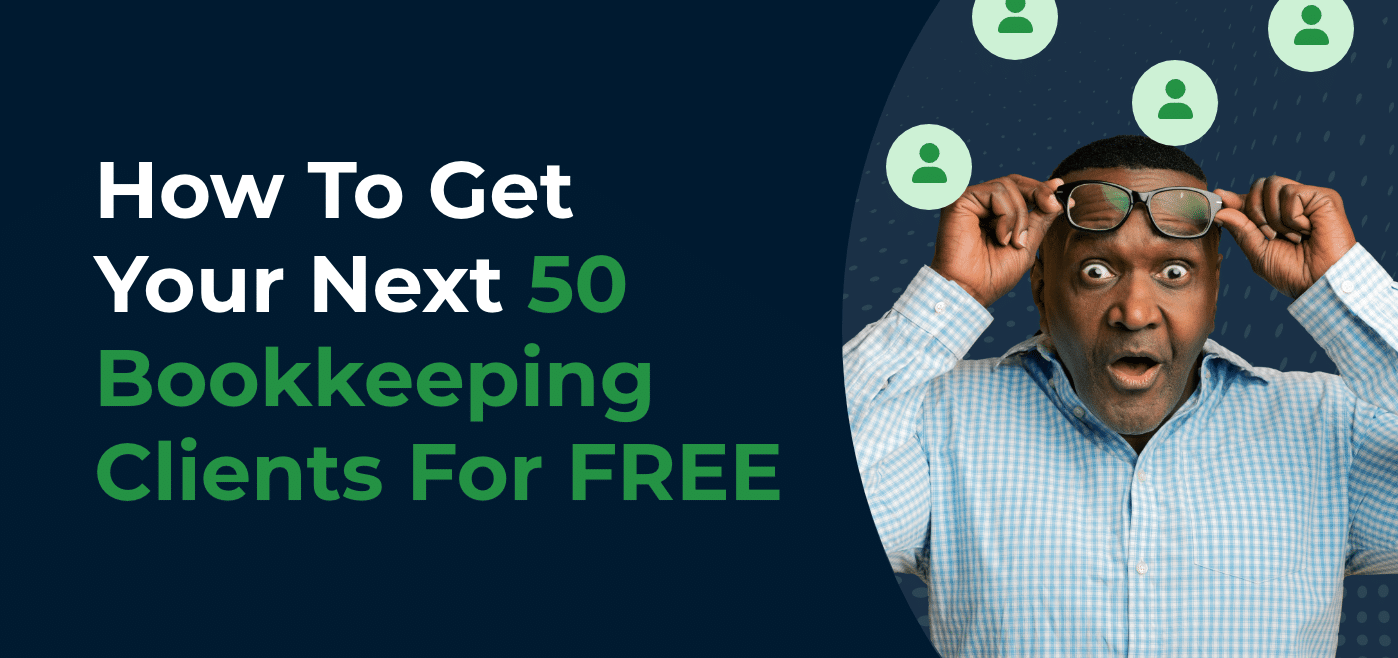 Whether you're starting from the ground level or an established bookkeeping firm, finding new bookkeeping clients is one of the most difficult…
Sep 26, 2018 | 10 Mins read