7 Basic Accounting Workflow Templates (+ Free Diagrams & Flowchart)
Author: Financial Cents
"We want to give our team members access to their processes, so they can understand which steps apply to them—and which to skip—based on their decision tree. So, we are currently building flowcharts (out of our accounting workflow templates) to manage these decision tree-type projects." "
Tonya Schulte
, Construction Accounting Specialist
Accounting workflow management will get more complex as regulations and client needs evolve. Being able to organize your processes and work patterns will give you the insights you need to manage your team and the flow of work to deliver work that satisfies your clients consistently.
What Is a Flowchart?
Flowcharts use symbols, lines, and arrows to explain the actions and phases your accounting processes should go through (from start to finish). Accounting flowcharts show how your processes move from one task to another until they are complete.
So, beyond knowing the tasks that fall to them, your team members can see how their tasks relate to those of the other team members.
Common Uses of Accounting Flowcharts
Accounting teams need flowcharts to:
Delegate Work More Effectively
Flowcharts present work information in a visual, easy-to-understand way. This keeps every team member aware of what each stage entails so they don't have to keep coming back to you to know the step to perform and the ones to leave out of their specific work.
Standardize Their Processes
Laying work information out in a flowchart helps your team to add new ideas to your processes with a clear picture of how the new ideas interact with the old ones to make for a more effective process.
Improve Accounting Procedures
Accounting firms also use flowcharts to see which steps in their current processes are causing delays so they can find ways to address the bottlenecks.
They allow you to see your workflow at a high level to know what's working and where you can improve things.
Gain Visibility into Their Workflow
You can also use flowcharts to track client work to know how much work is left to complete the process. This improves your chances of completing client work on time.
Enhance Communication
Flowcharts help to tell your team what they need to know to move your projects from start to finish.
It eliminates ambiguity by showing your team their options whenever they get to a decision point based on the variables at each step of the flowchart.
Benefits of Accounting Flowcharts
Flowcharts (and diagrams) are particularly useful to accounting firms in that they help with
Documentation
Because they lay out the steps of your accounting process, flowcharts make it easier for your team to understand and implement your accounting procedures, trace problems to their sources, and resolve them on time.
Compliance
If you ever need to prove your compliance with regulatory requirements, your flowcharts will help you show how your firm gets client work done.
Employee Training
You can use flowcharts to describe to your new hires the processes they would need to follow when doing any work they are assigned.
This makes it easier to get them up to speed with your standards, which makes them more productive and efficient.
Work Quality
When procedures are presented in diagrams, your team will be more equipped to deliver work quality that is consistent with your firm's standards.
Accounting Flowchart Symbols and Their Meanings
Each step in your accounting process is either a task to complete, a decision to make, or data to analyze.
Each step is represented by a symbol that your team can use to differentiate them from one another (even before reading the words written within them).
Here are the major flowchart symbols your firm needs and what they mean for your process.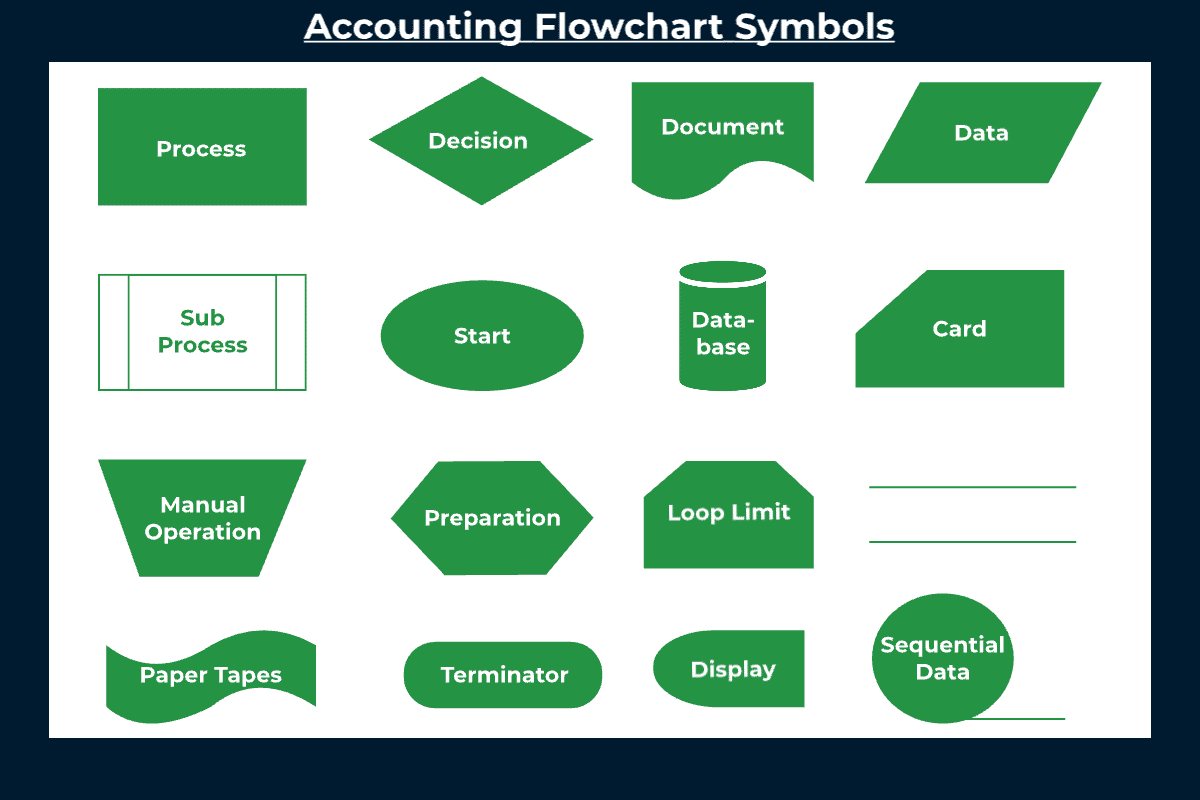 Process
The process symbol is represented by a rectangle. It applies to tasks that need to be completed in your accounting workflow.
A well-designed flowchart shows the overall process from start to finish, but the process symbol shows the specific tasks in the larger accounting process.

Decision
The decision points steps of your flowcharts are represented by a rhombus. It indicates the points in your process where the outcome of a decision determines the direction of the next step. The most common outcomes of the decision stage are Yes and No, although it can be more.
If the answer to a question is YES, your team will need to do one thing next. If it is NO, your team will need to do something else.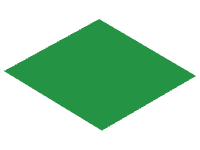 Data Shape
The tilted rectangle represents data in flowcharts and shows that information is coming into or leaving the process at this stage.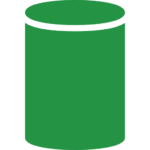 Terminal Points
The terminal symbol comes at the beginning or end of the process and indicates the beginning or end of the process.  It has the "Start" or "End" text within it.
Delay Shape
The delay symbol shows a delay in the process. It shows a period of the expected delay in the process. It's best to write the length of the delay period within the symbol.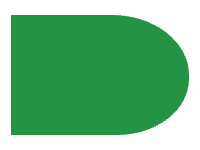 Off-page Reference
Off-Page Reference links two separate processes from different pages. You will need to write the step the symbol links to (within the symbol) so that your team knows which step to look for in the referenced flowchart.
On-page Connector
On-page connector links two separate processes on the same page of your flowchart.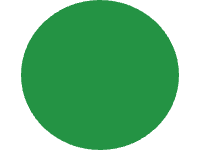 Document
Document Symbol shows the presence of a document in the flowchart (for the assignees to read).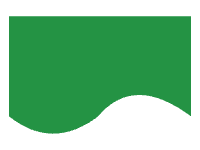 Magnetic Disk
The disc icon is represented by a cylinder. It shows that an internal or external database is in the flowchart.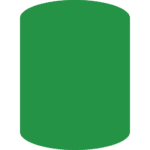 Punched Card
This symbol shows data input by cards.  It is not common in accounting processes today.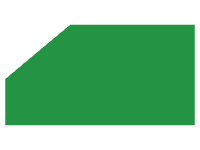 Punched Tape
This symbol shows that data is stored on page tapes. It is also not commonly used today.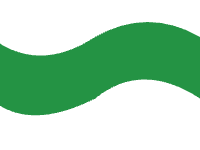 List Of 7 Basic Accounting Flowcharts & Diagrams
Here are some examples of accounting flowcharts that you can create with your workflow checklists to ensure your accounting and bookkeeping projects don't fail.
Tax Returns Template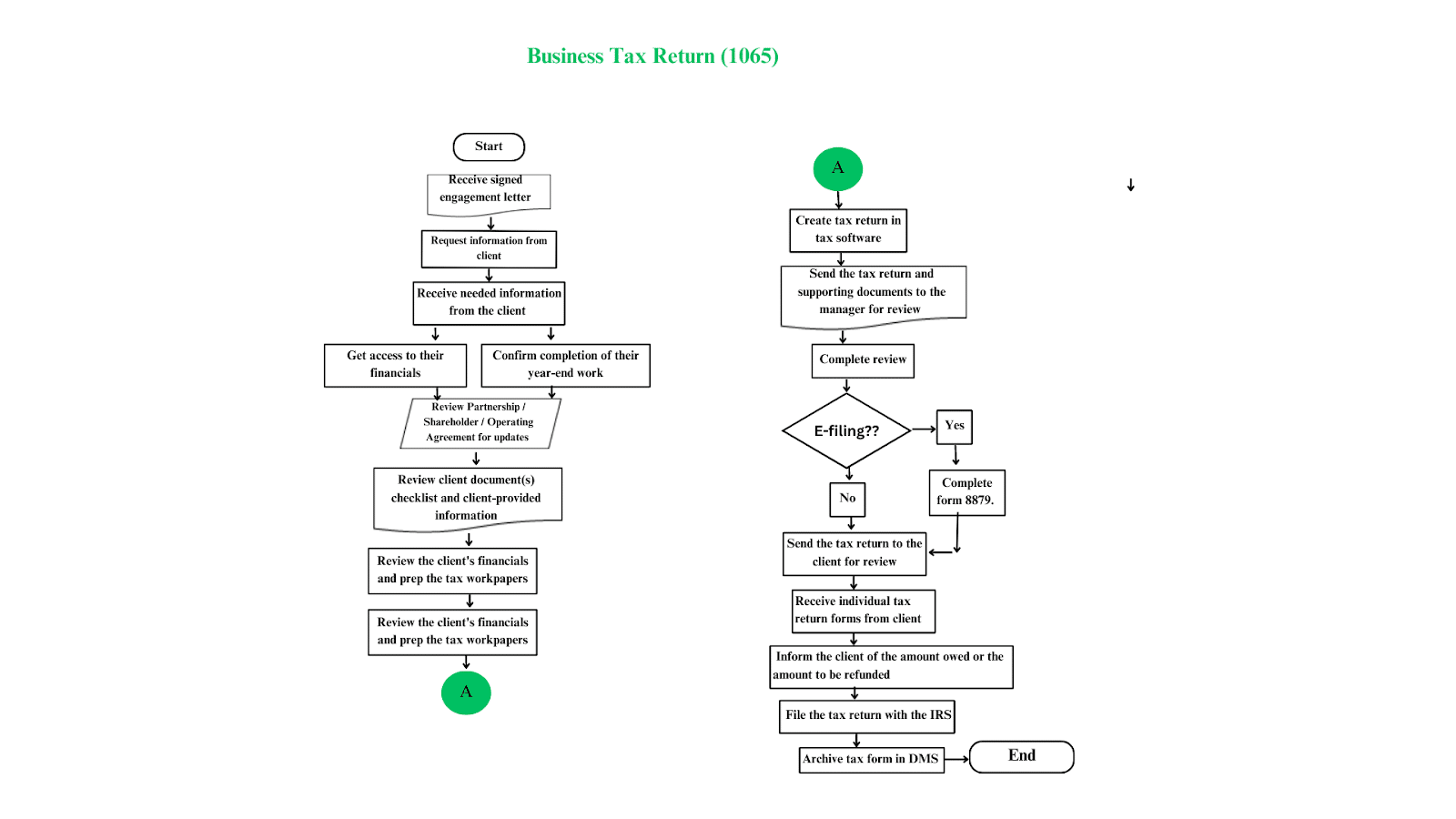 Deliver better tax services with these free:
Payroll Template
(click the image for a link to customize it to your needs)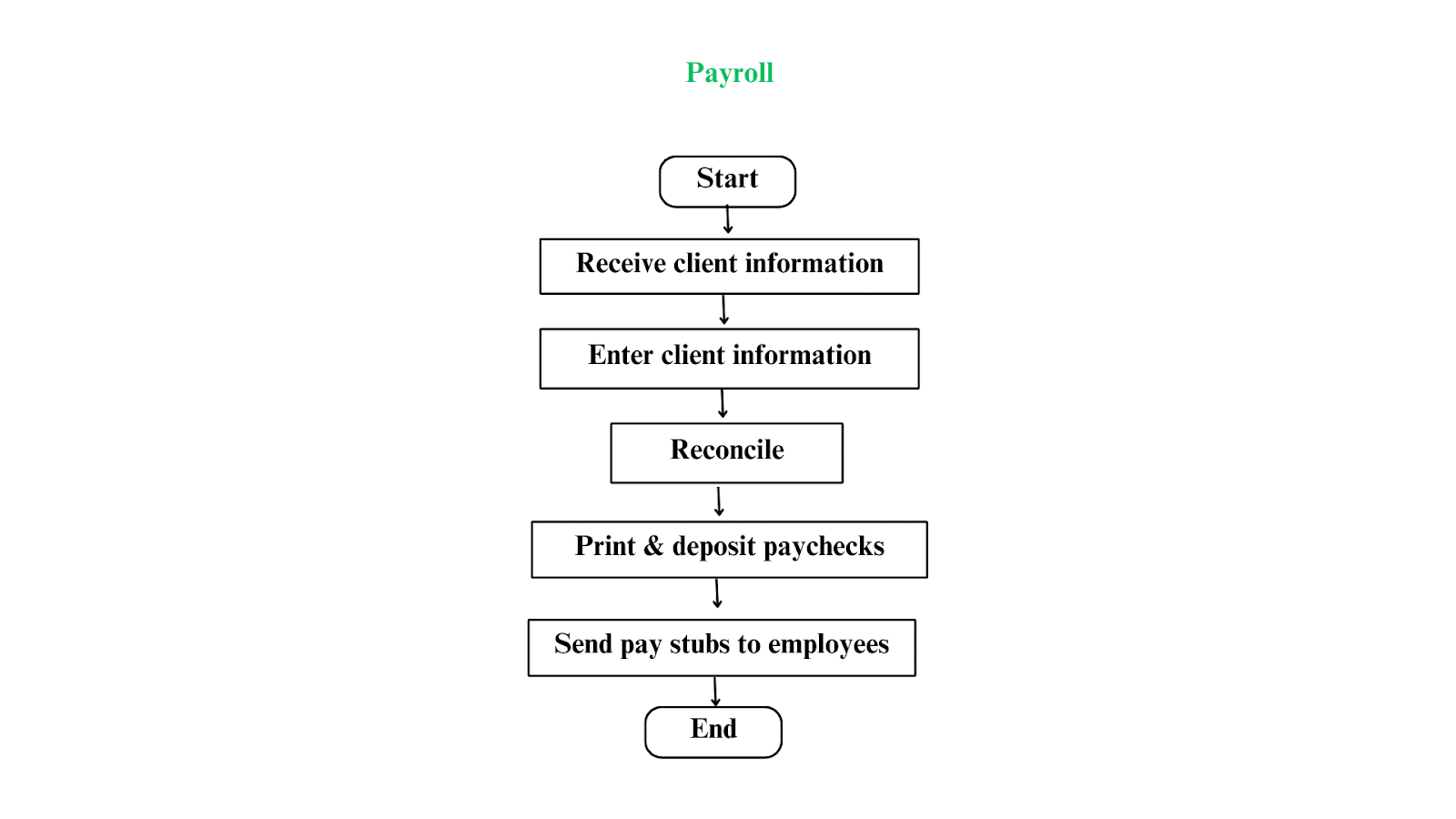 Download our free payroll checklist template to improve your team's accuracy and efficiency.
Bookkeeping Template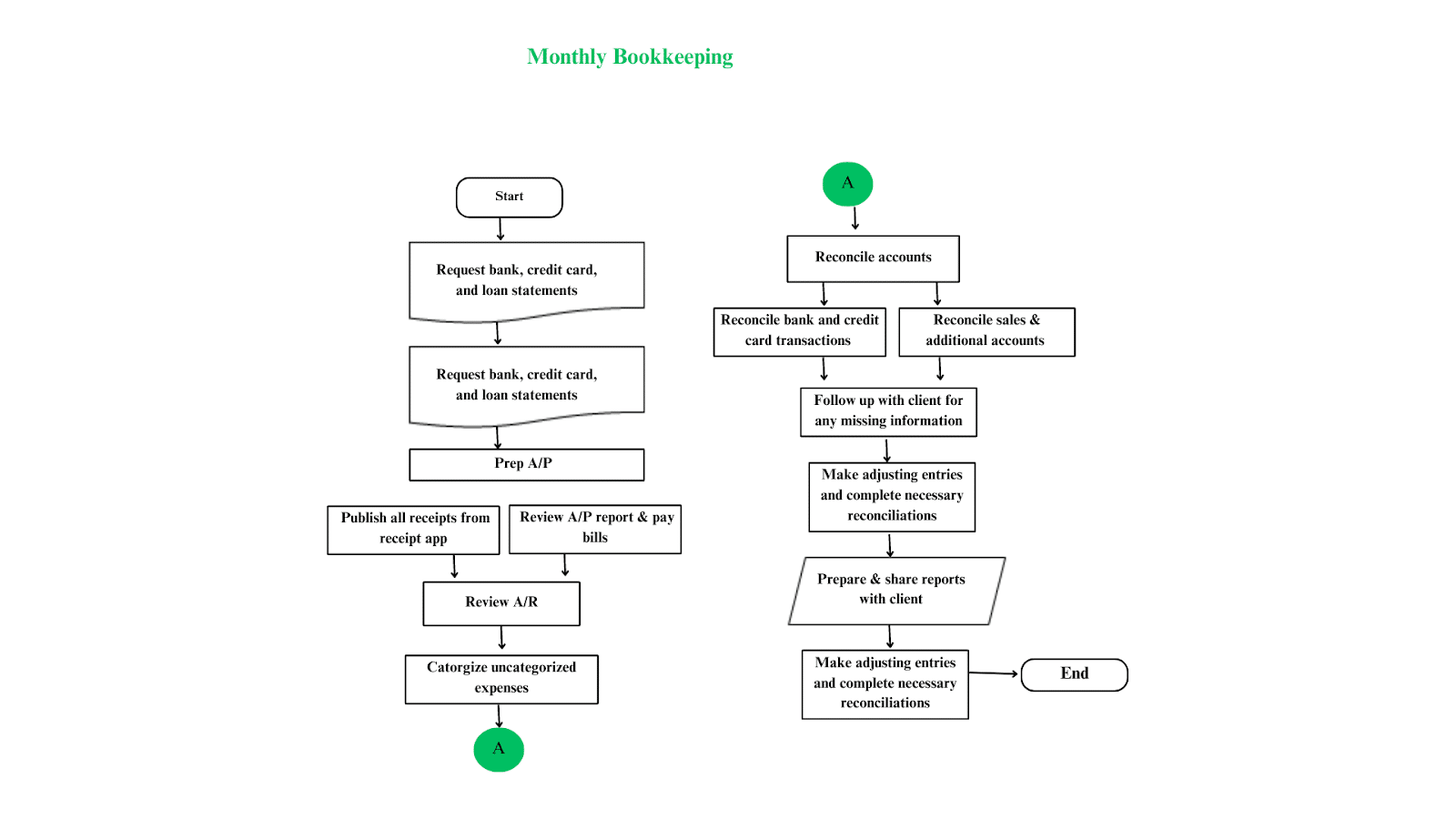 Download this free:
or use it in Financial Cents to organize your workflows and manage your team.
Month-end Template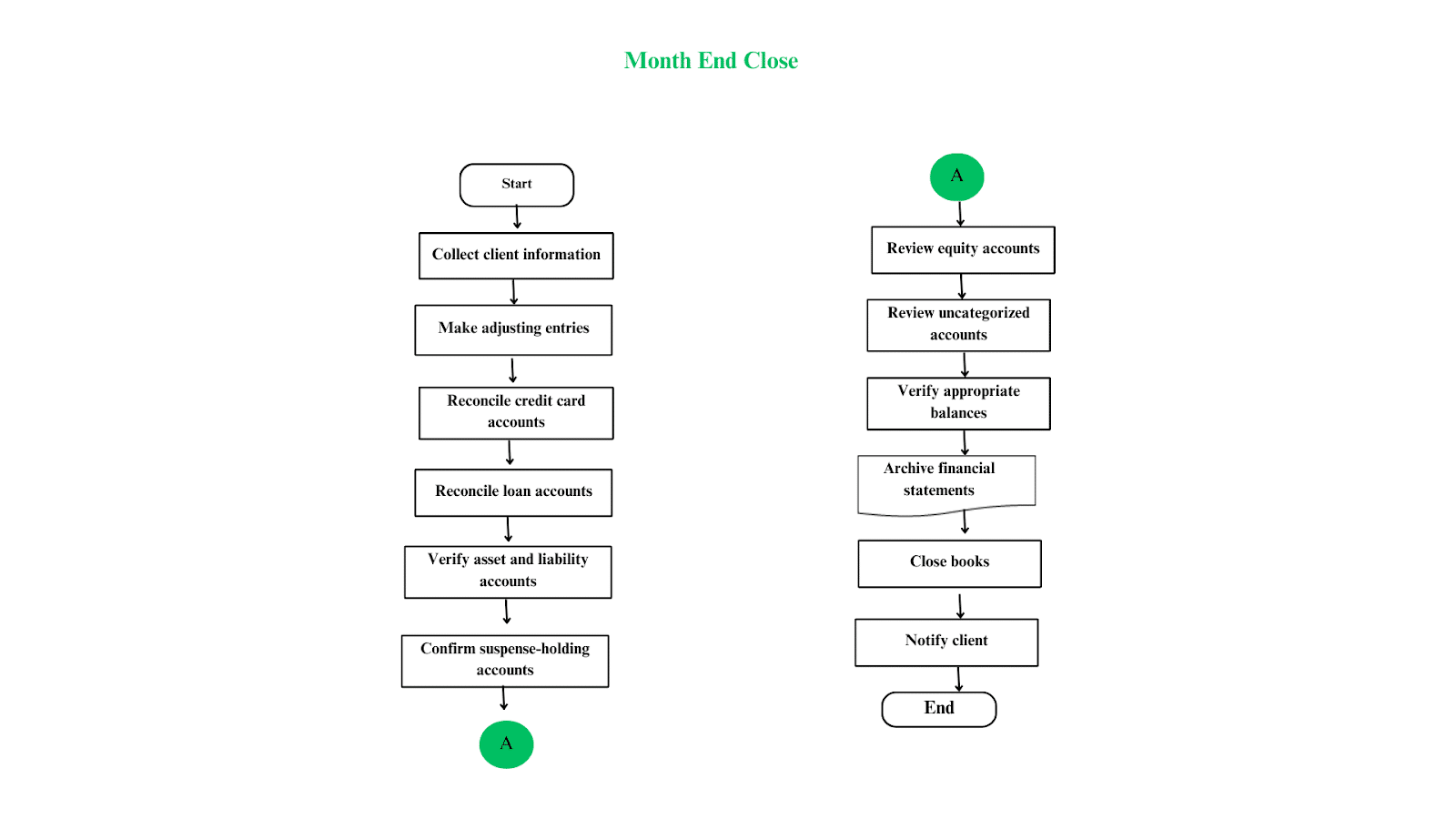 Month end close process is more accurate when you use a checklist template to streamline the process. Download the month-end checklist template.
Client Onboarding Template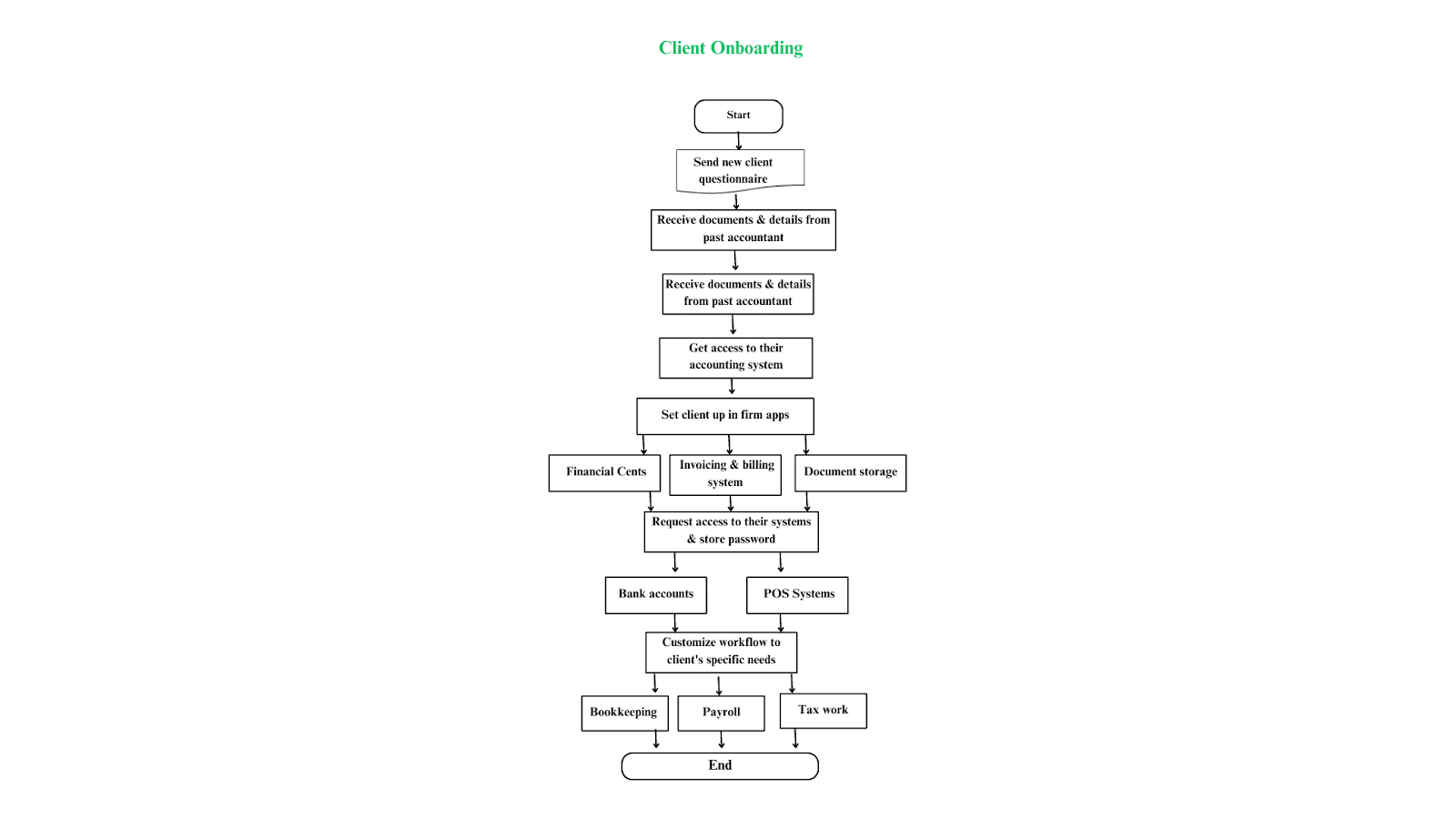 Improve your chance of retaining your client by streamlining your client onboarding process with this client onboarding excel checklist template.
Account Receivable Flowchart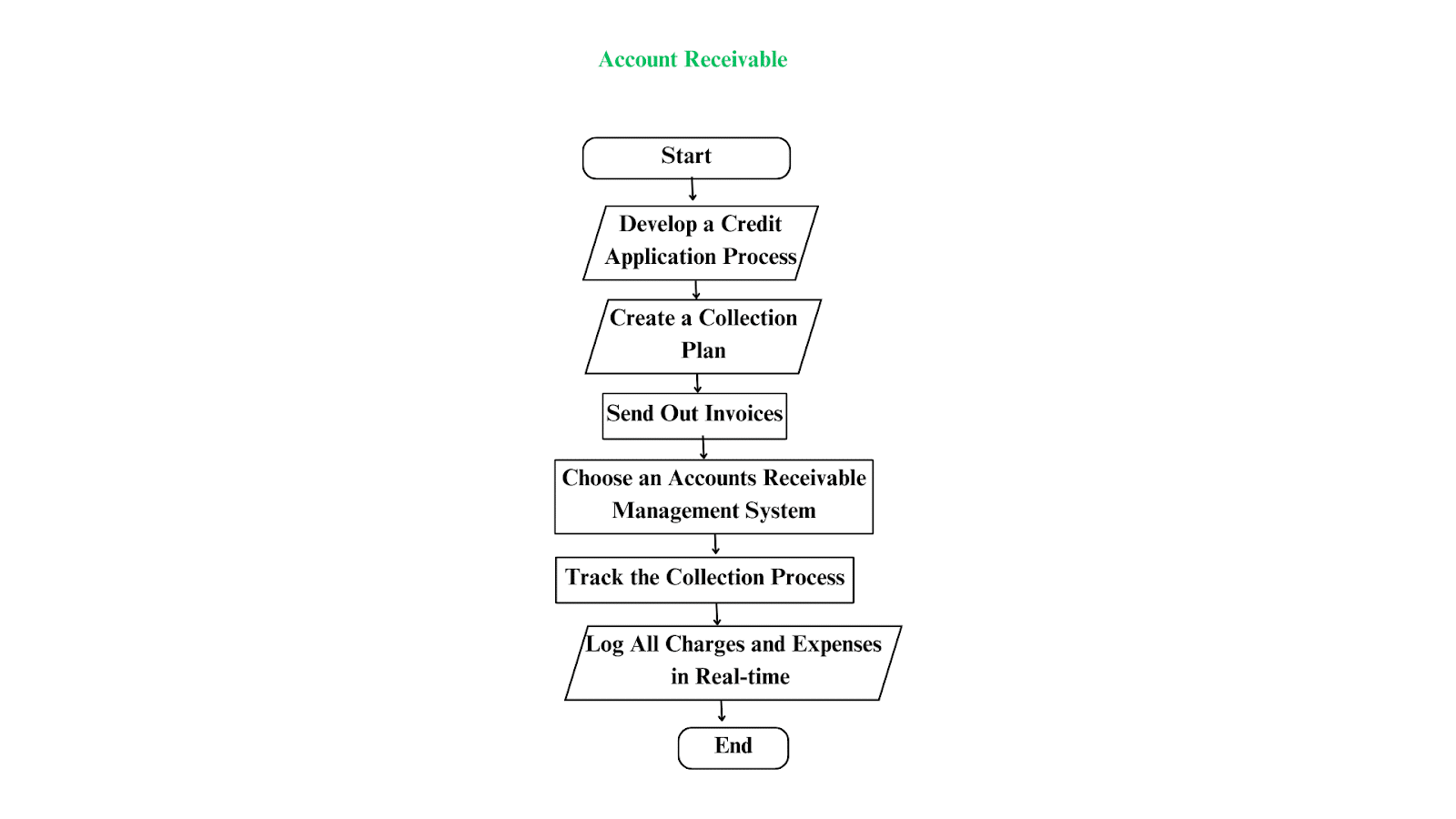 Download the Account Receivable Reconciliation Checklist Template.
Account Payable Flowchart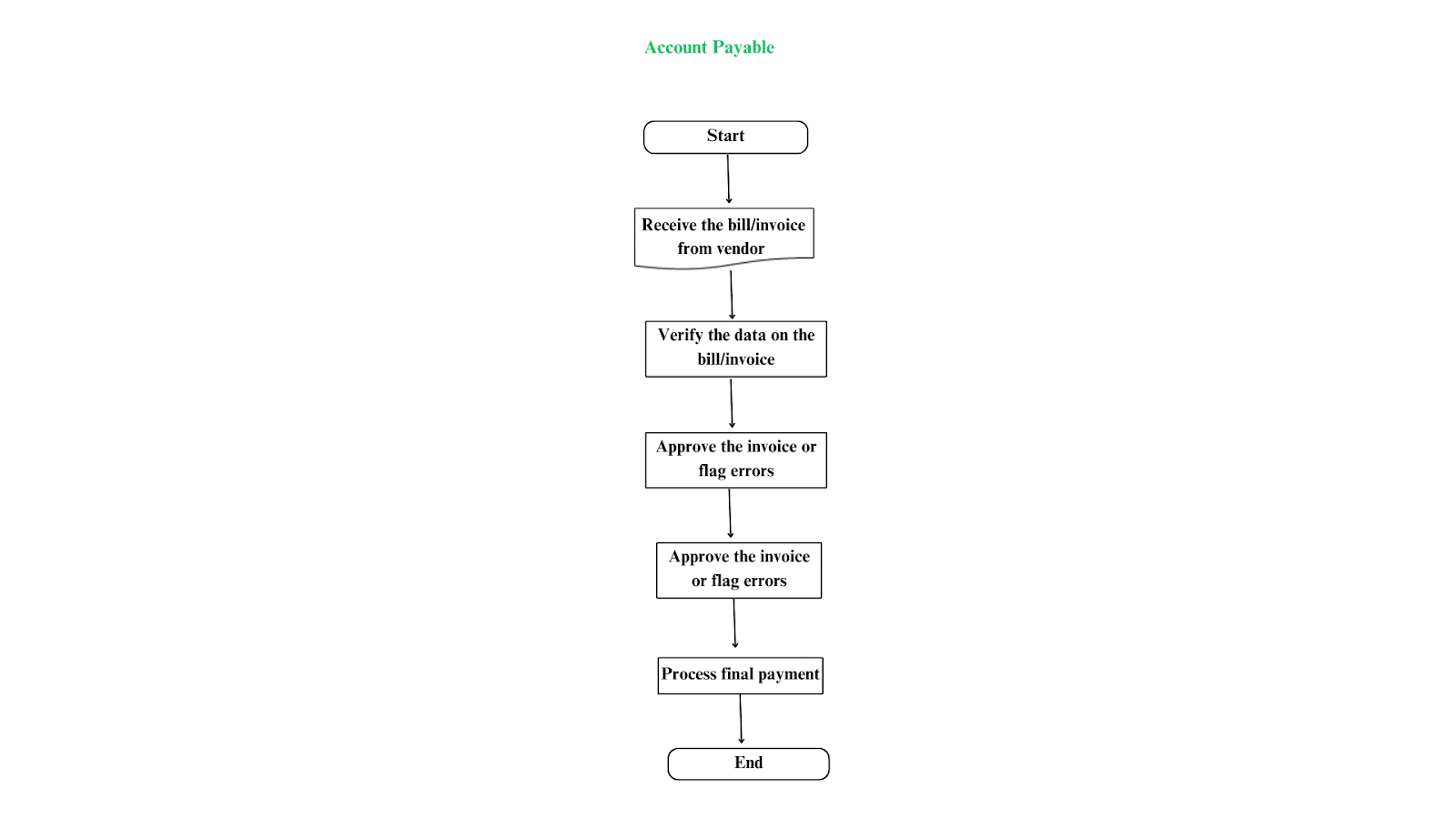 Download the Account Payable Reconciliation Checklist Template.
Financial Cents 40+ Accounting Workflow Templates Will Help You Work More Efficiently.
You can't create effective flowcharts without having the accounting workflow checklists at your fingertips. Checklists show your team the steps they need to get work done, but flowcharts show how (by describing the flow of information) the steps, input, and outputs of the process play out in sequential order with visual cues that make it easier to understand).
Firm owners like you love Financial Cents because it helps them manage their workflows which translates to excellent service and business growth for them. You can enjoy all its features for free today.
Start your 14-day free trial.
Instantly download this blog article as a PDF
Download free workflow templates
Get all the checklist templates you need to streamline and scale your accounting firm!
Subscribe to the blog
We're talking high-value articles, expert interviews, actionable guides, and events.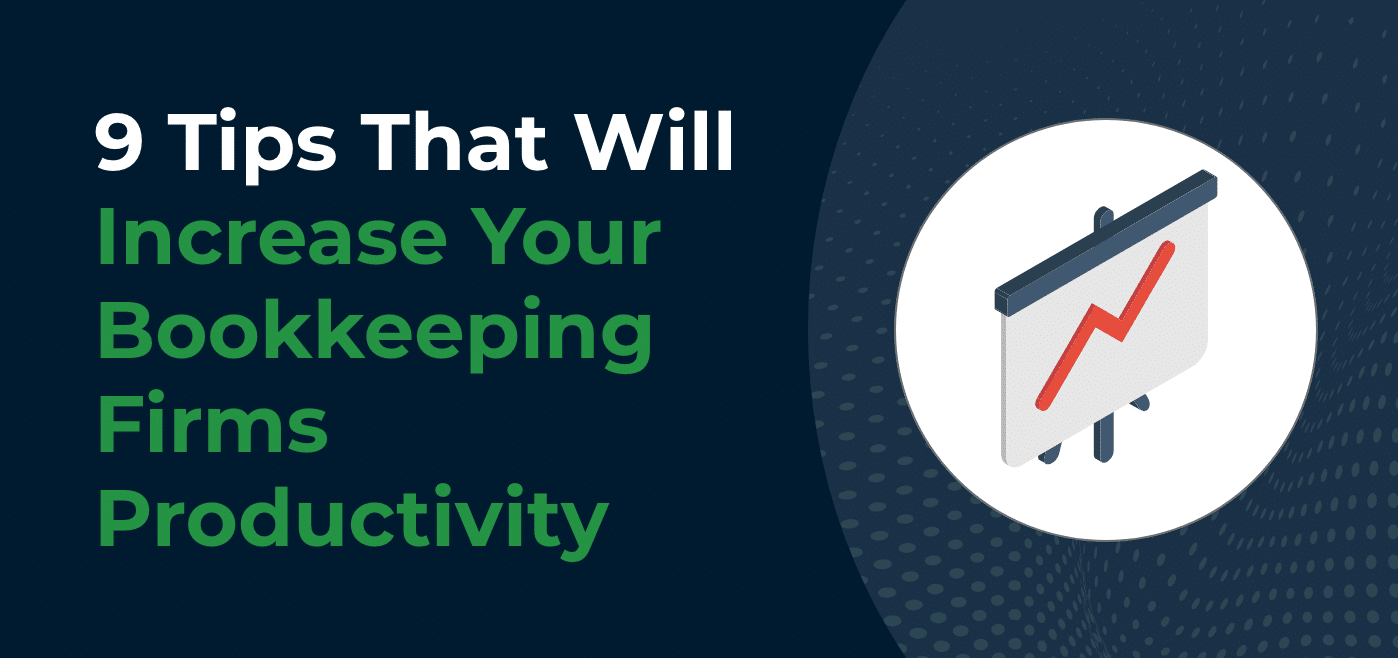 As an accountant, you always have a lot going on, which makes it tough to find enough time in the day to…
Sep 17, 2018 | 5 Mins read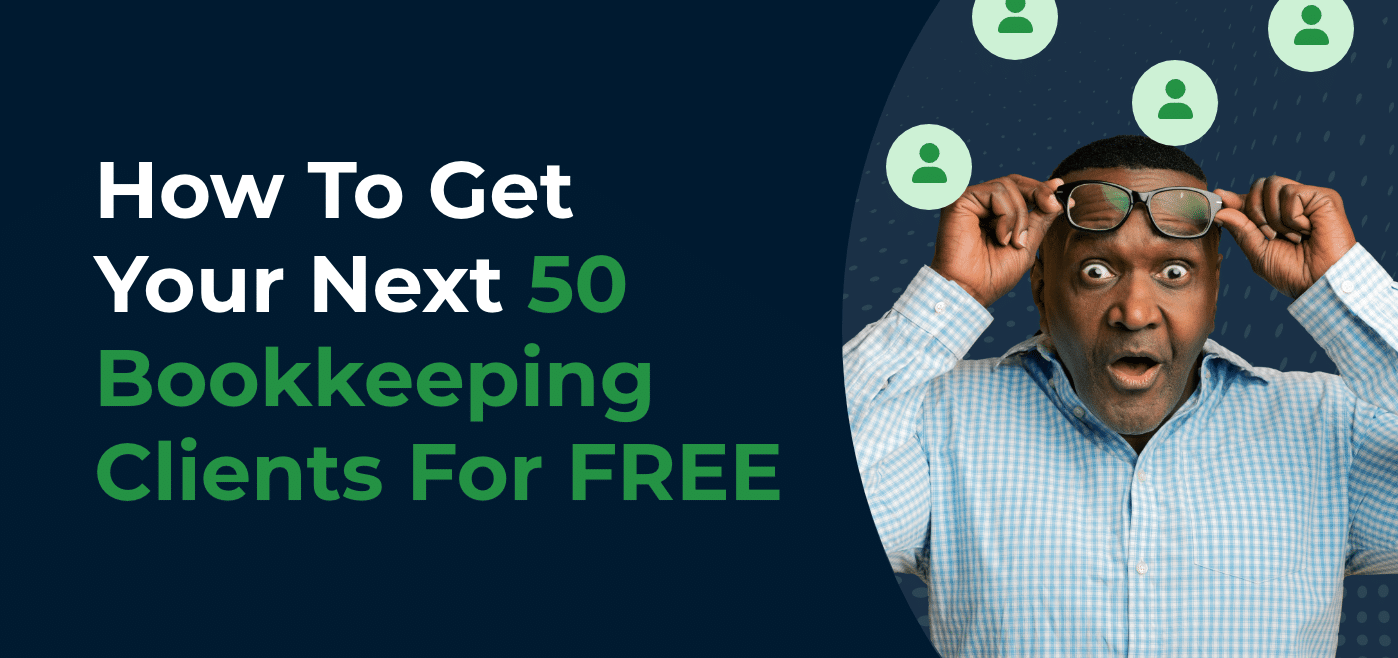 Whether you're starting from the ground level or an established bookkeeping firm, finding new bookkeeping clients is one of the most difficult…
Sep 26, 2018 | 10 Mins read