Financial Cents vs. Karbon for Small and Mid-Sized Accounting Firms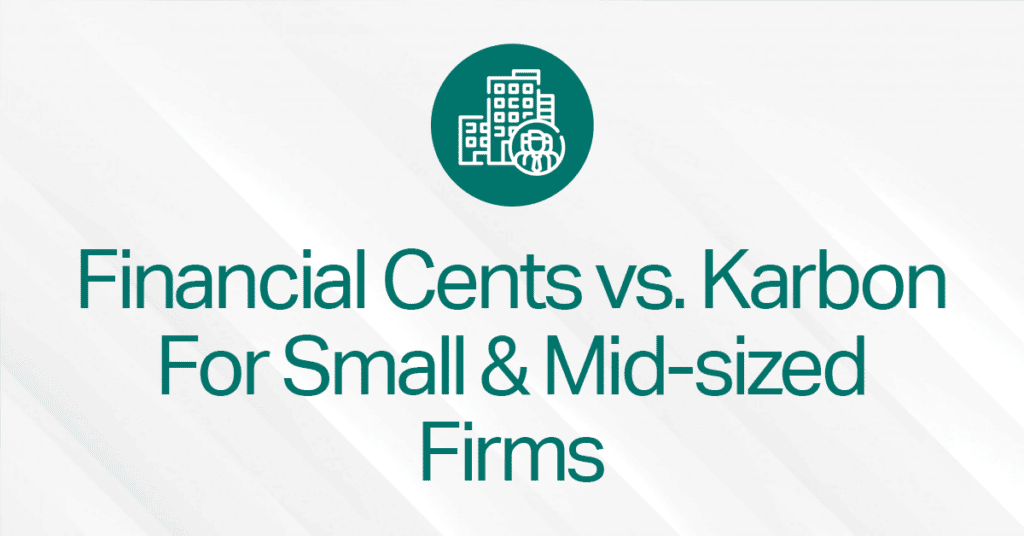 The decision to buy a practice management software is a big deal for small and mid-sized accounting firms.
So much so that some hire a professional or delegate a member of the team to do the leg work of researching, comparing, trying out, and choosing the right software solution that meets the firm's specific needs.  
The reason is not far-fetched — Choosing the wrong software can be costly. Not only in terms of money but also in terms of time and data security.
Imagine you pay for a software and spend weeks creating workflow checklists, assigning staff, uploading client information, and onboarding clients, only to find out that the software does not meet your core needs.
We don't want you to ever have to face that.
Enter Financial Cents and Karbon, two of the top accounting practice management software solutions. But maximizing either solution depends on the size of your firm—and your needs.
In this article, we compare both based on the core needs of small and mid-sized accounting firms to see which is better at helping you hit deadlines, delight clients, and drive growth. 
PS – When we say small to mid-sized accounting firms, we mean firms with less than 50 employees.
Financial Cents vs. Karbon's Ease of Use
"Ease of use improves team adoption, reporting data, and quality of work."
—Shahram Zarshenas, Founder and CEO of Financial Cents.
Financial Cents
Setting it up:

On average, it takes small and mid-sized accounting firms approximately

3 hours to implement

the software across their firm and client base. This ease of use and quick setup led to Financial Cents winning the

G2 awards

for easiest set up and implementation, 2 years in a row.
"My team and myself found this app very easy to use as we implemented it in just a few days. It's easy to set up and get started. Customizing projects is quick and easy," says this small firm owner.
Using it

: Apart from its easy set up, Financial Cents is easy to use on a day-to-day basis.

With a seamless interface and a library of short videos that explain specific aspects of the program, the learning curve is quick.
This means, small and medium-sized accounting firms get a 100% team adoption rate with the software. 
Here's what the Principal of a small firm had to say: 
"Financial Cents is easy to use, easy to implement, and a lifesaver!!! I log in everyday and start my day by seeing what's on task for that day. As things arise, it is easy to just add them in on the fly. Users can comment, share and pick up other's tasks if they have free time. Time tracking is a breeze too."
Karbon
Setting it up

: Karbon majorly serves large accounting firms, so it can be difficult for smaller firms to adopt its complex features. The training and client user onboarding videos helps with the basics, but getting the best out of it requires implementing its complete suite of features, which small and mid-sized accounting firms do not have the budget, time, and staff strength to handle.
"If you want to make it more complex, the initial training may be useful but rather expensive," according to this small firm owner on G2.
Using it

: Karbon is a great tool for large firms in need of a robust and complex solution. It will feel overwhelming at first but with time, you and your team may get a hang of it. 
This firm owner's review puts it into context:
"Some of our staff felt overwhelmed by the apparent complexity of the features, and considering we were a bit late to the tax year and needed to hit the ground running, we just never caught up on the training. This is perhaps not a drawback of Karbon in and of itself, but just a fit issue between what we needed, and what Karbon was able to provide."
Financial Cents vs. Karbon: Workflow Management
Financial Cents
Workflow Dashboard:

This is where you can easily track client client work across your team so nothing falls through the cracks. Projects are tagged with colour-coded statuses to track the progress of work. You can also switch to the calendar view to easily see your schedule for the days, weeks, and months ahead.

The

Accounting period

helps your team identify the period of time the work is for

Tags

help you immediately see the status of work.

The

start date

shows you when the work came in or when your team should begin the work.

The

due date

shows when work is due to ensure your team doesn't miss their deadlines.

Assignees show you which staff member is working on the project so you know who to hold responsible and follow up with.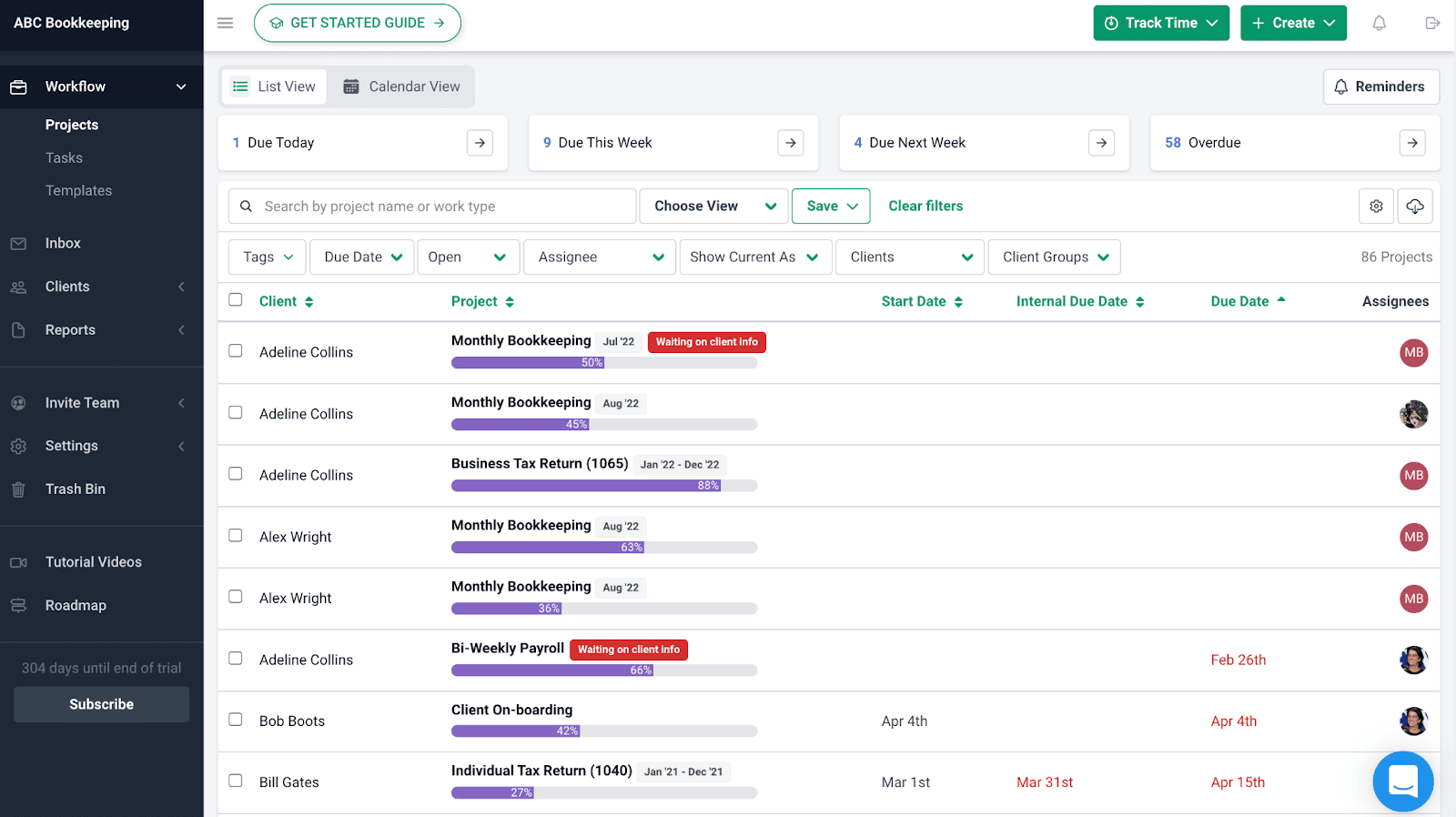 Filters:

Run custom reports to track what matters most — big or small. This is especially important for small to mid-sized firms who are juggling a lot with limited bandwidth.
Search Bar

: Filter by the type of work. To specifically track Bookkeeping, tax, payroll, etc.

Tags

: Filter by the status of work. To see work waiting on client info, in review, etc.

Assignees

: Filter by assignees to see the work assigned to a specific team member.

Clients

: Filter by work for a specific client. This is great for when a client calls asking for an update.

Due Date

: Filter by the due date to see work due today, this week, next week, this month, a specific date, or more.

Choose view

: Save custom reports and quickly view them by selecting them with this filter.



Project view: This is where everything related to the work is stored (process checklist, notes, documents, emails, team comments). This keeps your firm organized and allows your team to quickly access everything they need to get their work done.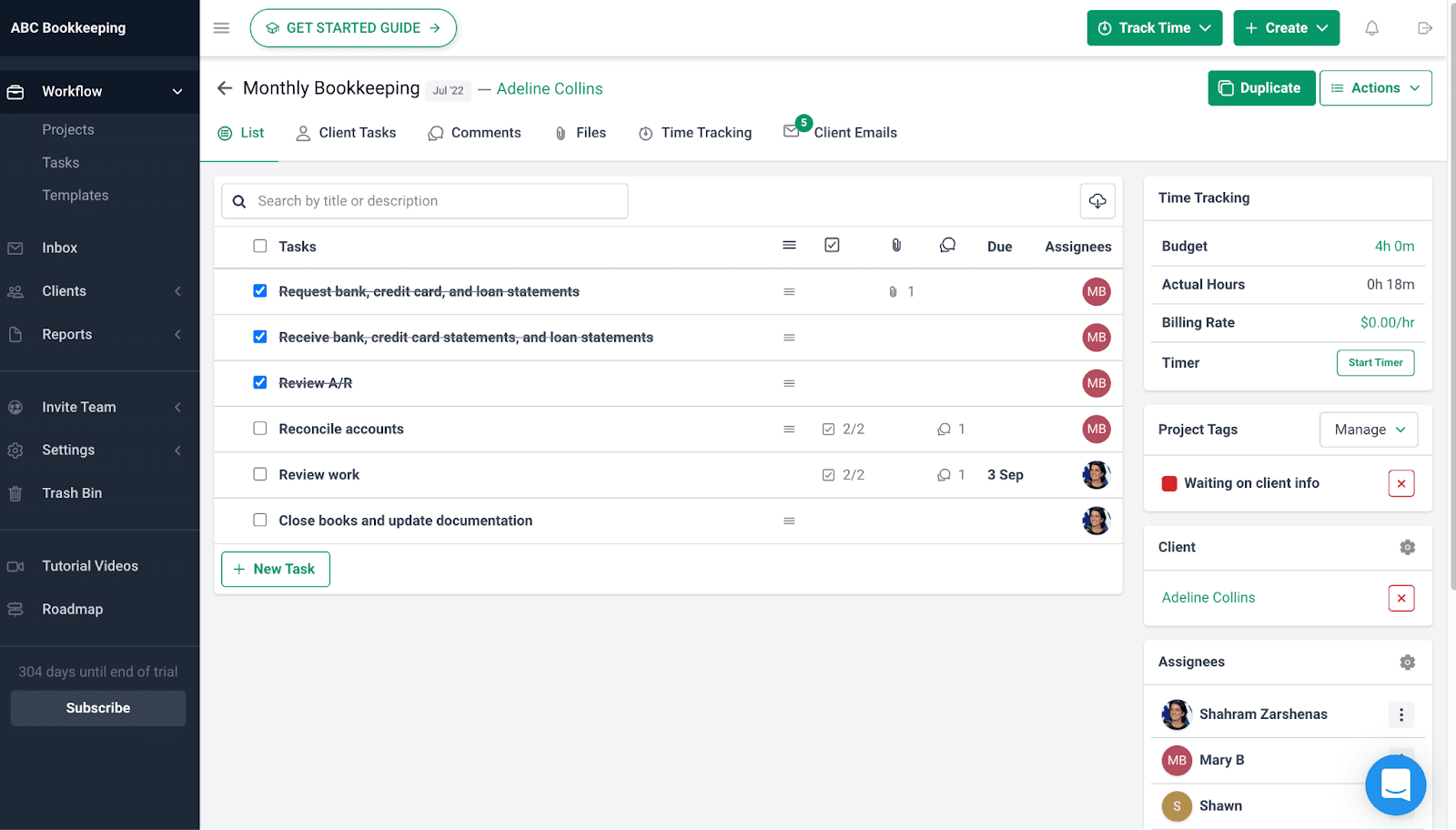 Work management:

Managing work in Financial Cents is intuitive and highly customizable to suit the peculiarities of your firm and clients.
Recurring tasks:

Save time by setting up and automating recurring projects. This works in 2 ways:

Default Recurrences:

A default recurring project recurs when it is marked completed/closed or becomes overdue. It takes 30 minutes for the default recurring project to recur once it is triggered. You can set projects to recur daily, weekly, monthly, quarterly, or annually.

Custom Recurrences:

These offer more flexibility and options for work that may be on more complex schedules. You can set projects to recur in your preferred time durations.

Task dependencies

: Some tasks are dependent on certain steps being completed. With Financial Cents' task dependencies, you can automatically notify team members when the task ahead of them is complete so they know when they can begin their work.
Templates: These are the SOP's that you can use to document your processes to maintain work quality and increase productivity at scale. Financial Cents has a huge library of workflow templates that you can use or customize to fit your firm's process.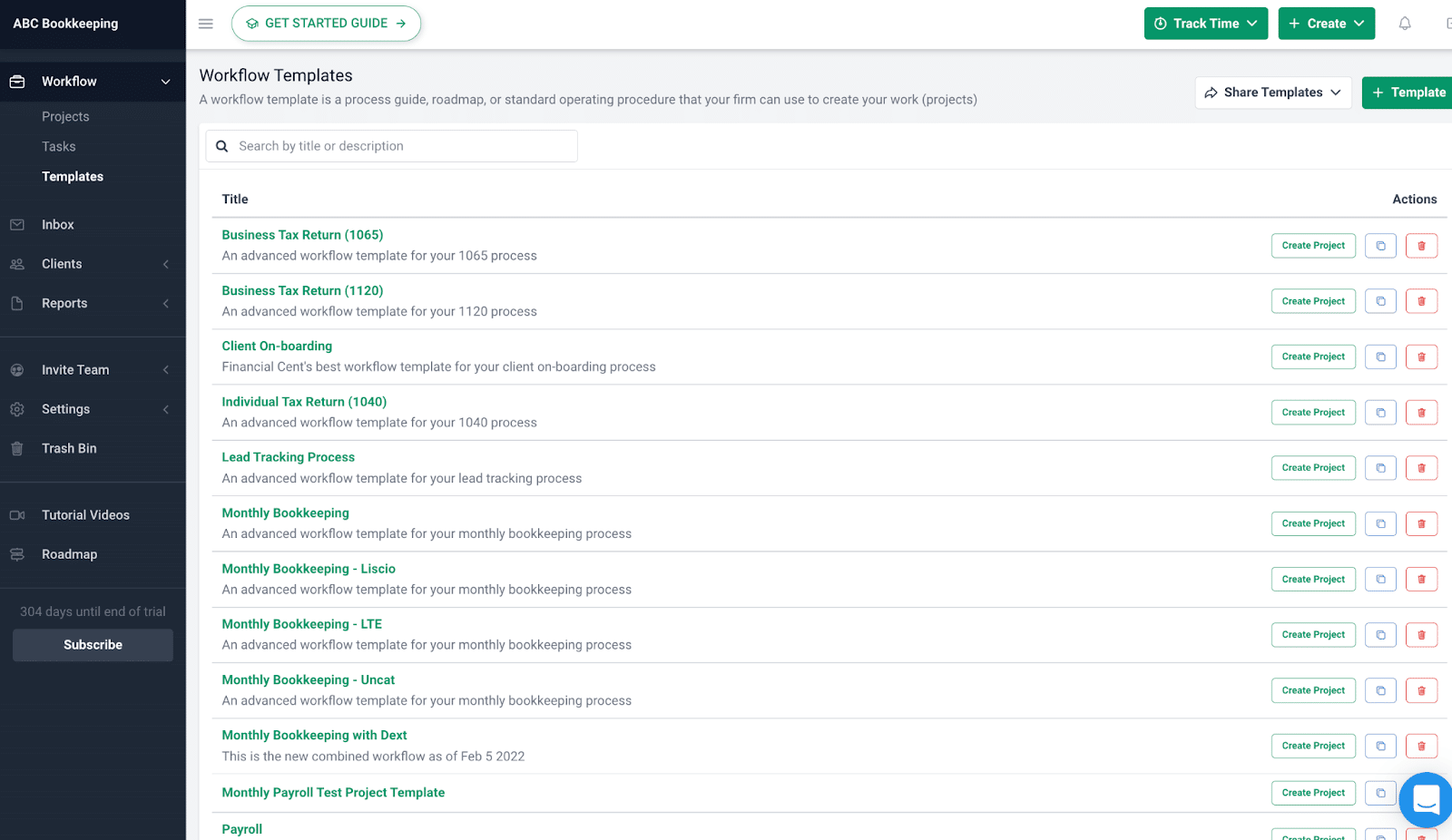 This firm owner describes the benefits of Financial Cents' workflow features to her small firm:
"This platform (Financial Cents) enabled me to create workflows that guaranteed important steps weren't forgotten or overlooked. It also helps me determine what needs to be done next with due dates (so I am less reactive and more productive!). But mostly it "holds my brain". Especially this year with crazy everywhere I was able to keep track of what was going on with more than 250 clients and not rely on my memory. I wasn't as frazzled, I worked on the right things at the right times, I had notes at my fingertips about important conversations, and I knew where all my projects stood and what was next on each one from this one amazing platform."
Karbon
Karbon workflows also let you see your work processes. You can view your project dashboard with Kanban boards (or the list view).
You can create projects out of templates or create a new one from scratch. Your employee's dashboard can look different from other team members' dashboards as Karbon will only show them the tasks that pertain to them.
Karbon has a

Work Hand-Off

that notifies employees when their part in a work item is due to start.
Repeat task

: you can set work items to repeat for each client as frequently as you want and Karbon will automatically recreate those work items across weeks and months. 

Filters

in Karbon allow you to save work items in a variety of views. You can filter work items by assignee, task completion, start date, due date, capacity, work type, client group, client manager, etc., and then save it as a view they can continually refer to. 
Triage View: After you overcome the struggle with setting things up, Karbon's Triage view makes managing your work items easy. As the central notification board, Triage pulls notifications from all over the software to ensure nothing gets lost.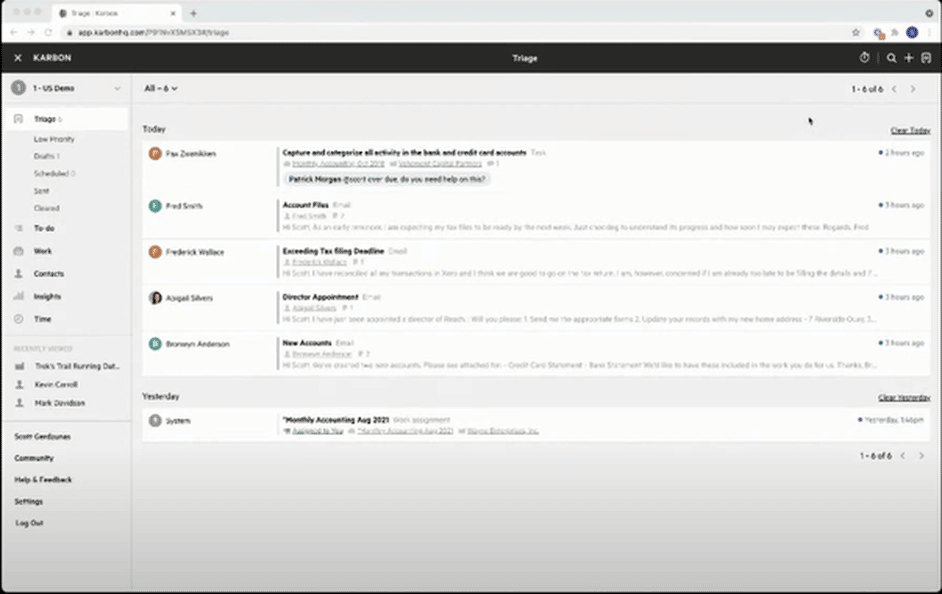 Work Items:

Karbon's work dashboard commonly features a Kanban view, with each card representing a piece of work. To see the details of a work item, you can click to open the card. 
Karbon's work dashboard is black and white with a progress bar, unlike Financial Cents' dashboard, which is color-coded to help users see the status of client work instantly—and makes viewing the project dashboard more appealing.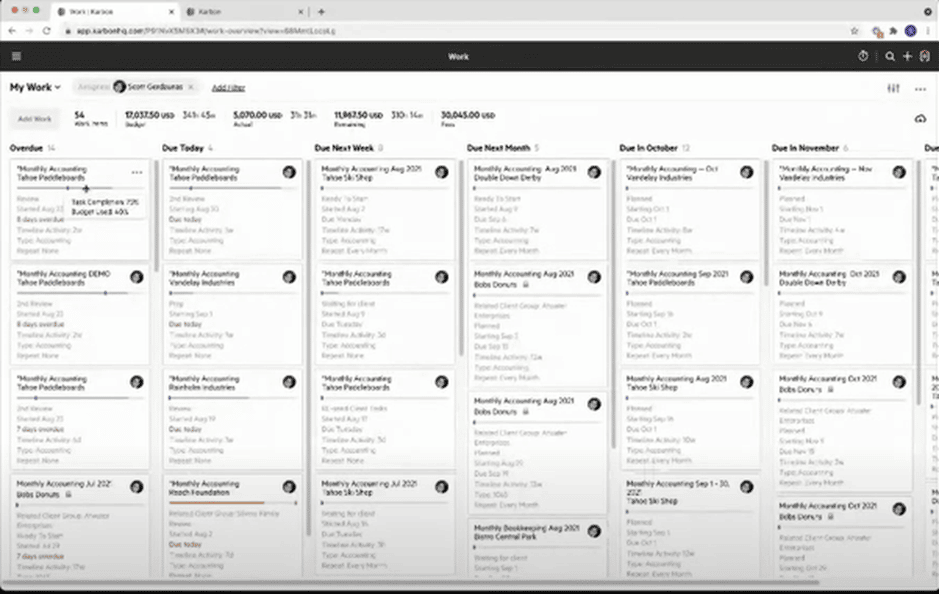 Financial Cents vs. Karbon: Client Management
Financial Cents
Client dashboard: This is where you get a general overview and updates on all your clients. You can filter by date, activity status, and client group to get a better understanding of where you are with them.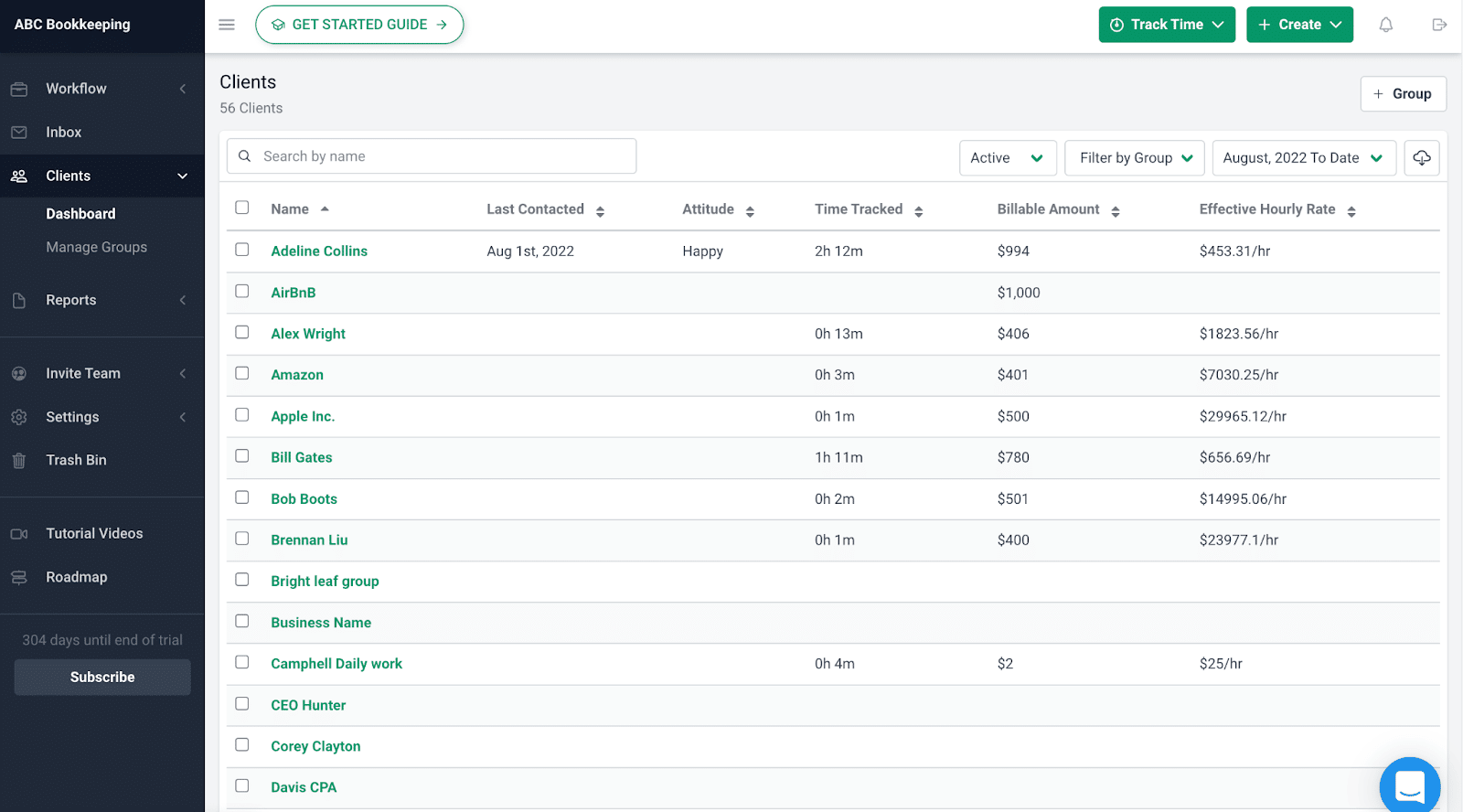 Client Profile: This is where you can securely store each client's information for your team to easily access when needed. You can store notes, documents, contact information, entity info, passwords to their apps, and more.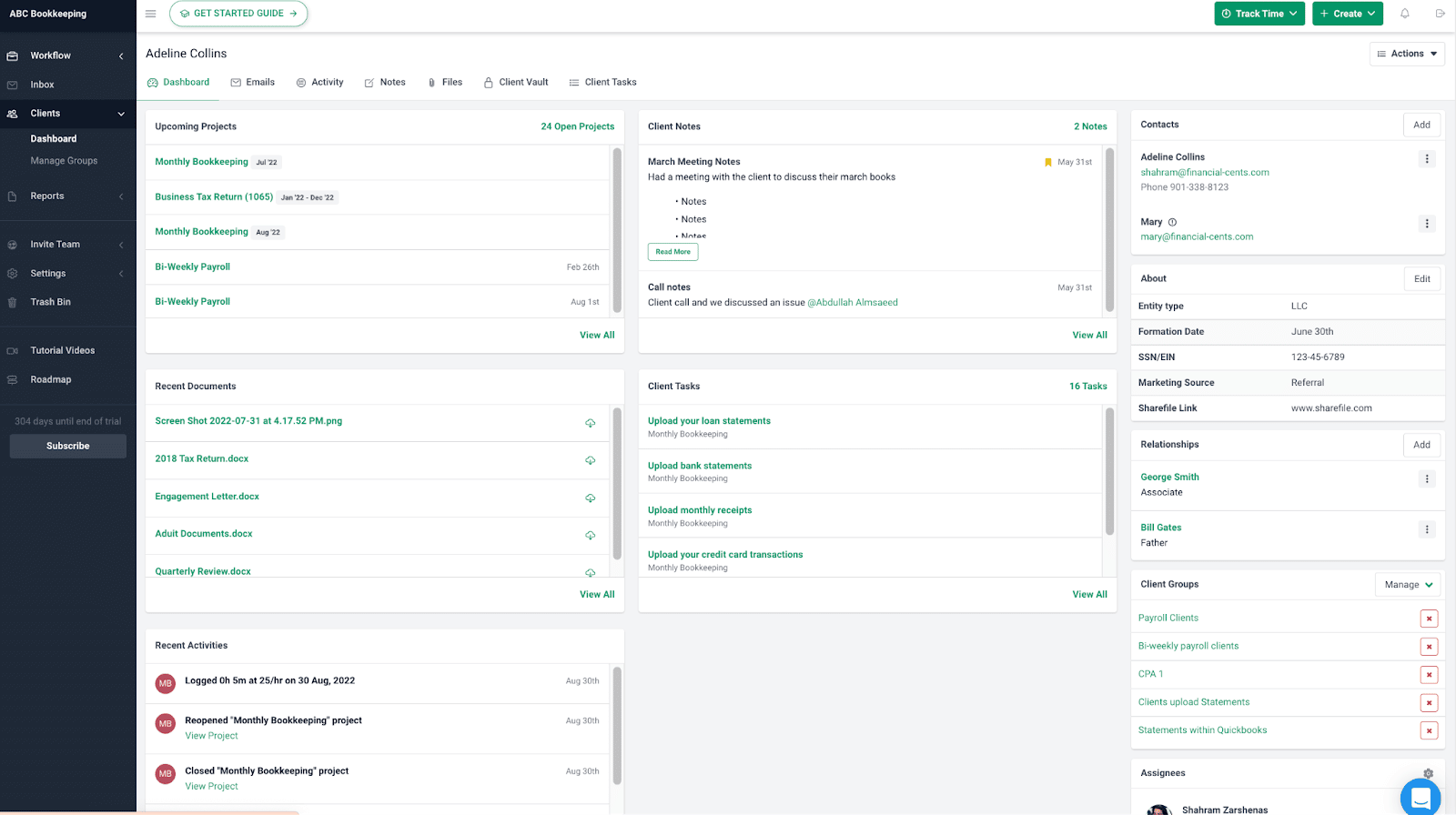 Inside the client profile you will see sections like:
Client activity:

This houses your client's recent activities. From uploading a document, to viewing a project, to dropping a comment for you. Your team can also use this tab to document any feedback from their last interaction with the client, helping you to understand how to communicate with them subsequently.  
Client notes:

If you've ever struggled with remembering key points from client meetings or misplacing sticky notes with important client feedback then you'd love this feature! You can input client notes from phone calls and video meetings so everyone on your team is on the same page. 
Client files:

From engagement letters to important document this is the place to securely store all client files.
Client vault:

Securely store client passwords, card information, and pins in our encrypted client vault.
Client tasks:

We know you love your clients but sometimes getting them to send you documents or information can be a huge problem. With Financial Cents though, that problem becomes nonexistent. Simply set up a client task based on a project, choose a due date, and select the dates you want the system to send auto-reminders to them until they complete the task. This helps you save 10+ hours you would have spent chasing down and sometimes fighting with your clients.
Mark had this to say about Financial Cents' client management features:
"The (Financial dashboard shows exactly where in the process each client is in an easy-to-read format. Also, setting up the automatic reminders to clients with a checklist of things you need from them comes in very handy for those clients from whom you need documentation to begin their books. Cuts down on time spent having to remind them via email each month."
Email Inbox:

Our recently launched

email Inbox

is a game-changer, helping you to get control of your inbox and avoid email overwhelm. With one click, you can integrate your email and 
Declutter your inbox with a focused folder that just shows client emails
Manage ad hoc email requests by easily turning an email into a task
Share and organize important emails by pinning them to projects
Aggregate all your email addresses into one inbox
Communicate with clients by sending emails from within Financial Cents
Have an audit trail of all communication between your staff and clients.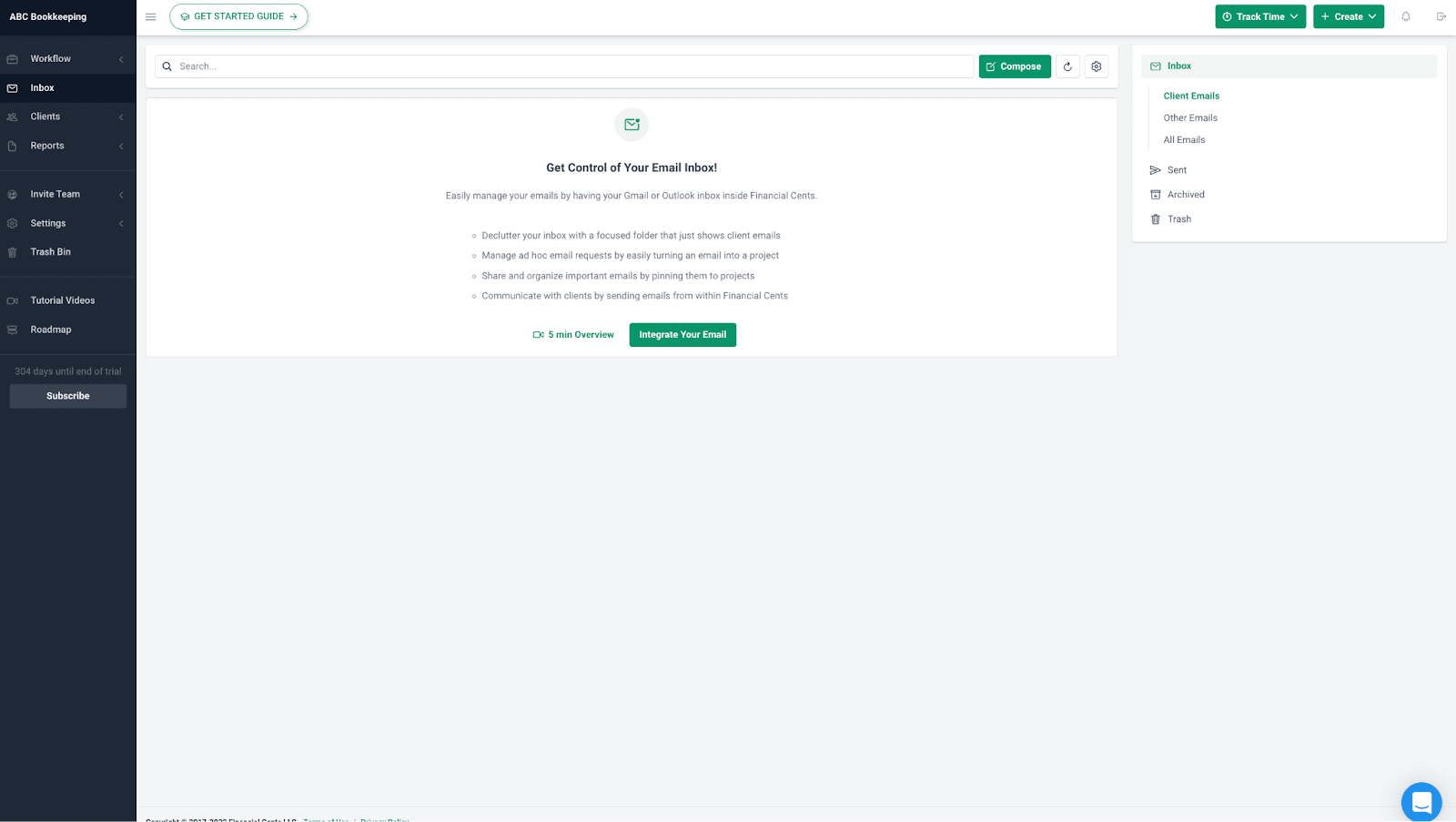 Karbon
With Karbon, you can also set up and automate client requests from. But unlike Financial Cents, your client will have to create a four-digit PIN to access the client portal to complete the task.
With Financial Cents, they will only receive a one-time code to verify their identity to access the portal to complete their tasks. They will not need any code or PIN for subsequent access.
By connecting your account to Microsoft Office 365, Exchange, and Gmail, Karbon gives you added functionality to:
Turn emails to work items

Delegate emails to a team member with the assignment button

Collaborate on tasks by leaving notes on emails to your team members with the COMMENT button.

Keep a paper trail of each client's email communication.
Client Portal

: From each client profile, you can track all communication between your clients and your team, thanks to the email audit trail feature.
Financial Cents vs. Karbon: Team Management 
Financial Cents
Team Activity: This is where you see what projects and tasks your team worked on for the day so you can know how much work you achieved as a firm.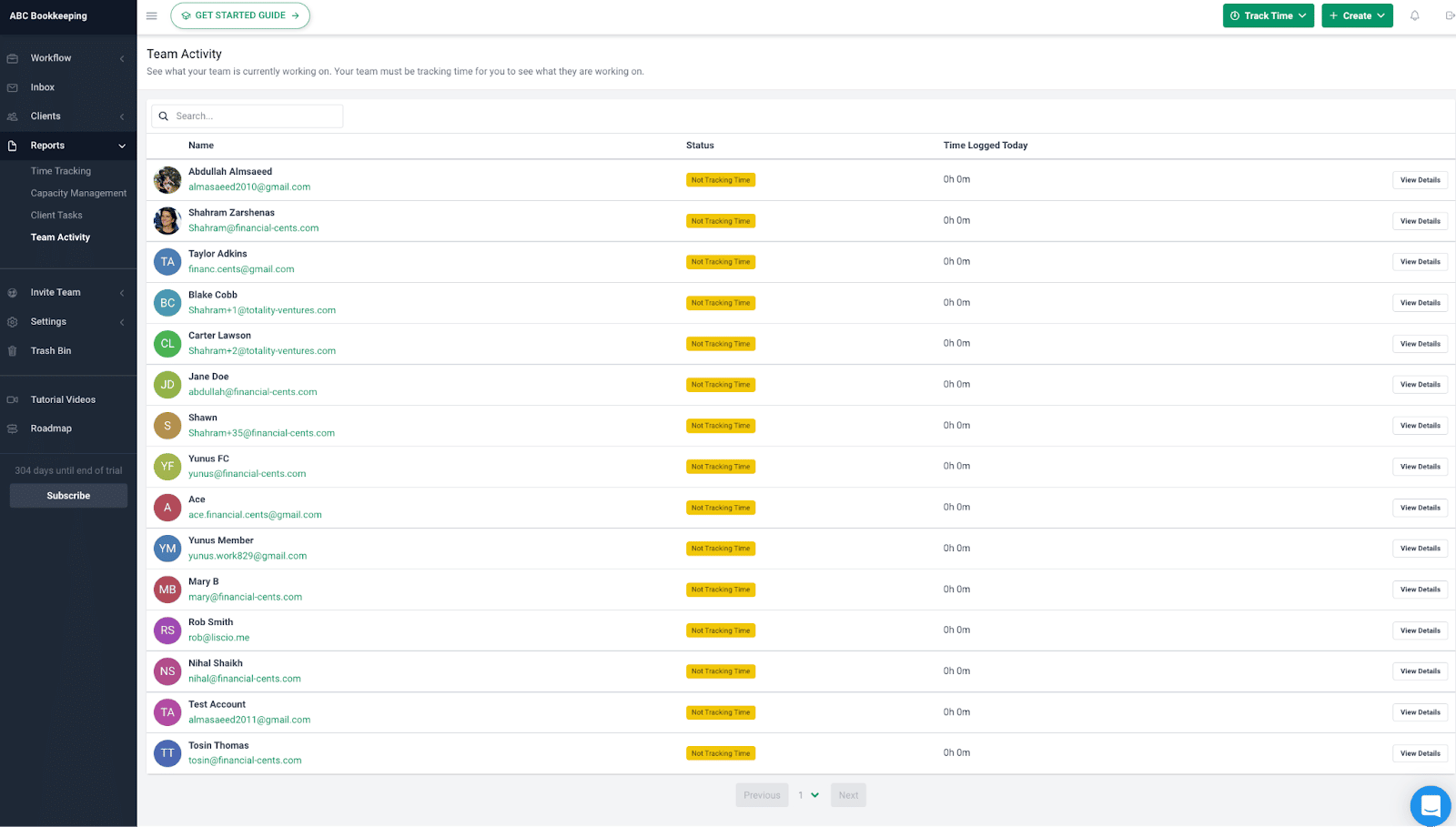 Capacity Management: For firms looking to understand team capacity this feature helps you get a complete picture of who has too much or too little work on their plate so you know who to assign work to.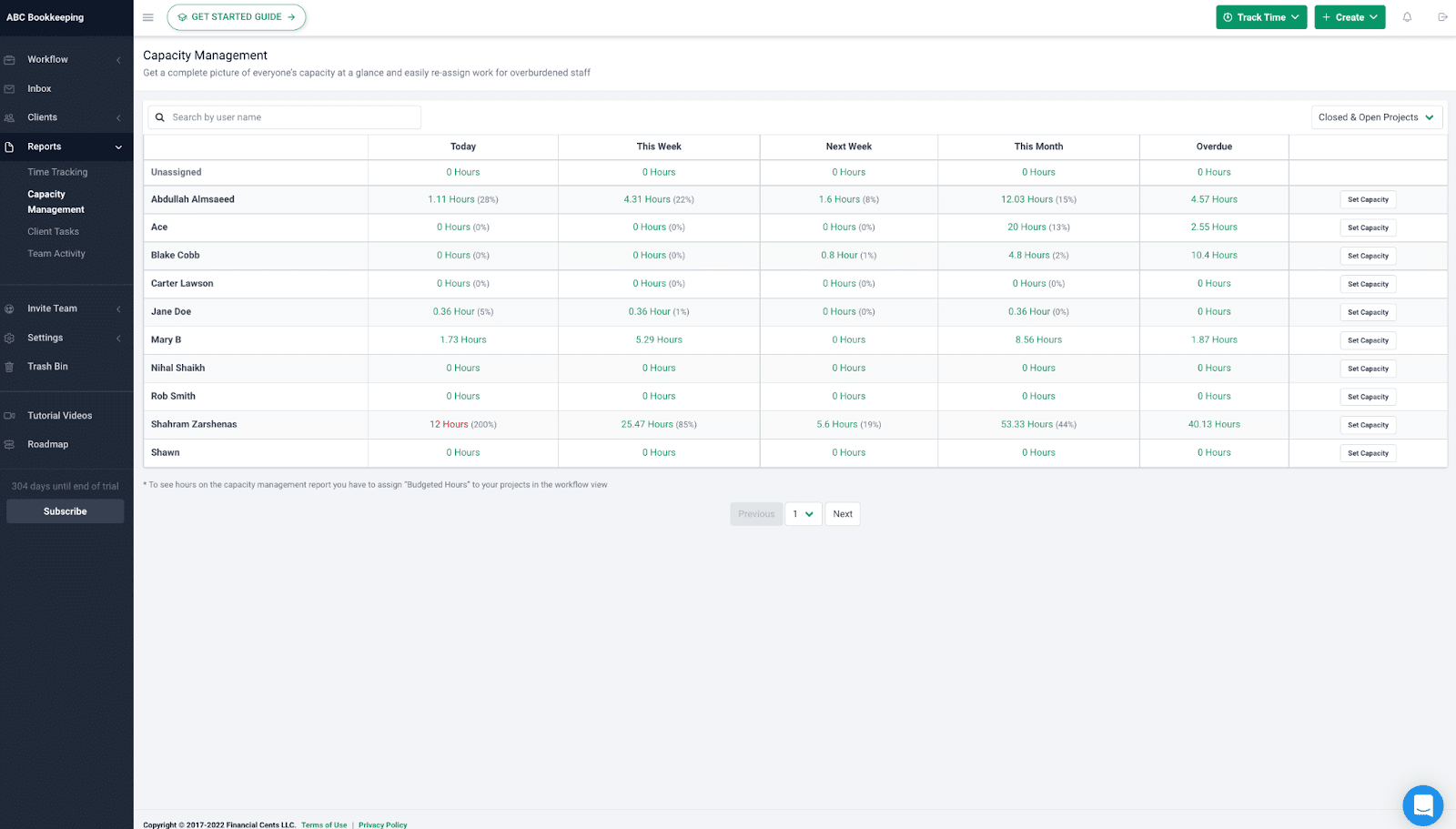 Team collaboration: Financial Cents makes it easy for your team to ask questions, share emails, notes, and documents on the work. This keeps everything organized and in one place for your team to keep everyone in the loop.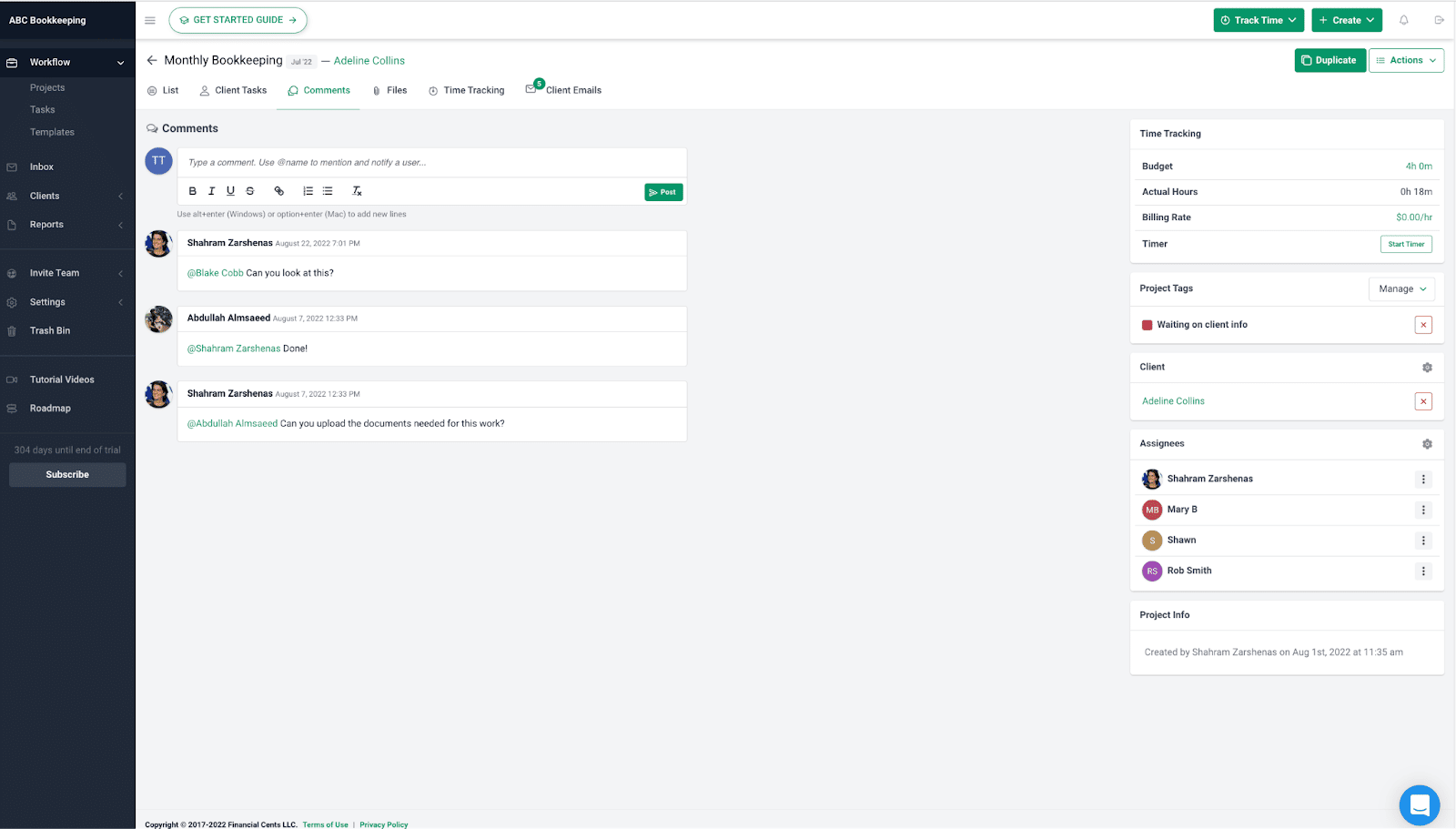 This is what a firm owner had to say about the team collaboration features:
"Biggest pain point resolution for us was the collaboration abilities: chat style with the ability to "call out" particular staff members and keep the notes. Too many things were in people's heads, or in their email boxes, not connected with the project or client. I will no longer hear "the client emailed me the info" or "the client texted me the info"…Indispensable with remote workers, no more broken email threads!"
Karbon
Team activity: Karbon's Kanban board lets you see everything that comes and goes out of your firm. From the Kanban board, you can use Filters to find specific information to know where client work, communication, and team assignments stand.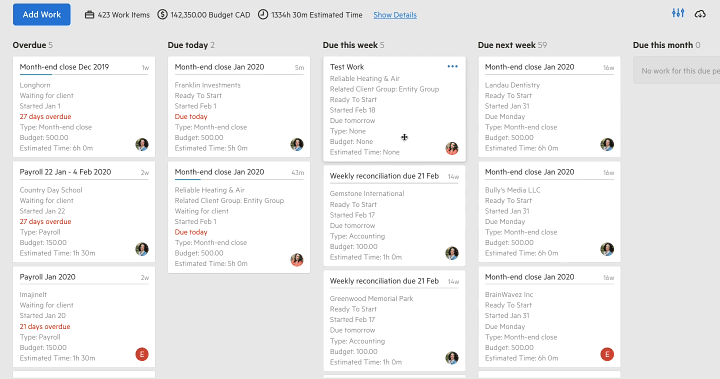 Capacity management: Karbon's Filter feature allows you to search your projects to know who has room for more and who is taking on too much work.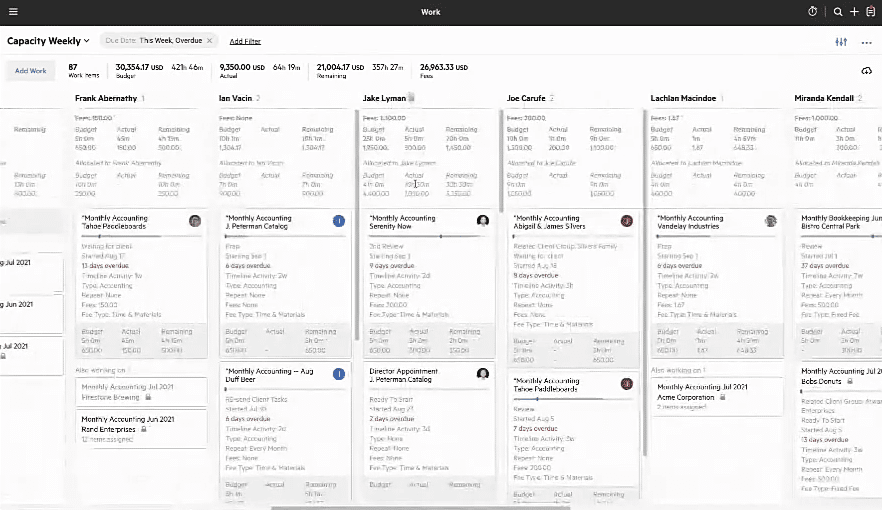 Source: Scott Gerdzunas 
Team collaboration: Collaborating with your team on projects happens in many ways. You can tag your colleagues to a client email or a project. You can leave important notes on a task, or turn emails to tasks and assign them to your colleagues.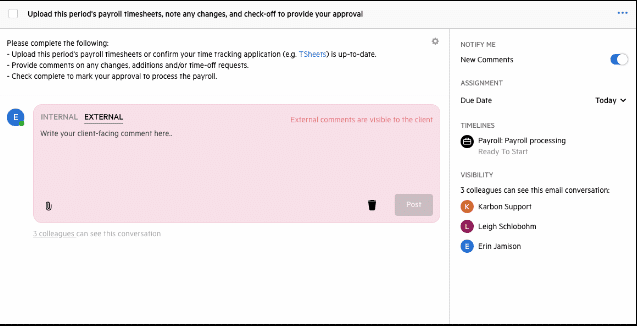 This business owner is pleased with Karbon's collaboration features:
"I like the comment features where we can tag a certain team member and comment on a task, note, and email message. It is a great tool to eliminate additional email messages as well as keep the communications in one place."
Financial Cents vs. Karbon: Integrations
Both Financial Cents and Karbon lets you automatically synchronize or move data across the third-party software your firm uses.
Financial Cents Integrates with:
The

QuickBooks Online

integration allows you to import your clients in seconds and sync them with QBO. So when you add a new client or update an existing client in QuickBooks it will update in Financial Cents. The integration also allows you to sync time entries for billing purposes .
The two-way

Gmail and Outlook

integration adds your emails to Financial Cents so you can turn emails into tasks, pin them to related work and respond to clients from withing Financial Cents instead of switching between tabs. All communications between clients and your employees are automatically displayed as an audit trail in the client's profile inside Financial Cents.
And a host of other integrations in the works
Karbon's Integrations:
Karbon users can integrate with a handful of software, including:
Google and Outlook

to

unify all emails between clients and your employees in one place.

Xama

for when you need to automate identity verification and streamline client onboarding.

Companies House

for when you need to pull company data to help you complete client work.

GoProposal

for when you need to generate engagement letters and agree on a price with clients before starting new projects.

Liscio

to get a database of all clients to help you work with up-to-date client information and reduce the chances of error.

Connect4

to easily transfer the actions you agreed with your clients into your firm's workflows easily.
And a host of others.
Financial Cents vs. Karbon: Pricing
Financial Cents costs $39 per team member to use (plus a free 14 Days trial that doesn't require your payment details to enjoy). 
You will enjoy all Financial Cents features, including:
Project & Task Management

Workflow Templates

Team Collaboration Tools

Automated client reminders

Integrations (QBO & Email) 

Time Tracking

Capacity & other reports

Free Onboarding & Training

Customer Support (<10 minute response times)
Karbon costs $79/month per user to use with the same features as Financial Cents. They also offer a free 14 day trail with no credit card required.
The Business Plan costs $79/month per user.
Create workflow and to-do lists.

Integrate client emails.

Collaborate on work items.

Automate tasks and client reminders.

Integrate with key third-party software.

Create budgets and reports.
Financial Cents vs. Karbon: The Verdict
As expected of two of the best accounting practice management software solutions on the market, both offer similar features and functionality. But quick set up, ease of use, customer support, and price make Financial Cents the best choice (and a bargain) for small and medium-sized firms compared to Karbon.  
Karbon offers more robust features that help enterprise accounting firms do more, while Financial Cents focuses on solving the unique needs of small and mid-sized accounting firms.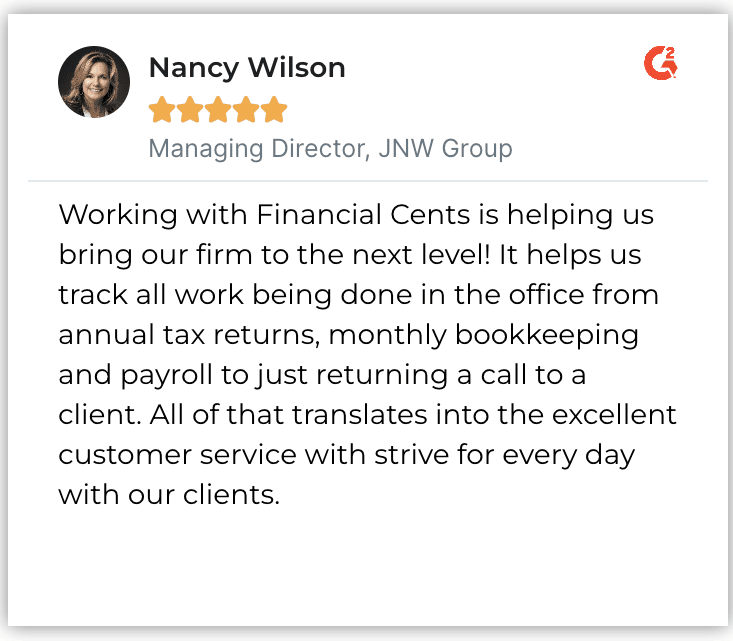 Ready to move your firm to the next level? Try Financial Cents for free for 14 days.