How to Get Paid Faster and Overcome Overdue Payments (w/ Joshua Lance, Ignition)
Learn how Joshua Lance (Ignition's Head of Accounting (AMER)) thinks ways to end conversations around late payments, even eliminating receivables altogether.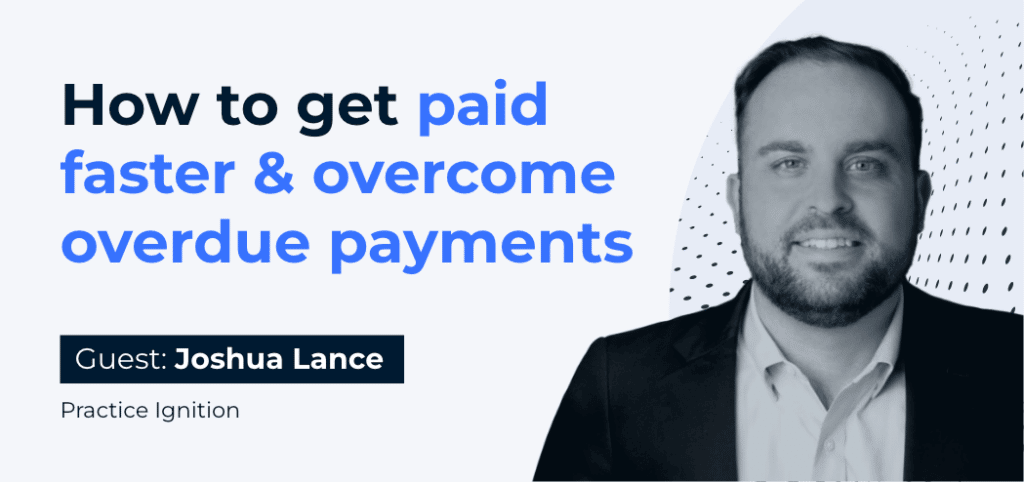 When you got into the accounting or bookkeeping business, you probably made that career choice so you could put your skills and strengths to good use. Things like analytical skills, a knack for numbers, strong attention to detail and, as an entrepreneur, a genuine desire to help clients problem-solve and develop their own business potential.
But here's the thing. Maybe you didn't go down this path to do things like pitching, selling, or marketing to clients, much less chasing them to pay you on time – all tasks that we've flagged because they fall into a broad category of awkward conversations that accountants and bookkeepers everywhere find themselves having.
In fact, at Ignition, we hear a lot about how these conversations create serious stress for even the most productive, high-functioning accounting professionals.
Related: See how avoiding or delaying awkward client conversation costs businesses thousands of dollars every year. Download Ignition's 2022 State of client engagement report.
There's a lot of fear around selling services, billing for them, and then collecting money after a deliverable has been met. While the fear is understandable, it's a huge roadblock for accountants and bookkeepers. It's a classic example of 'being in your own way' – making it harder than necessary to run your business effectively.
The subject of money can be a sensitive topic between business owners and clients. Avoidance is a common strategy for folks who just don't want to 'go there'. But awkward client situations occur when there is a lack of clarity between professional services businesses and their clients on the project objectives, scope and expected value and service. 
As Ignition's 2022 State of client engagement report reveals, when awkward client situations are not addressed early it can impact the client relationship, the quality of the work, lead to revenue loss and potential cash flow issues, and employee burnout.
So how can you easily get paid in a more stress-free way? What's the path that will help end conversations around late payments, even eliminating receivables altogether?
It's crucial to be on the same page as clients right from the start, to minimize surprises and set the client and firm up for success.
Take the time to listen:

Invest the time upfront to understand and

clearly scope your client's requirements

.



Anticipate change:

Make provisions for out-of-scope work to set expectations that it will incur additional costs.



Start the relationship on the right footing:

Use

industry vetted templates

and ensure client experience is engaging and professional right from the start.



Set clear expectations:

Don't start work without a signed

engagement

so you and your clients are on the same page about the deliverables and value from day one.



Communicate regularly: Regularly review and address any changes

in scope with the client early on.



Automate processes:

Eliminate client friction by

automating processes

such as payment collection to minimize chances of late or non-payments.
If you automate your marketing, pricing plan selection, contracts, invoicing and receivables, this can save you hours of work and, without a doubt, all the headaches that go with it. Then, with automation and other tools that eliminate awkward conversations around receivables, you'll find yourself with more time on hand. And that's time you can choose to use to not just grow the value of your business, but increase the number of positive, productive conversations with those ideal clients you serve – and deserve!
Joshua Lance is Head of Accounting at Ignition and Founder and Managing Director of Lance CPA Group. Josh has been working in the accounting and education space for over 15 years.