AI in Accounting: How Accountants and Bookkeepers Can Use ChatGPT in their Firms
Author: Financial Cents
Aside from the fear of taking people's jobs (more on this later), AI has proven incredibly useful across industries. With the right prompts, it can generate human speech, predict when engineering systems need repairs, and perform tasks.
This explains why most people get caught between panic and fascination. But AI and ChatGPT in accounting is a force multiplier, and at some point, you will need to know how it works to keep pace with your industry.
It reminds us of those times when accountants and bookkeepers recorded financial transactions by hand. It was tedious and involved binders full of paper containing piles of transactions.
Then computers came. Now, we manage the general ledger with software programs in one place, making accounting teams faster and freeing up brain power for more complex tasks.
If you refuse to take advantage of AI in accounting to increase your firm's productivity, you may soon be unable to keep up with the industry.
So, instead of seeing AI as the enemy, here's your chance to start learning to leverage relevant AI tools, particularly ChatGPT, to grow and scale your firm.
What is ChatGPT?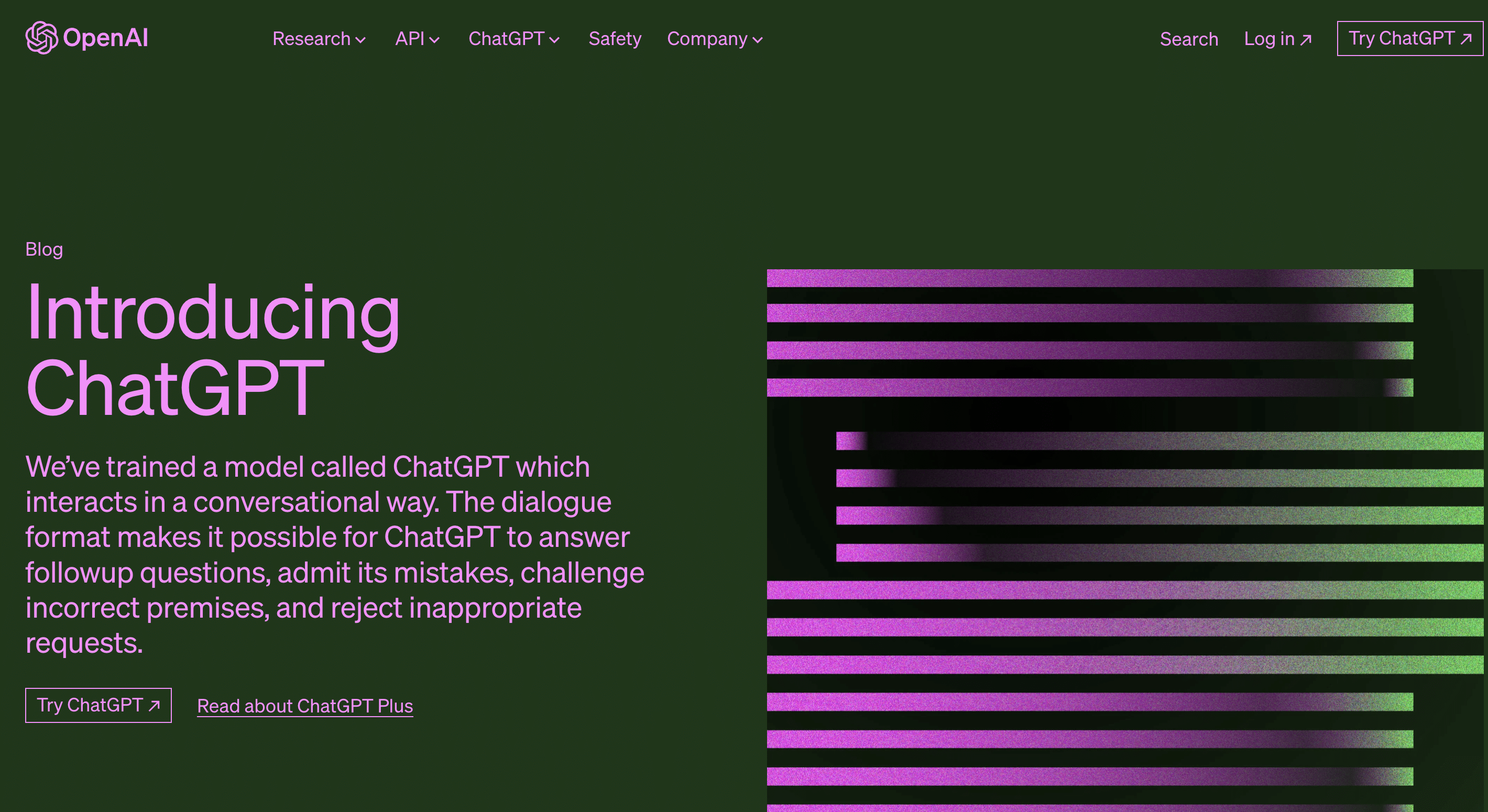 ChatGPT is a text-based chatbot that allows you to type queries to receive answers and perform tedious tasks with rare accuracy. It is trained with data to create human-like responses to user queries.
ChatGPT was launched in November 2022 and became the first app to reach 100 million users (in just two months).
ChatGPT for Accounting: How You Can Use ChatGPT in Your Accounting or Bookkeeping Firm?
ChatGPT excels at repetitive tasks. This makes it invaluable to the accounting profession, where manual tasks could reduce the accuracy of a client's work.
Reducing the time and mental energy spent on these manual tasks frees you up to get more work done, make more money and grow your firm at a speed you didn't think possible.
You may be interested in 100 ChatGPT prompts for accountants and bookkeepers.
Here are some of the accounting and bookkeeping tasks ChatGPT can do for you:
1. Create Invoices
ChatGPT can help you create invoices to bill your clients. You only need to provide the information about your business, the client, and the services you rendered.
The tool is not subject to human attention challenges, which makes its output more accurate, which could keep you from billing your clients less than you should.
2. To Compose Emails to Your Clients.
ChatGPT can write emails that help you explain financial concepts, ask for additional information, or communicate your decision to increase rates.
Type the kind of email you want it to write for you into ChatGPT and click the Send button.
Shahram Zarshenas, Financial Cents founder, prompted it to "write a short price increase template that I can use to increase pricing with my bookkeeping clients successfully."
And here's what ChatGPT generated for him.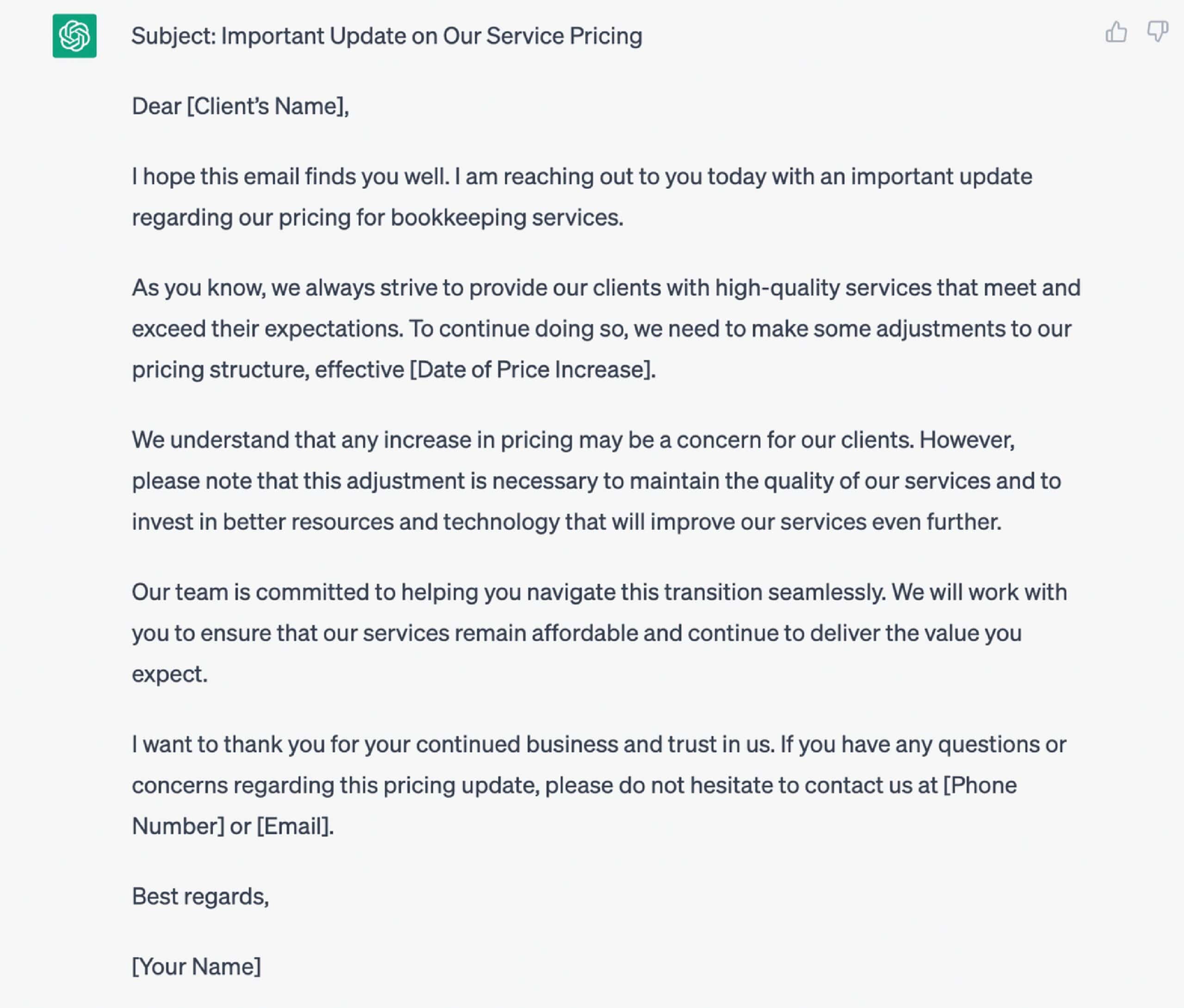 You can take it further and ask it to write the email in the voice of a famous writer, and its accuracy will amaze you.
3. To Create Excel Formulas for Accounting
ChatGPT also helps with Excel formulas to calculate the data value in spreadsheets which you can use for accounting.
All you need to do is give it the data to work with and clear instructions for what you want to calculate in any cell, roll, or column.
Here's a brilliant example of ChatGPT creating an Excel formula.
4. To Create Journal Entries
ChatGPT can identify and extract information (like dates, name of seller, amount, etc) from receipts to input them in your accounting journal.
You only need to provide the dataset and ChatGPT will analyze and input the client information accordingly.
5. To Create Templates
You can also have ChatGPT create a list of steps that go into completing any of your accounting processes.
For example, I prompted ChatGPT to "create a checklist for a month-end close process" and it gave me the following tasks.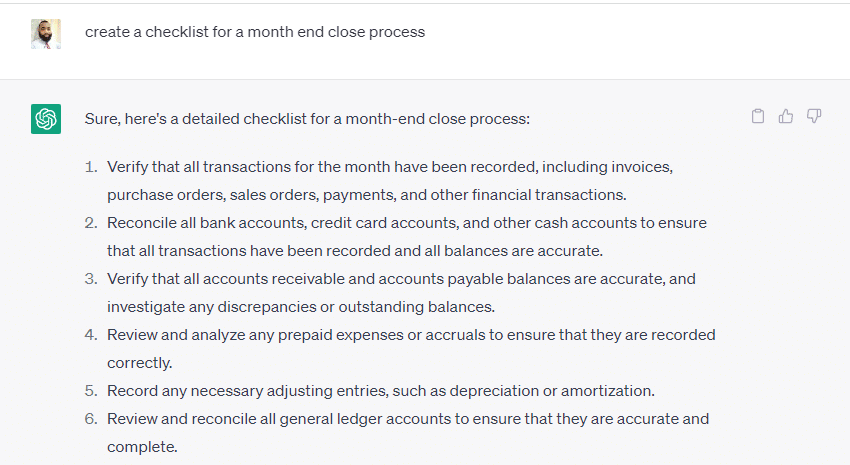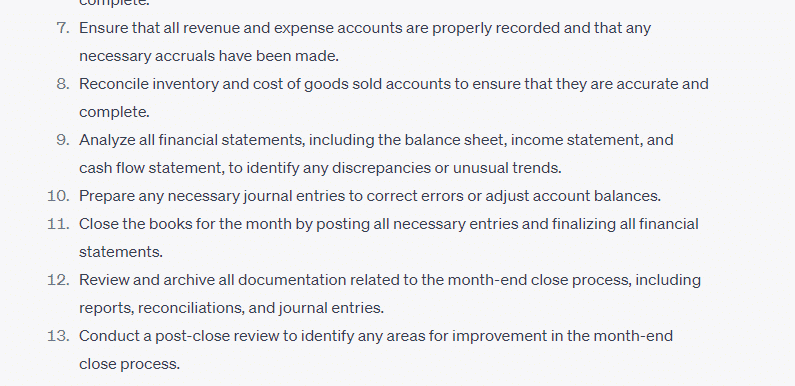 I may need to customize these, but this gets me 70, 80, or 90% of the way already.
6. To Create Subtasks
ChatGPT can also help you create subtasks for the tasks in your workflow templates.
For example, I asked ChatGPT to give me subtasks for the monthly bookkeeping task of "requesting bank, credit card, and loan statements" and here (below) is what it gave me.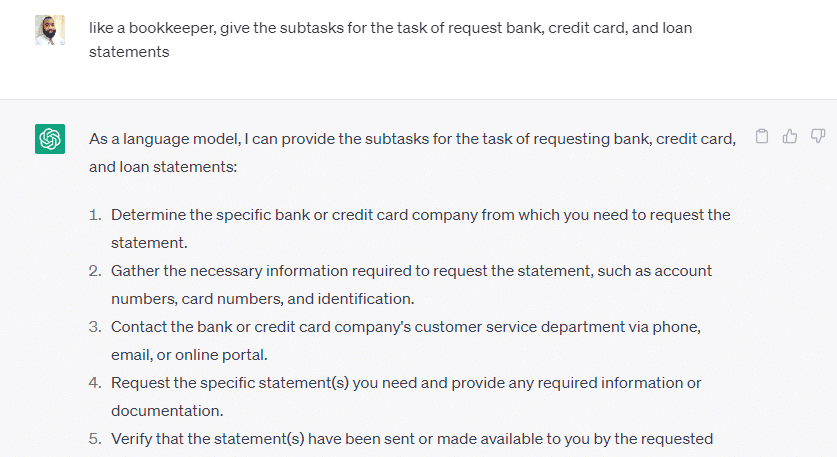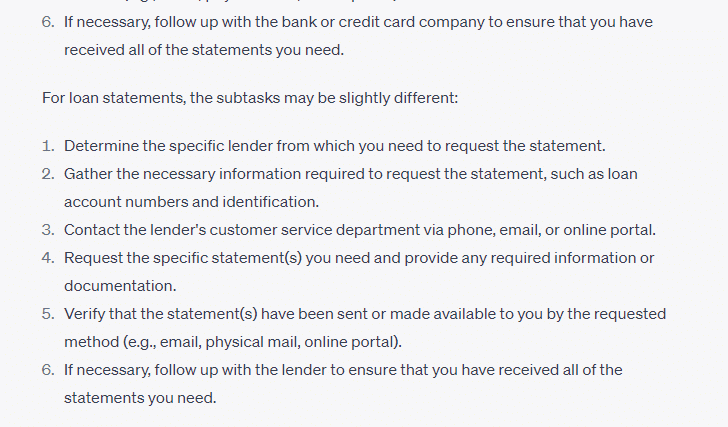 7. To Complete Simple Tax Returns
Given the right data, ChatGPT will use the data you provide to complete a simple tax return for you. Of course, you will need to go over it to be sure everything checks out, but it does most of the work for you as it did for Alice and Bob.
It can also detect errors or omissions in tax filings to ensure compliance with regulations and maximize tax savings.
In this video Jason Staats explains how you can also use AI as your personal assistant to boost efficiency
How to Integrate ChatGPT into Your Accounting Workflow to Complete Tasks Faster
Financial Cents now integrates with ChatGPT to further streamline your work (so you don't jump between too many apps) while giving you access to the innovative technology your team needs to do their best work.
With this integration, you can:
1. Create Templates within Seconds
This allows you to quickly create checklist templates complete with the step-by-step process of completing them.
For a project like monthly bookkeeping with QuickBooks (with ChatGPT) in Financial Cents,
Click Templates
Click + Template
Click Use AI
Type Monthly Bookkeeping with QuickBooks, and you'll get the result below.
2. Use ChatGPT for Creating Tasks Within Projects in Seconds
If you have created a project but need it auto-populated with the tasks that go into completing it, Financial Cents also helps with that.
Here's how:
Open the new project
Select Create Tasks using AI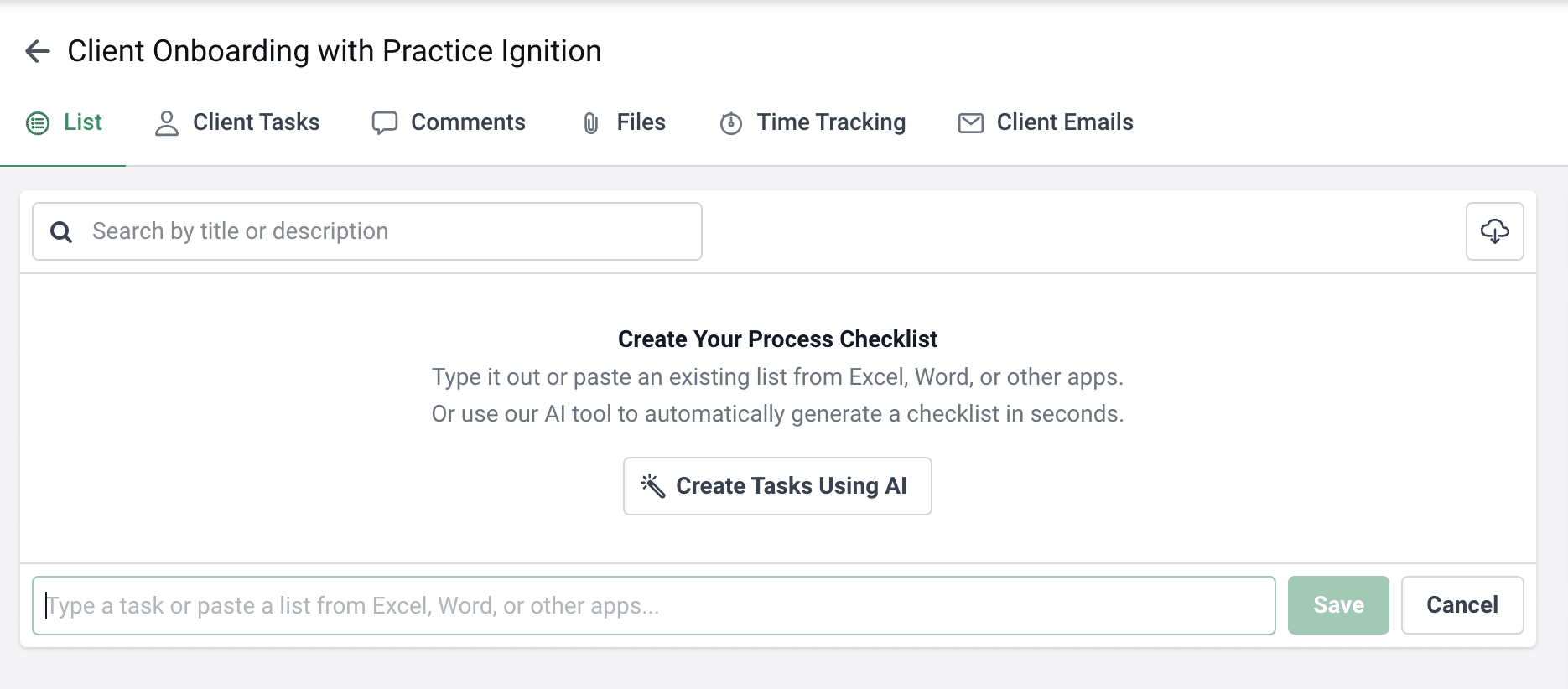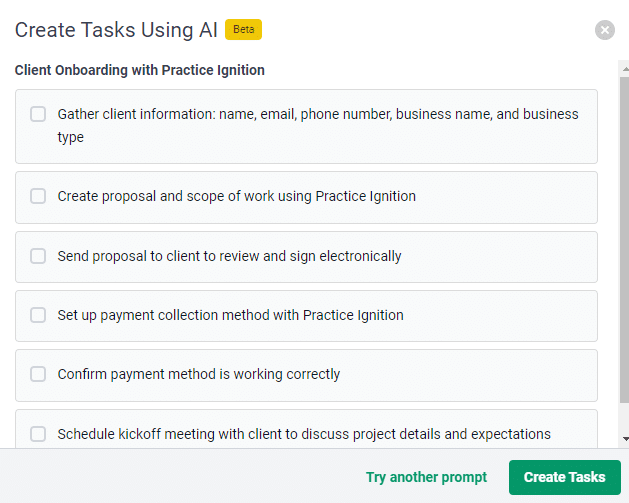 And the system will populate the page with the tasks you need to complete the project. You can then go on to customize it to suit your specific needs.
ChatGPT in Accounting: Will ChatGPT Take Accounting & Bookkeeping Jobs?
Seeing ChatGPT perform basic accounting and bookkeeping tasks with such efficiency will naturally cause accounting professionals to panic. But you don't need to worry. Although, ChatGPT and other AI tools can do accounting tasks so well, businesses will always need expert accounting help.
For one, AI does not give the seal of approval and regulatory expertise that accounting professionals guarantee. Also, AI cannot perform necessary cognitive activities like communication, understanding contexts, and analyzing complex accounting problems.
ChatGPT in Accounting: Is Your Information Secure?
AI models use robust security measures to prevent unauthorized access to the data on their platforms.
For example, ChatGPT:
Uses end-to-end encryption technology that keeps third parties from accessing your conversations.
Apart from the option to delete previous conversations, ChatGPT also has a strict policy of not sharing users' data with third parties.
However, the sensitive nature of accounting data requires you to avoid feeding ChatGPT with your client's personally identifiable information. This eliminates the chances of someone else squeezing that information out of the chatbot (by any means) in the future.
Instead, you can focus on using it for your Productivity needs like creating workflow templates.
We've found that using ChatGPT in Financial Cents helps you enjoy the best of both worlds: the practice management features (with a secured client portal) of Financial Cents and the speed that AI provides.
ChatGPT in Financial Cents: How We Protect Your Information
Here's how Financial Cents ensures the security of its integration with AI tools like ChatGPT:
Financial Cents shares the same cybersecurity firm with Google and Intuit.
Financial Cents doesn't store your prompts.
Data transfer between Financial Cents and OpenAI is secured by TLS 1.3, which ensures secure communication between two applications.
Financial Cents' communication with OpenAI's API is SOC II compliant. SOC II is an AICPA security framework for storing and processing customer data.
COMING SOON: More Ways to Use ChatGPT in Financial Cents
As part of our commitment to deploy the latest technologies to help firm owners automate manual tasks to stay efficient, productive, and profitable, we will be rolling out more features (thanks to our ChatGPT integration) that give you the ability to:
1. Generate Subtasks On Tasks to Further Detail Your Process
This feature would enable you to use ChatGPT to further break tasks into smaller steps (subtasks) in Financial Cents. This will provide more guidance to your employees and keep your work quality consistent.
2. Generate A Client Request List Based On the Type of Project
Your team will no longer struggle to figure out what additional information to request for. The system will automatically generate it for them inside Financial Cents
You can then use auto-reminders to remind the client until the information is sent.
3. Generate Email Templates and Save Them in Financial Cents (To Send to Clients Whenever Needed)
Instead of typing new prompts for the emails you use for client communication each time, you will get to generate a template for that email and save it in Financial Cents. Your team can use them for client work on the go.
4. Generate a Document and Save It to Financial Cents Document Management Portal
You can also save any document you generate with ChatGPT in Financial Cents for your team to use when necessary. This helps you find all you need for work in one place.
Start Using ChatGPT inside Financial Cents to work faster and more efficiently for FREE today. (14-Days Free Trial).
Instantly download this blog article as a PDF
Download free workflow templates
Get all the checklist templates you need to streamline and scale your accounting firm!
Subscribe to the blog
We're talking high-value articles, expert interviews, actionable guides, and events.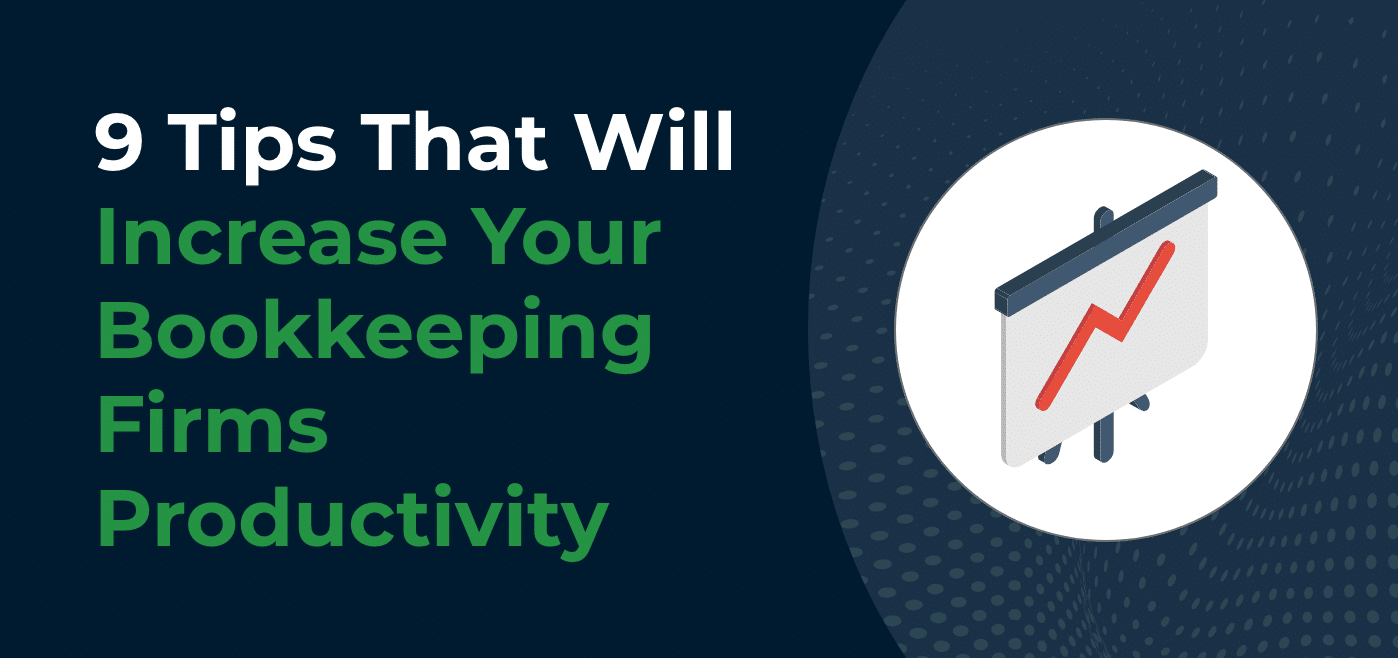 As an accountant, you always have a lot going on, which makes it tough to find enough time in the day to…
Sep 17, 2018 | 5 Mins read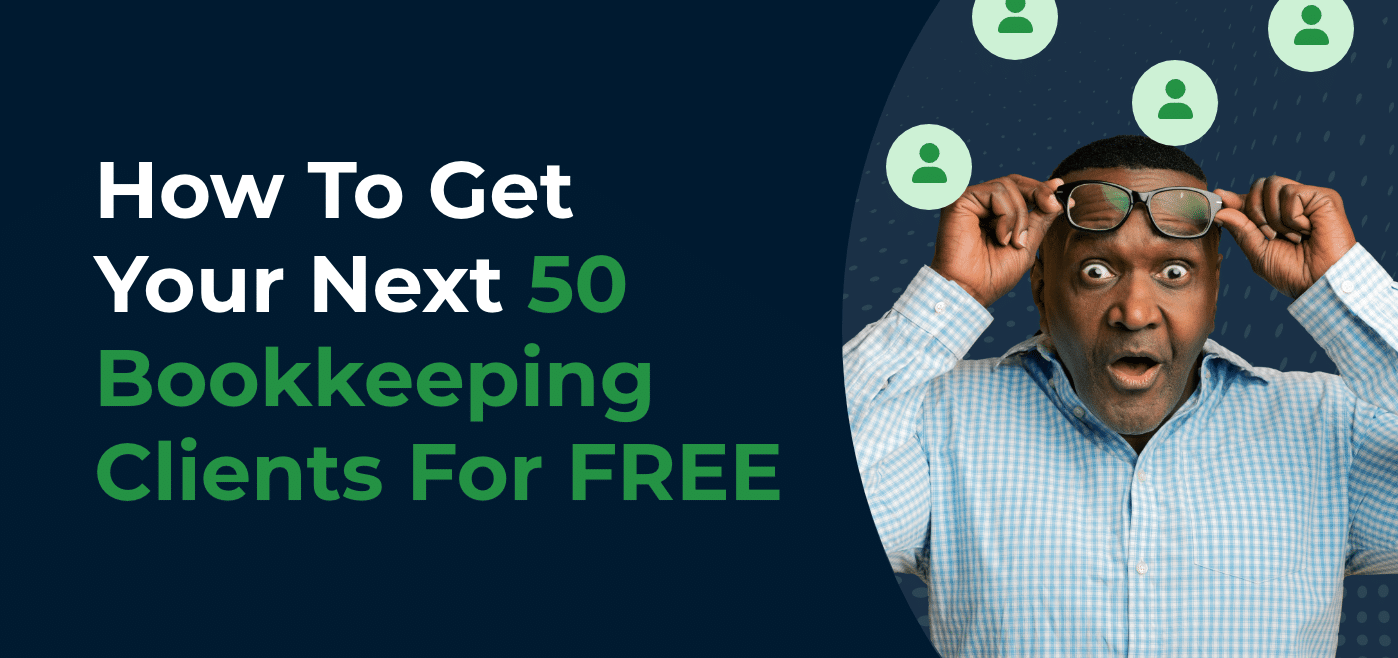 Whether you're starting from the ground level or an established bookkeeping firm, finding new bookkeeping clients is one of the most difficult…
Sep 26, 2018 | 10 Mins read