Are you finding yourself struggling to delegate work, maintain work quality, and drive productivity across your team as your accounting firm grows,?
If you struggle in these areas, It could be due to a lack of standardization of your accounting workflows and processes.
In this article, we cover 8 accounting workflow checklists that you can use to streamline your accounting workflows and scale your firm. 
You can read through the whole article or click on any topic on the table of contents that you'd like to jump into. 
Let's get started! 
Table of Contents

3 Benefits of Using Accounting Workflow Checklists
You may be wondering, "How can accounting workflow checklists help my firm?"
Here are the top three benefits you'll encounter once you switch to using efficient checklists:
Benefit 1 – They allow you to delegate work effectively
We all know delegation is tricky. 
Sometimes it feels easier just to do things yourself rather than go to the hassle of getting someone else to do it properly. Even if you think you've explained the whole process to your employee, something always gets left out or forgotten. This results in a lot of back and forth that drains your energy and wastes time. 
When your time is wasted, your entire business suffers. 
 

If you're not completing your tasks properly and on time, your clients will be understandably upset and may take their business elsewhere.
After all, you're handling their money!
An accounting workflow checklist alleviates this problem by giving your staff a step-by-step process and all the information needed to complete the client's work quickly. They will literally have a straightforward guide to follow every time, which will prevent them from leaving things out or having to ask you questions. You'll be able to focus on your own projects, knowing your employees are completing their projects with little to no input from you.
Benefit 2 – They result in consistent client deliverables
As your firm grows, it is vital that you can guarantee all your clients consistent deliverables every time.
If you can't, it will cause rework and clients will get upset and potentially take their business elsewhere.
 

Unfortunately, as your firm grows and you hire more employees, it becomes harder to ensure consistent work quality for all clients since you're no longer doing everything yourself.
You have to delegate client work to your new staff members if you want to take on more clients and continue to grow your firm. However, new staff members typically make mistakes due to a lack of experience.
Thankfully, accounting workflow checklists can solve this problem!
By implementing accounting workflow checklists, you can provide your staff with a step-by-step process to follow and all the information they need to ensure the work gets done correctly every single time. Just as if you were doing it yourself! This results in consistent client deliverables for all your clients every time no matter who does it. 
Benefit 3 – They boost overall productivity
Using accounting workflow checklists streamlines your accounting processes, which will tremendously increase the productivity of your firm.
This happens in multiple ways:
Your staff completes the project correctly the first time
Your staff don't have to waste time trying to guess how to get work done, which also prevents mistakes and rework
A checklist ensure they complete the work the quickest and most efficient way
Going through a checklist gives your staff a rhythm, more routine, and helps make the process flow faster the more they do it
Your staff no longer needs to ask you as many questions, making them and even you more productive
As you can see, there are tremendous benefits in store for you when you implement accounting workflow checklists. 
By now, you may be wondering what some of these checklists look like and how to implement them into your firm. 
Keep reading to find out!
Four Ways Financial Cents Helps You Implement Your Workflow Checklists
We've already established how accounting workflow checklists are vital to your team's productivity. But what if there's more to the system than just following a checklist? 
You should be thinking broadly here – not just about individual checklists, but also about the tools you use to implement the checklist. 
At Financial Cents, we've created software that not only provides the checklists but also helps you implement them in the most productive way possible.
How so?
Well, first of all…
1 – Financial Cents stores all your templates in one place
When working with multiple checklists, it is sometimes difficult to keep track of them all. Financial Cents solves this problem by keeping everything in one place, where anyone on the team has access to them at any time.
Not only does this make it easier for you to keep track of what your employees are working on, but it also makes it easier for your employees to quickly access all their checklists for all their projects.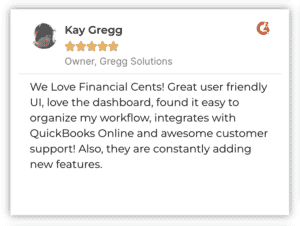 Keeping everything in one central location benefits the entire team, and makes collaboration easier.
2 – Financial Cents helps you delegate
Without the right tools, delegation is a cumbersome process. It's difficult to keep track of exactly who is working on what project. You may inadvertently give one employee too much work, and another employee too little.
Conversely, you may be unaware when an employee is burnt out, while another employee spends their time doom scrolling the news.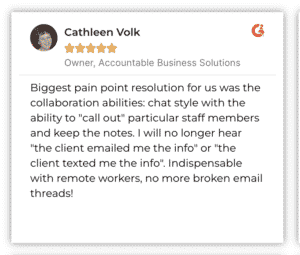 Financial Cents helps you streamline your delegation process. It allows you to see, at a glance, who is working on what and gives you an idea of who you should delegate to.
It also allows you to delegate quickly and simply, with the click of a button. 
3 – Financial Cents helps you track the status of work
Accounting firms handle so much work at once that it is challenging to keep on top of them and all their deadlines. Unfortunately, because of this sometimes client work slips through the cracks.
Financial Cents makes it easy for you to check, not just who is working on what, but where they're at in the process, and when it is due.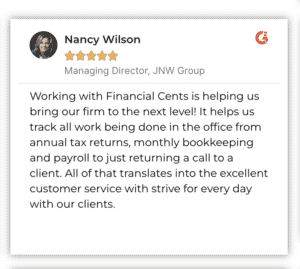 When the whole team has access to all their work and checklists, it creates an environment where employees can easily stay on task and get their work done on time.
If a client inquires about where your firm is at with their work, you can immediately check on the status and relay the information to your client, whether or not you are the one working on their work. You will always have instant visibility into who is working on what, the status of the work, and when everything is due with Financial Cents.
4 – Financial cents helps you hit your accounting deadlines
With all your employees working within the same software, delegating appropriately, and keeping track of work status, it is much easier to hit your accounting deadlines.
And we all know how satisfying it is to leave the office knowing we aren't forgetting any important client work or deadlines!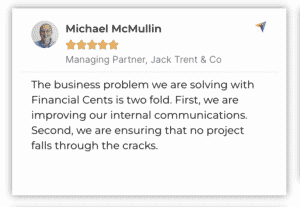 Wrapping Up
Are you ready to implement accounting workflow checklists that will help your accounting firm become more streamlined, efficient, and easier to scale?
Here at Financial Cents, we'd love to help you out!
Curious about our software? Watch our four-minute demo video or start your free trial today.
We're so excited for you to join us!