5 Ways to Impress New Accounting and Bookkeeping Clients (Plus Free Welcome Email Templates)
Author: Financial Cents
First impressions are not enough for accounting and bookkeeping firms or any business for that matter. They may mean the world for your networking and personal relationships but for your firm, your first impression is only as powerful as the last. After just one negative experience, more than half (61%) of the customers say they would move to a competitor; this number rises to 76% in the case of multiple negative experiences.
Since impressing your new accounting and bookkeeping clients pushes the envelope for client retention, your firm may lose clients as quickly as it wins them if you cannot wow them soon enough.
On that note, let's examine the strategies you can adopt today to start impressing clients to improve your profit margin and grow your firm.
Go Niche
While casting your net as wide as possible can help you build capacity, knowing who you want to serve can save you from barking the wrong tree.
In defining your ideal client, you can base your decision on service-type or a set of values that appeal to your team. Niching down is beneficial for several reasons, one of them being that competition for accounting clients is getting stiffer and the earlier you can wow your ideal client, the better.
Niching down helps you leverage your depth of knowledge to one or two specific industries to provide quality services that command higher pay. As they say in marketing, the riches are in the niches.
To choose a niche, explore the fastest-growing industries and the challenges they face with their accounting processes then create solutions for them. Nothing impresses new accounting and bookkeeping clients more than a job well done.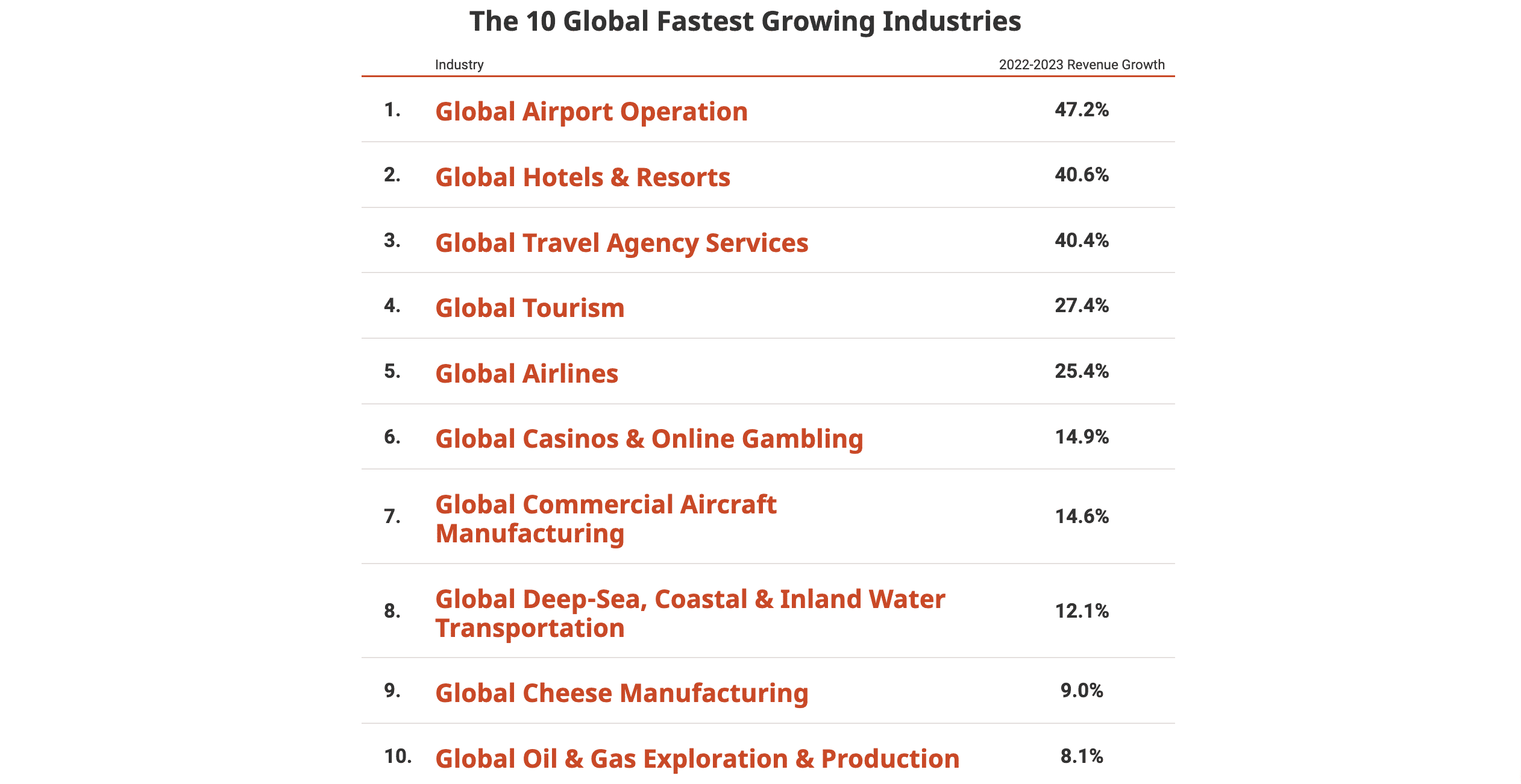 Also, time is of the essence so you can't afford to work with bad-fit clients. You'll find it difficult to impress clients that do not align with your values. So, deciding to turn such clients away is a worthy trade-off for your ideal clients. 
Sports, travels, R&D firms, payroll, forensic accounting, and business valuation are some areas you can revolve your accounting and bookkeeping firm around to boost your chances of serving new clients to the fullest.
Welcome Them With Onboarding Emails To Set Expectations
The beauty of email is in their ability to help multiple project participants get on the same wavelength, set expectations and infuse your new client with additional doses of confidence in your firm's ability to solve their pain points. But for emails to pack a punch, you need to know how to use them well.
For instance, you'll need to determine when to send a welcome email, the content and format, how to make the most of subject lines, and everything in-between.
You don't have to worry about any of these though. We've crafted welcome email templates that can take your email marketing proficiency from 2 to 82. All you have to do is edit a few things to make them fit your firm.
Get Welcome Email Templates
Create A Workflow Checklist That Works
Impressing new clients begins with creating a system of work that gets the job done for you and your clients. Workflows are sequences of work processes that help a team implement tasks from start to finish. They are particularly essential because of the overwhelming nature of accounting and bookkeeping tasks— meeting deadlines, managing clients, and keeping up with evolving tax laws.
That's why having your team reinvent the wheel for repetitive tasks is counter-intuitive. Documenting your process so your team can channel its energy into implementation helps your brand's productivity, output, and ability to keep your new clients happy.
Accounting workflows give you visibility and control over your firm's workload and pending deadlines. Imagine the calm, ease, and clarity your team will operate with if everyone knows how projects are going and who is working on what task. It will show in your ability to plan, deliver results and communicate your business processes, and your new clients will appreciate you for it.
Financial Cents has a host of workflow templates you can use.
Do you need to send proposals to clients by XYZ time? How about the tax returns you need to file? Maybe you want to track the duration of your tasks so that you bill accurately and stay profitable. You can document all these in your Financial Cents accounting workflow system and tinker with them however you like. Try it today (free trial lasts 14 days) to stop losing your clients.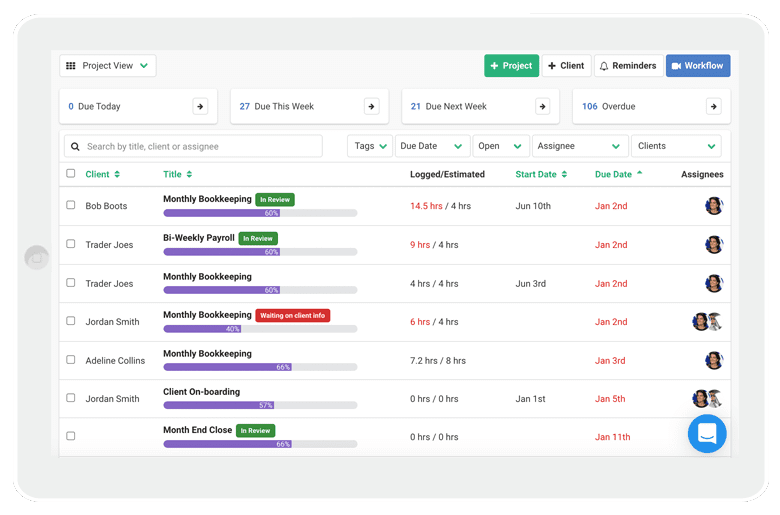 Show That You Care
Every accounting and bookkeeping firm claims to care for its clients. But for many, it's all talk and no action. Clients are used to being seen as numbers but they want to do business with brands that see them for what they are—humans.
So, when a brand comes along that shows human-to-human care, they throw their weight behind it. For instance, banking customers had grown disenchanted with the UK banking system when the fintech challenger bank, Monzo, entered the scene in 2015. The banking industry was at its lowest ebb, and most customers saw financial service brands as a necessary evil. Legacy banks were too complacent to esteem customer satisfaction.
But barely a year after its founding, Monzo Bank had over 1800 of its customers jostling to fund its record-breaking 1-million-pounds-in-96-seconds fundraise.
What did Monzo Bank do differently? They had convinced their target customers of their desire to build the bank for and with them, giving them a sense of solidarity.
You see, there is never a short supply of expert bookkeeping firms. To find those with the heart for clients is where the rubber meets the road. Get this right, and you will stand tall among your competitors. That might require you to over-deliver on your brand promise. Help with after-sales services. Or go outside the bounds of the accounting services the client is paying for.
There are several ways to do this. If a client is going through a rough patch, your empathy can go a long way for them.
Did you recently complete a project for your client? Ask for feedback that helps you serve them better. Don't be afraid to be specific. Ask about the aspects of your work they would like you to improve. And be sure to thank them for it.
Are you celebrating a milestone? Invite them to the ceremony. Does another client of yours need their services? Refer them for the role.
Forward-thinking firms will even create free resources that make their clients' work easier.  Clients do not necessarily enjoy jumping through hoops to look for new brands every time. They only do so in the face of dissatisfactory service or the emergence of a better service offering. Give them a reason to stay—And keep improving on that, and you'll build a clientele base that can ride even the tough times with you.
Reward New Clients for Choosing Your Firm
The way to failure is paved with complacency. However big you grow, don't stop rewarding your new clients. Think of their patronage in terms of opportunity cost. When a prospect does business with your firm, they are choosing your brand over other brands breathing down their necks with marketing content. Take advantage of that window to show them what your firm can help them achieve if they stick around long enough.
Free or discounted resources are one way to impress your new accounting and bookkeeping clients. Constantly crunching numbers is rarely fun for most of your accounting practice clients; creating accounting and bookkeeping templates that help them manage tasks better will make you a darling of many new clients.
HubSpot does this almost to a fault. Once you sign up for their service, they offer free marketing and content creation resources that can improve your business significantly. Suggesting that these free resources earned them their $14.36 billion valuation would be a stretch, but there's no denying how much these resources help them retain customers and grow their brand.
Keep The Communication Line Active
Relationships—personal or business, are built on the strength of communication and there is no shortage of communication materials out there. The average accounting and bookkeeping customer is bombarded with content that helps them do business better every minute. Your firm cannot afford to be missing in action. Top accounting and bookkeeping firms understand this and go all out for it. They tell their new clients what is happening around them and what will help them pull through those challenges that threaten their firms. Not communicating with your new clients can fade you out of their minds in a short time.
But you might be busy with the core business operations and can easily forget to keep in touch with your clients. That's where a communication calendar can save the day. A communication calendar helps you monitor your interactions with your client based on the communication pattern you have set.
Conclusion
You don't need to cross the seven seas to impress your new accounting and bookkeeping clients.
With a slight shift in mindset and strategy, accounting and bookkeeping firm owners can make impressing new clients a breeze. Doing this will not only help in client retention but also turn new clients into brand advocates.
A note of warning though – you will need to increase your capacity due to the number of clients these strategies will win for your team but you can leave all that to Financial Cents. With a project management platform built specifically for accounting and bookkeeping firms, you will have visibility and control over your firm's workflow, time tracking, email integration, client management, and more from a single platform.
Still not sure how? Try Financial Cents FREE for 14 days
Instantly download this blog article as a PDF
Download free workflow templates
Get all the checklist templates you need to streamline and scale your accounting firm!
Subscribe to the blog
We're talking high-value articles, expert interviews, actionable guides, and events.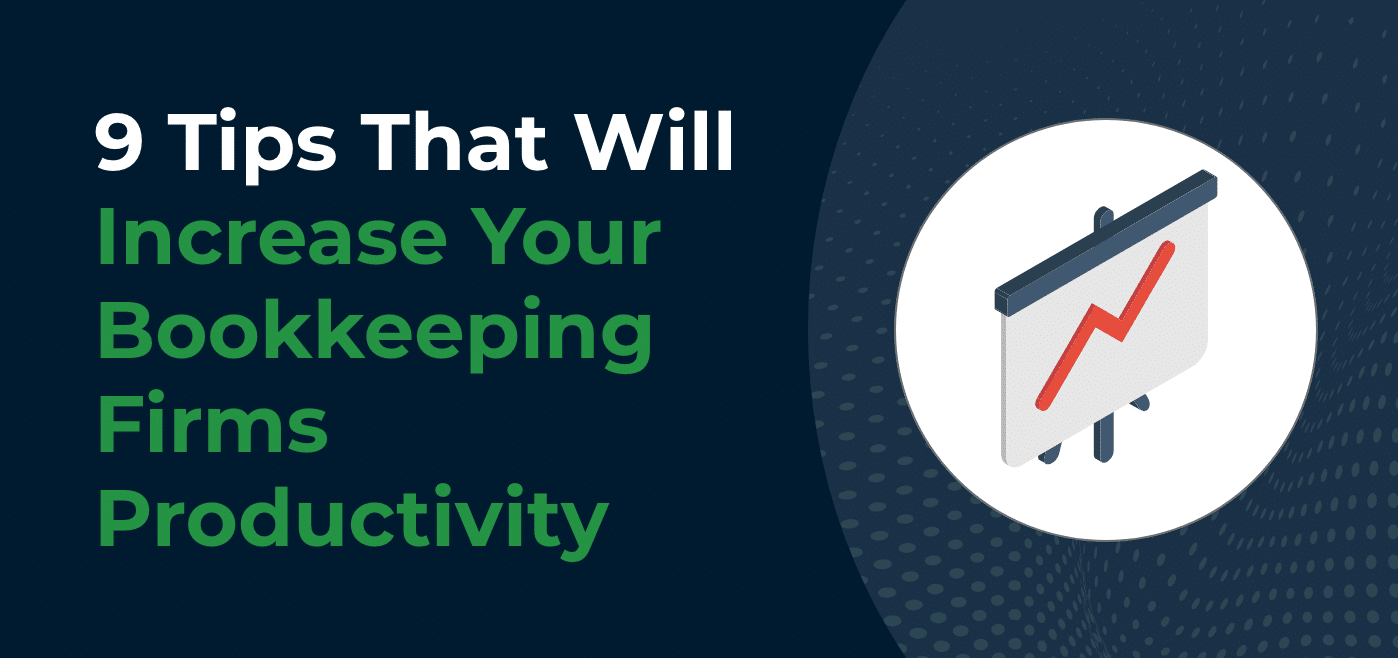 As an accountant, you always have a lot going on, which makes it tough to find enough time in the day to…
Sep 17, 2018 | 5 Mins read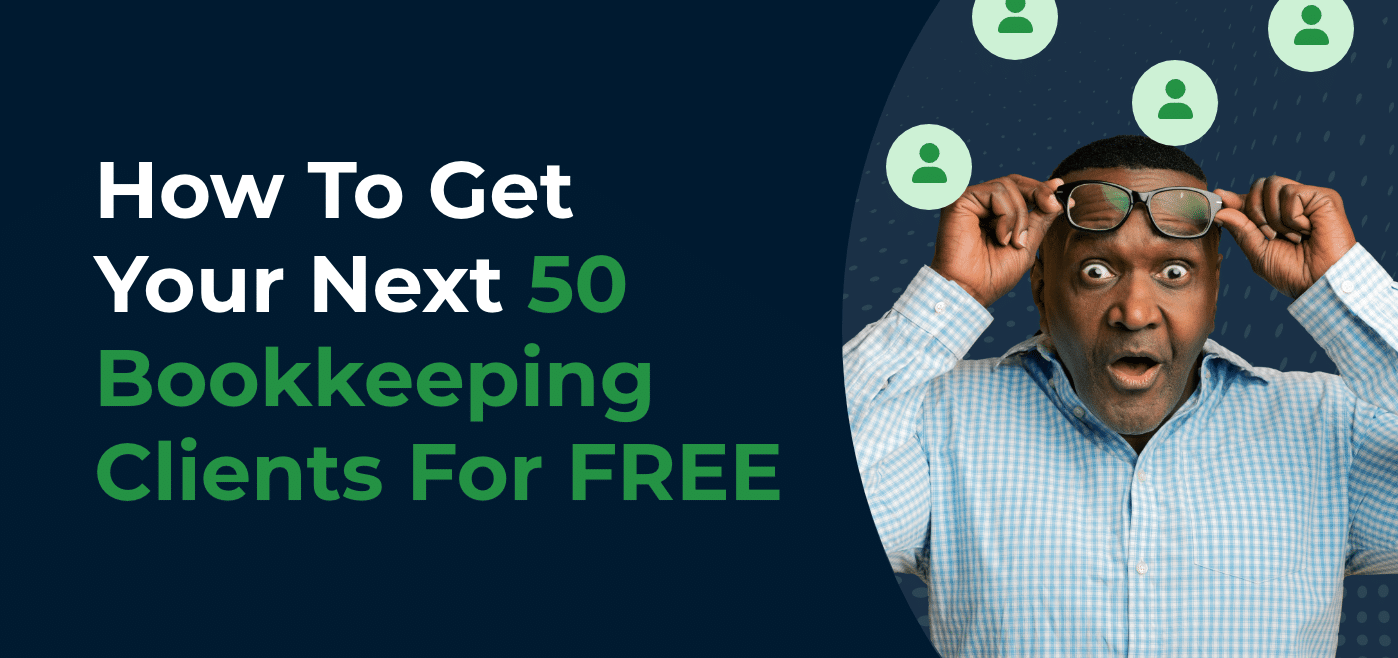 Whether you're starting from the ground level or an established bookkeeping firm, finding new bookkeeping clients is one of the most difficult…
Sep 26, 2018 | 10 Mins read