5 Best Tax Deadline Management Software Solutions in 2023
Author: Financial Cents
You didn't go into tax accounting to work late hours repeatedly, binge-eat snacks all day, and get angry while chasing down clients for documents to meet IRS deadlines.
But you may find yourself in this situation if you don't have an automated way of tracking and managing deadlines so that you can get work done in due time.
That is where good tax deadline management software solutions come in (more than) handy.
A good tax deadline management software will help you:
Set expectations for deadlines ahead of time and plan work accordingly.

Significantly cut the time you spend on manual, repetitive work so you can focus on impactful client work.

Track client work to never miss a deadline or feel overwhelmed by upcoming deadlines ever again.

Automatically follow up with clients so they send you what you need at the right time.
Gartner found that the average accounting firm spends 30% of a full-time employee's time on avoidable rework, and it's not hard to see why. When your tax firm exerts energy on processes that can be automated, getting actual tax work done can become overwhelming, leading to errors.
But by using a good tax deadline management tool, you can concentrate on producing impeccable work, helping your clients save money, and growing your team.
Before we explore how five (5) of the best deadline management software in 2022 can help your firm manage tax deadlines better, let's see what makes a tax deadline tool effective.
(You may also be interested in: The 5 Best Accounting Practice Management Software)
What You Should Look for in a Tax Deadline Management Tool
With so many options on the market, you can get overwhelmed trying to choose the right software to manage your tax season.
Workflow Automation
Workflow automation saves time and ensures consistent work quality, reducing the need for rework and improving your ability to meet deadlines.
Instances of workflow automation include:
Recurrences;

where the tool lets you automatically recreate repetitive work for future dates. It frees up mental energy for analysis and problem-solving tasks.

Task Dependencies;

help your team complete tax work (with multiple assignees) orderly and prevent delays resulting from assignees not knowing when to start their task. Your tax tool should notify all assignees when to begin their work, so they can focus on other tasks before theirs is due. It eliminates the back-and-forth that delays tax work.
Client Management
This feature enables your team to work faster and meet tax deadlines by storing all client data (including contact information, documents, usernames, and passwords)  in a place assignees can find and use them on the go.
Client Data Collection
Collecting additional information from clients to complete their work remains a time-consuming task. Your tax deadline management tool should help you chase down clients automatically. It'll save your team the delay that unresponsive clients cause tax work so you can complete client tax work on time.
Capacity Management
An overworked team is less likely to work fast enough to meet, nor does it handle, tax deadlines well. With capacity management, your deadline management tool will help you see who is over or under-working and keep your team fresh enough to deliver tax work on time. And if everyone is overworking, you can then consider hiring more hands.
The Best Tax Management Software
Financial Cents is first on this list for two main reasons:
It is easy to set up and use, helping you lead your firm through the busiest tax seasons more effortlessly.

Its client vault gives tax accountants a sense of peace, knowing that they have stored all their tax client information, files, and project details in a place where all team members can find and use them anytime.
Workflow Automation
Financial Cents enables you to automate almost any aspect of your tax work.
You can:
Duplicate work

for multiple clients instead of recreating for each client.

Use Filters to quickly

sift through your tax work by their due dates to know the most urgent deadline and allocate resources to meet it.

Use the assignee

feature to break work into smaller, more manageable chunks (tasks) and delegate them to your team members.

Use tag automation

to show work status to know where all tax work stands at a glance.

Use the Dependencies feature

to automatically notify team members when their tasks are due to start so that no task delays the work before the deadline. 
Client Data Collection
Financial Cents will save your team hours chasing clients for work-related information when you set up client tasks. And you'll find that a little automated push is all your client needs to send the information your firm needs to complete their work on time.
You can set up as many client tasks as you need to complete a client task.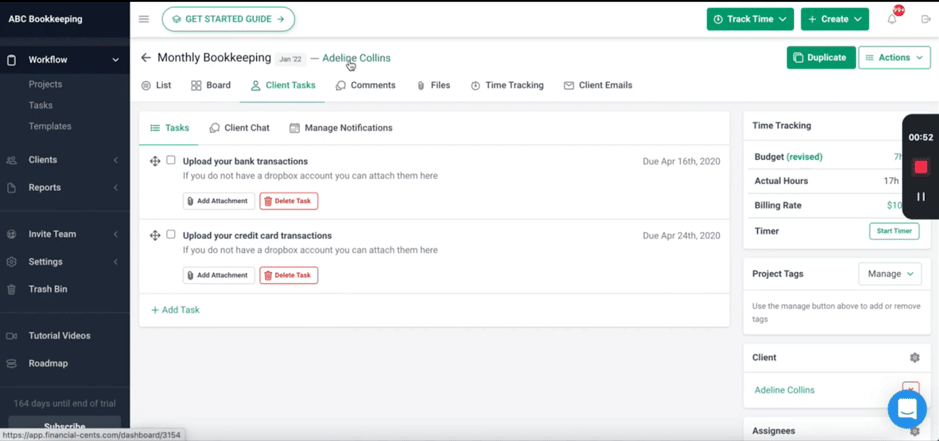 The good thing about Financial Cents client tasks is that the client does not need to create usernames and passwords to send you the information you need. They will only receive a one-time password for verification purposes and they'll never need it to access their portal again.
It makes it easy for clients to respond to your requests and move their work forward.  Because clients struggle with remembering usernames and passwords.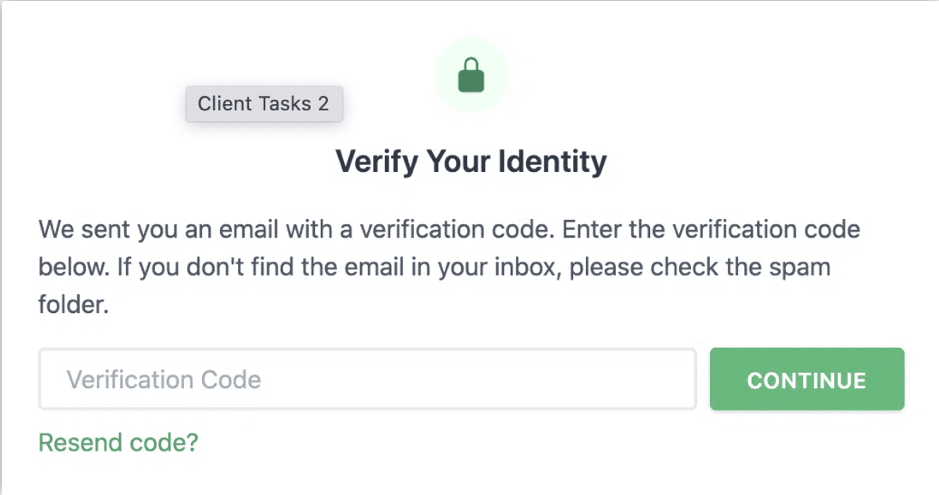 Client Management
Financial Cents' client profile and audit trail allow you to store client information and manage client communication history.
Some of the information you can store here include their documents, contact addresses, custom fields (for the entity type, social security number, EIN), and client vault (for usernames, passwords, etc.).
The audit trail lets you track your communication history with the client to file their tax returns accurately without needing a rework that could prevent you from meeting tax deadlines.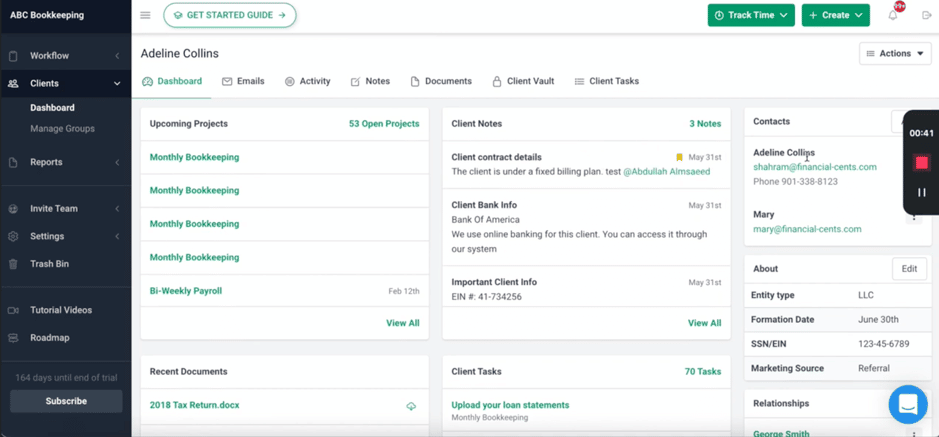 Capacity Management
Financial Cents lets you manage your firm's capacity and know how to assign work for maximum efficiency. It also helps you see who is overworking so as to prevent employee burnout, which breeds errors and slows the work rate. That way, you have enough capacity to fulfill the demands of tax season.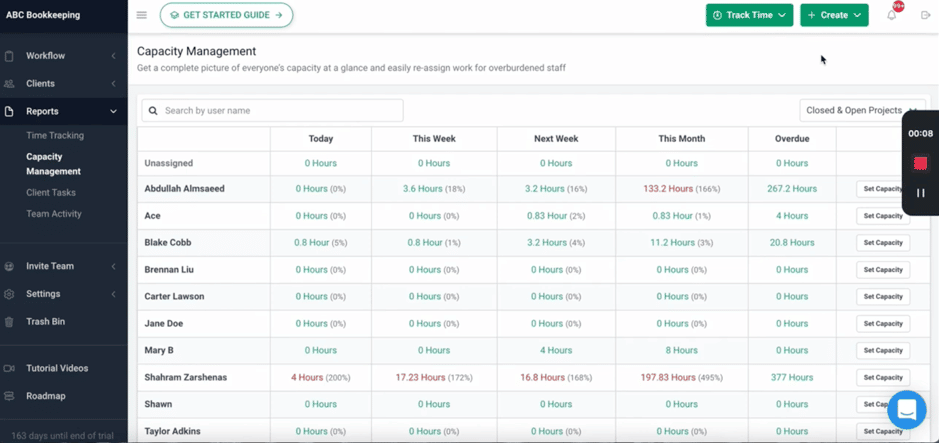 Pricing
Financial Cents is one of the most affordable deadline management tools. With one simple plan:
$39/month,

per team member
You will have access to its full suite of features.
More Resources For You

Read:

How Badger CPA Hits Their Revenue Goals With Financial Cents

Payroll Solutions Plus Gets 100% Software Adoption With Financial Cents
AccountancyManager helps accountants free-up time to manage their tax work better. Its integration with Company House allows users to pull client data directly to reduce the time it takes to create them from scratch. It boosts your chances of meeting tax deadlines:
Workflow Automation
AccountancyManager helps team automate their workflows with:
Automatically Generated Task List:

this feature allows you to add the period end date for each tax work when creating it. And with that, AccountancyManager automatically generates task lists for your team based on their deadlines, saving your team hours of adjusting work schedules to accommodate deadlines.

The Custom Workflow

feature helps you to repeat completed tax work. It is similar to recurrences in  Financial Cents. If you have completed a task that you want to perform at a future date, set it to repeat, and it will appear on the said date, which could be monthly, quarterly, or yearly.
Client Data Collection
AccountancyManager allows you to send clients automated requests when you need additional information. After creating a tax work, you can add the task you want the client to perform and set the reminder frequency, and the system will automatically chase the client for it instead of making a team member chase them. That will enable you to free up resources to better manage your tax deadlines.
AccoutnancyManager gives you many options for client requests, including automated records requests, automated part-record requests, and automated approval chasing.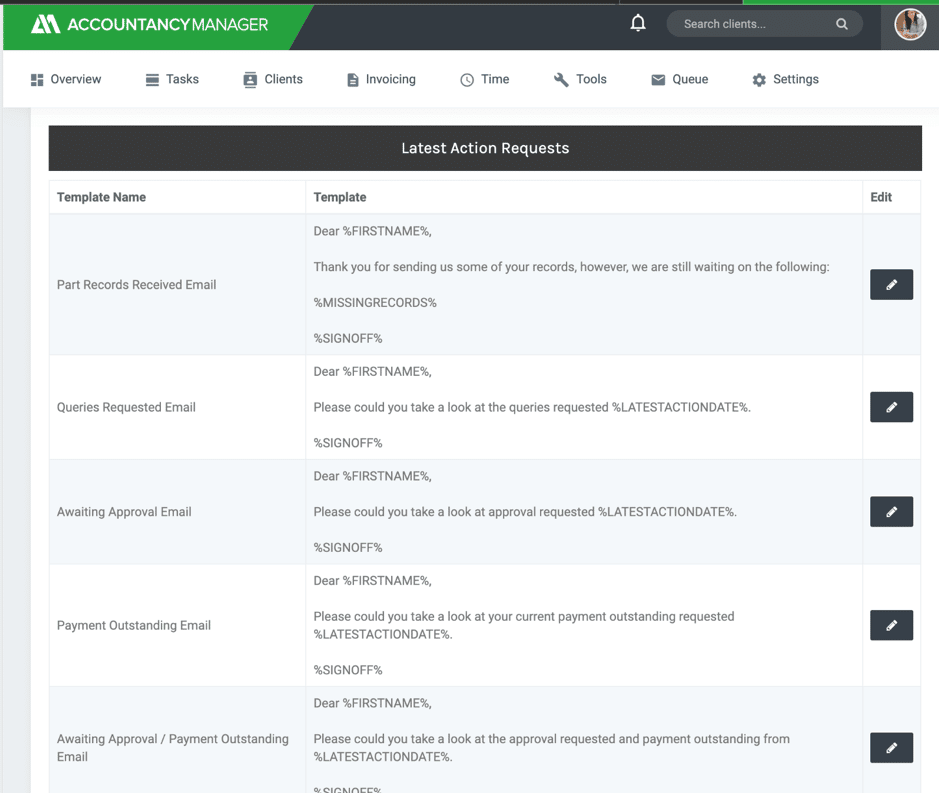 Client Management
AccountancyManager offers a client portal that allows you to store client information, documents, and share custom forms with clients, and request e-signatures. This feature allows your team to find what they need to complete tax work much faster.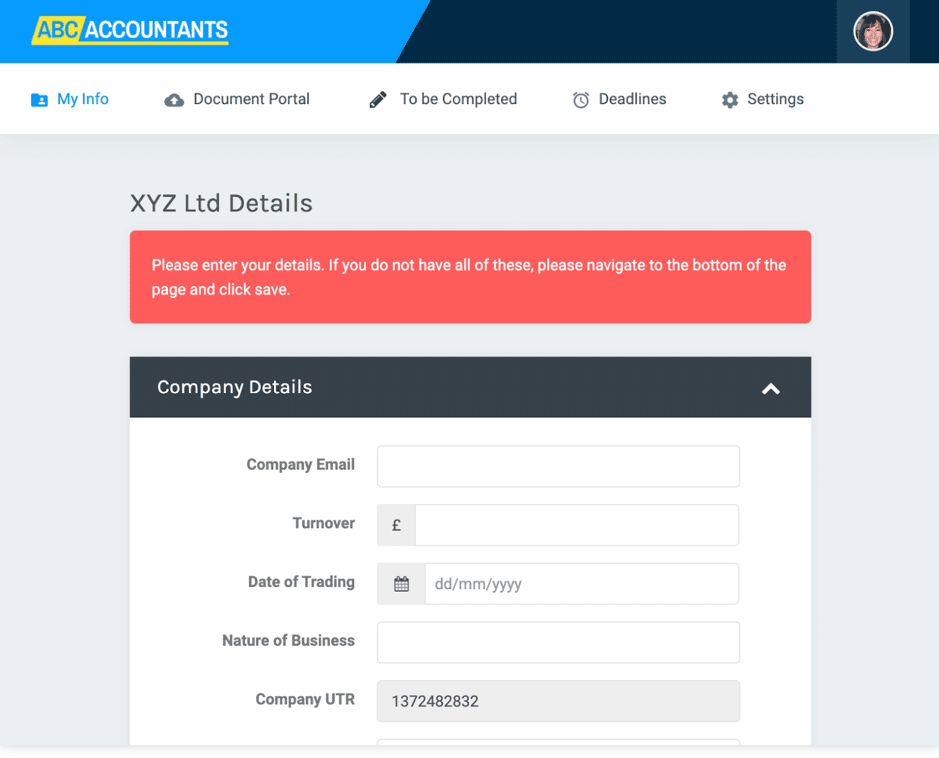 Capacity Management
Unfortunately, AccountancyManager does not have the feature to track your team members' workload. You can only track how your employees are spending their time to bill your clients adequately. 
Pricing
AccountancyManager will cost you £31.20 per user/Month (billed annually). Or £39 per user/month, if you prefer to pay monthly.
Canopy gives you a better grip on your tax deadlines by letting you streamline your mission-critical functions.
To do this, it provides a handful of features, including:
Workflow Automation
Like financial Cents, you can set up recurrences so that tax work recurs automatically for the next period.
Bulk Task Action allows you to create a task for multiple clients simultaneously. That way, you can save your team the time to recreate them individually and improve your chances of completing tax returns on time.
Canopy also provides triggers to enable you to create rules that automatically initiate subsequent actions.
For example, you can set up triggers that:
Notify team members or clients when their tasks in tax work have been created.

Automatically notify relevant team members of the tasks approaching their due dates.
Using triggers to automate workflows will help your team complete work faster to meet tax deadlines.
Client Data Collection
Canopy lets you share pre-built forms with your clients, so it's easy for them to fill in the information you need to complete their work.
You can send clients requests by mail. However, you have to do this by customizing the triggers we spoke about (in the workflow automation section) for something to happen before the system can send additional reminders.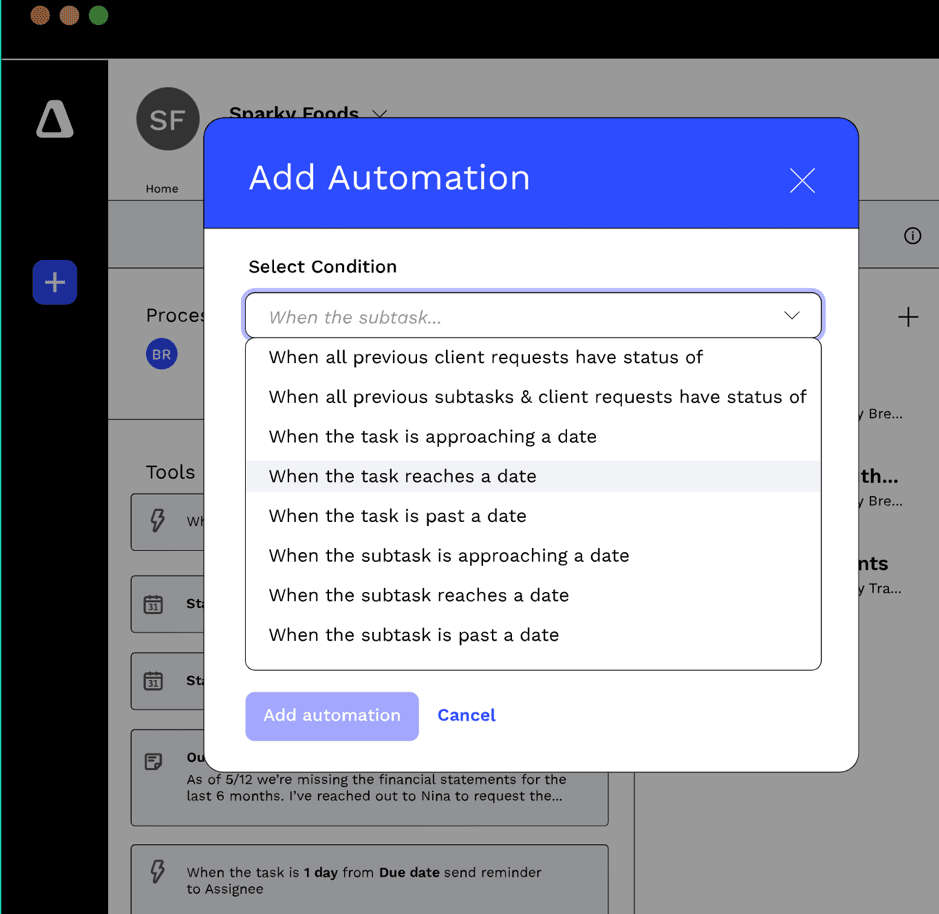 Client Management
Canopy's Client Record is useful for collaborating and sharing notes with your clients to gain clarity and access the files you need to complete their tax work on schedule.
The meeting scheduling feature allows you to schedule meeting with clients on the client portal. This feature lets both you and the client know when to fix a meeting and reduces the back-and-forth of trying to meet with clients to iron things out.
If there's a change in the client's circumstances, The Client Organizer feature helps you learn about them and how they affect their tax returns to help you provide satisfactory service without rework.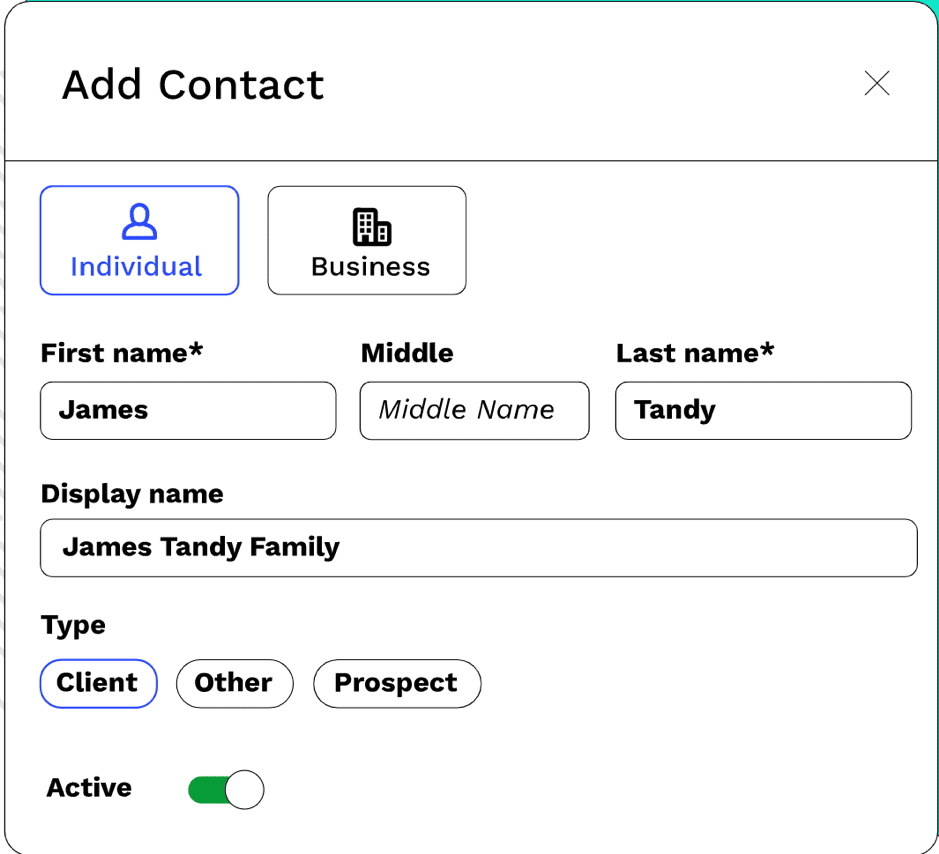 Capacity Management
Canopy allows you to track time for invoicing.
But to manage team capacity, you have to manually track your team members' workload–which takes more of the time you're trying to save to meet tax deadlines. 
Pricing
Canopy uses a modular pricing model for its services. That means you can decide to pay for just one module or pay for all.
These are the prices for the modules (all billed annually)
Workflow: $40/month, per user.

Time and Billing: $24/month per user.

Document Management: $40/month per user.

Client management: $2.50/month, per client.
Jetpack Workflow helps tax accountants optimize their firms for speed and accuracy.
Its tax deadline management features include
Workflow Automation
Jetpack allows you to manipulate your tax work with
Recurrences

to recreate repetitive tax work so you can focus on completing (not creating) them in time.

Dependencies:

creating dependencies to help assignees complete their tasks in large projects at the right time. It saves them the confusion and delay that may arise from assignees not knowing when to start their tasks.

Task completion notification

keeps you notified about completed tasks so that you know how much tax work is getting done.
Client Data Collection
Financial Cents and Jetpack differ in their approach to client requests. Financial Cents allows you to email your client and auto-remind them till they send the information your team needs.
But Jetpack allows you to send a one-time message to your client to request additional information.
Client Management
Jetpack has a client management feature for your client. But it is not as robust as Financial Cents'. You will need a third-party storage system to store sensitive client data (such as contact information, client entity type, SSN, and EIN) which can be expensive.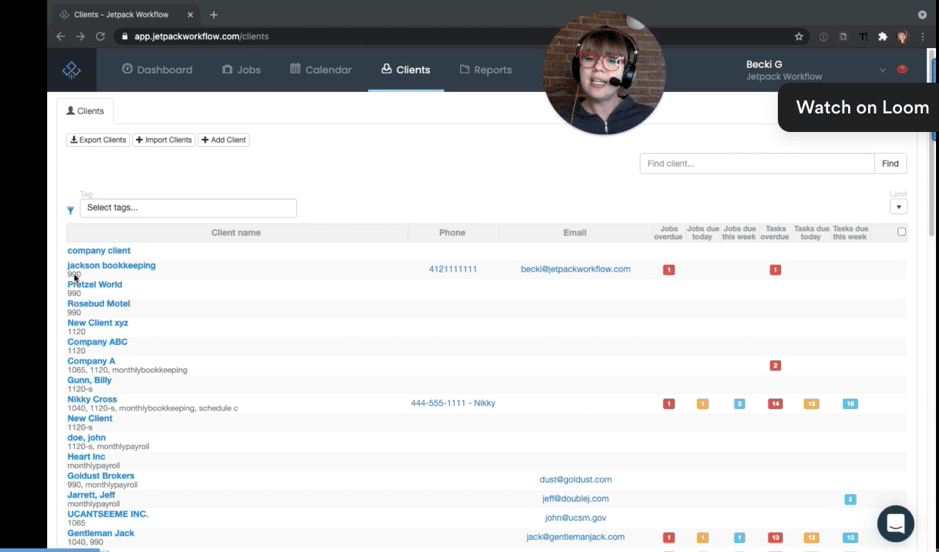 Capacity Management
As the owner, Jetpack's Task View helps you see how many tasks are assigned to team members per week. But as the manager, you can see how many jobs each team member is assigned per week. This allows you to assign incoming tax work to team members with enough bandwidth so that your team can be productive enough to meet your tax deadlines.

Pricing
Jetpack Workflow offers two plans are:
Organize

at

$36

/

month,

per user (billed annually).

Scale

at $39/month, per user (billed annually).
Karbon is one of the best tax deadline software solutions. It helps accountants streamline work and maintain visibility over their firm during tax seasons.
Workflow Automation
Karbon's suite of automation tools can save you hours of manual work per week.
They include:
Automators; for adjusting work status to show you where all tax work stands at a glance. The global and tasklist automation allows you to apply this automatic status update at the general and specific work levels respectively.
Recurring projects to recreate repetitive tax work for future dates.
Client Data Collection
Karbon sends your clients messages to complete a list of what you need them to do to complete their work and auto-reminds them until they complete the task. It helps your team focus on performing other tax work since the tool can handle this one.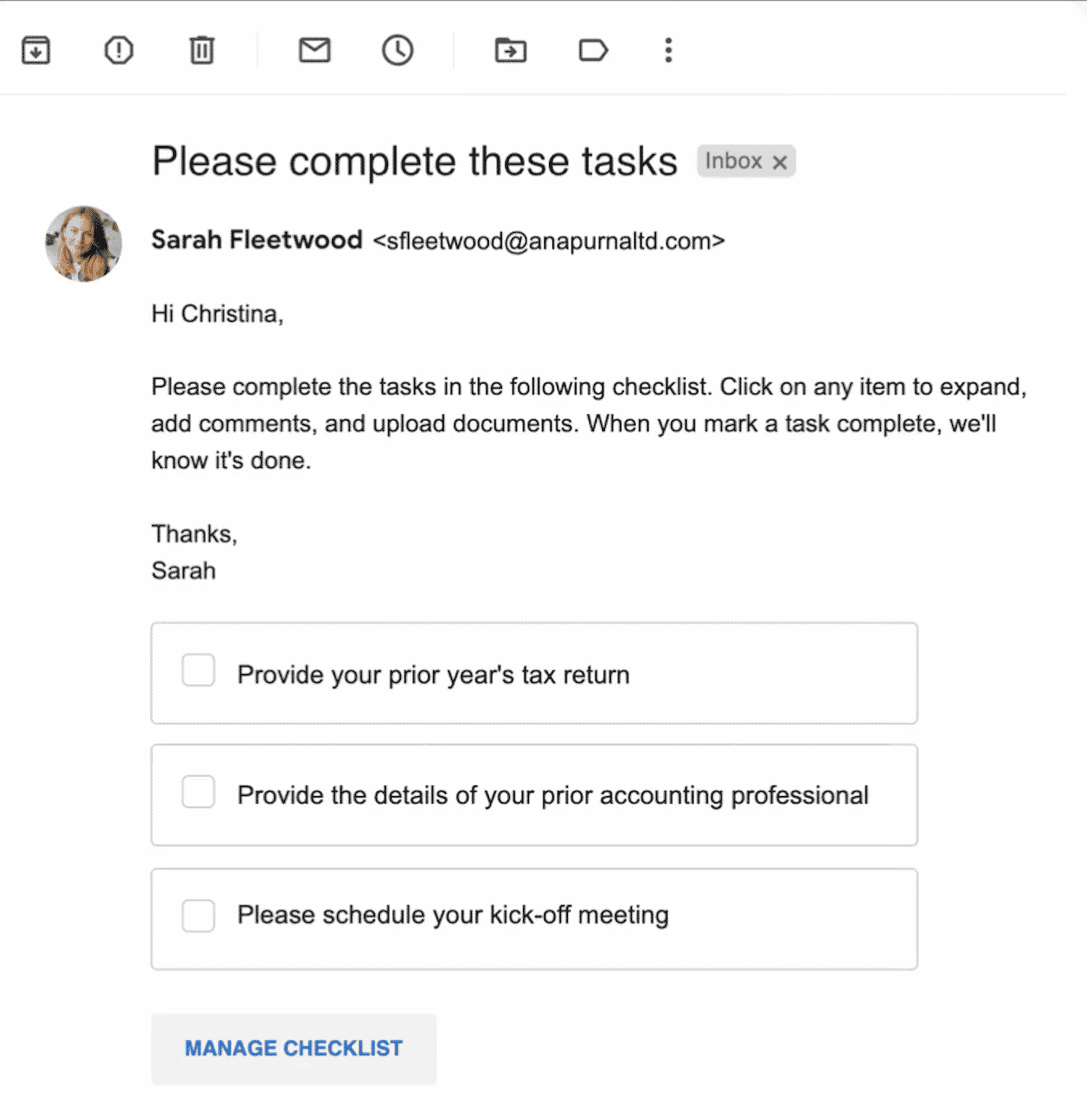 Client Management
With Karbon, you can also store your client information, documents, and communication in a place where your team members can find and use them for the client's tax work. It saves them the time and energy to look for work-related information in sticky notes and spreadsheets and helps them meet deadlines quickly.
Capacity Management
Karbon's Capacity Weekly shows you what your team members have on the schedule over a period. It allows you to reallocate resources. And if you need to hire ahead of time, you can do it on time to meet tax deliverables.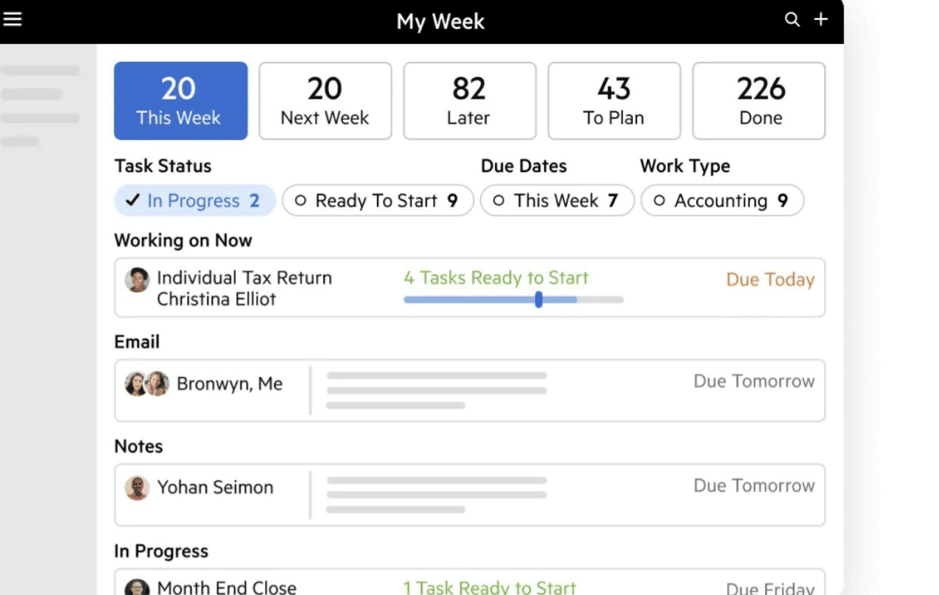 Pricing
Karbon offers its services in three tiers:
The Team Plan: $59/month, per user, (billed annually). Or $75/month per user. This plan lets you use workflow, team collaboration, and to-do list features.
The Business Plan: $79/month, per user (billed annually). Or $99/month per user (billed monthly). This plan lets you use everything in the Team plan, task automation, client reminders, and reporting.
The Enterprise Plan lets you use everything under the Team and Business plans, with full-service onboarding, dedicated Karbon contact, and their enterprise Platform. This price depends on your specific needs. 
Conclusion
The right tax due date tracking software will save your team from plunging into panic mode during tax season. It will help you plan ahead of time, manage the busy days clarify what needs attention, what's receiving adequate attention, and how to improve the firm's output. Choose one out of the five tax deadline management option options we have discussed above.
You can start enjoying Financial Cents' tax deadline management Solutions Software features today.
Instantly download this blog article as a PDF
Download free workflow templates
Get all the checklist templates you need to streamline and scale your accounting firm!
Subscribe to the blog
We're talking high-value articles, expert interviews, actionable guides, and events.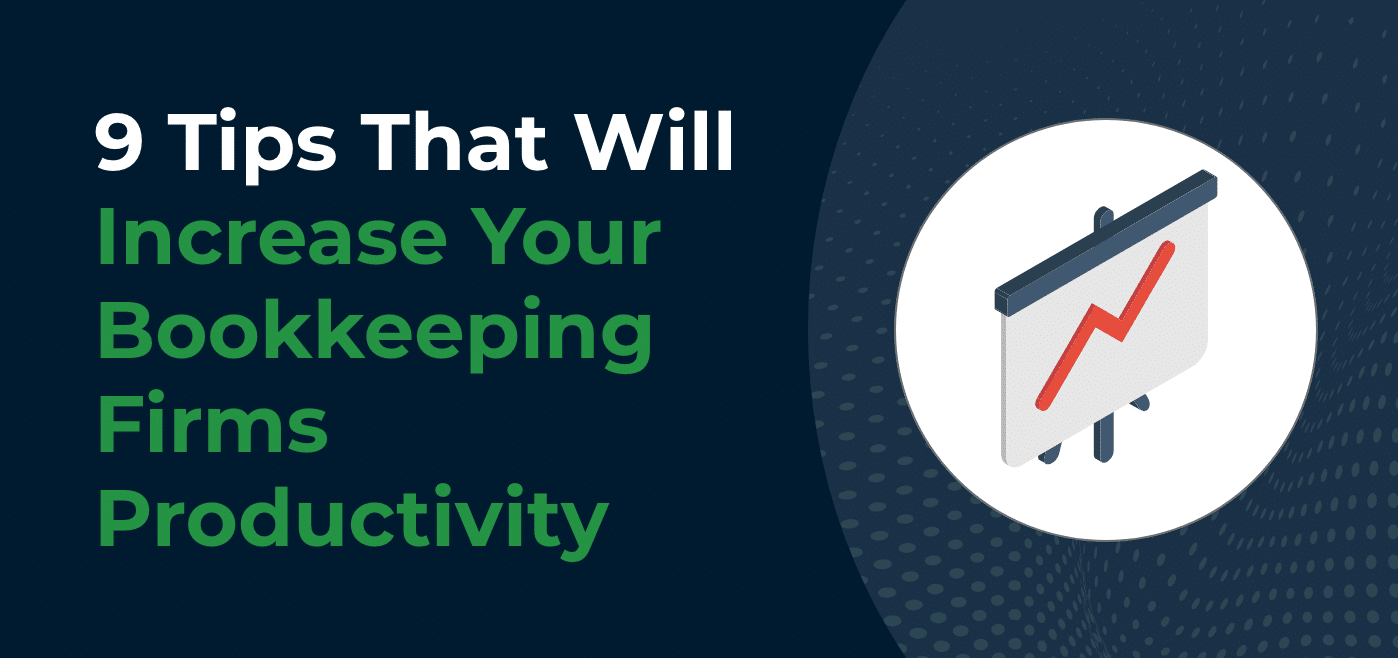 As an accountant, you always have a lot going on, which makes it tough to find enough time in the day to…
Sep 17, 2018 | 5 Mins read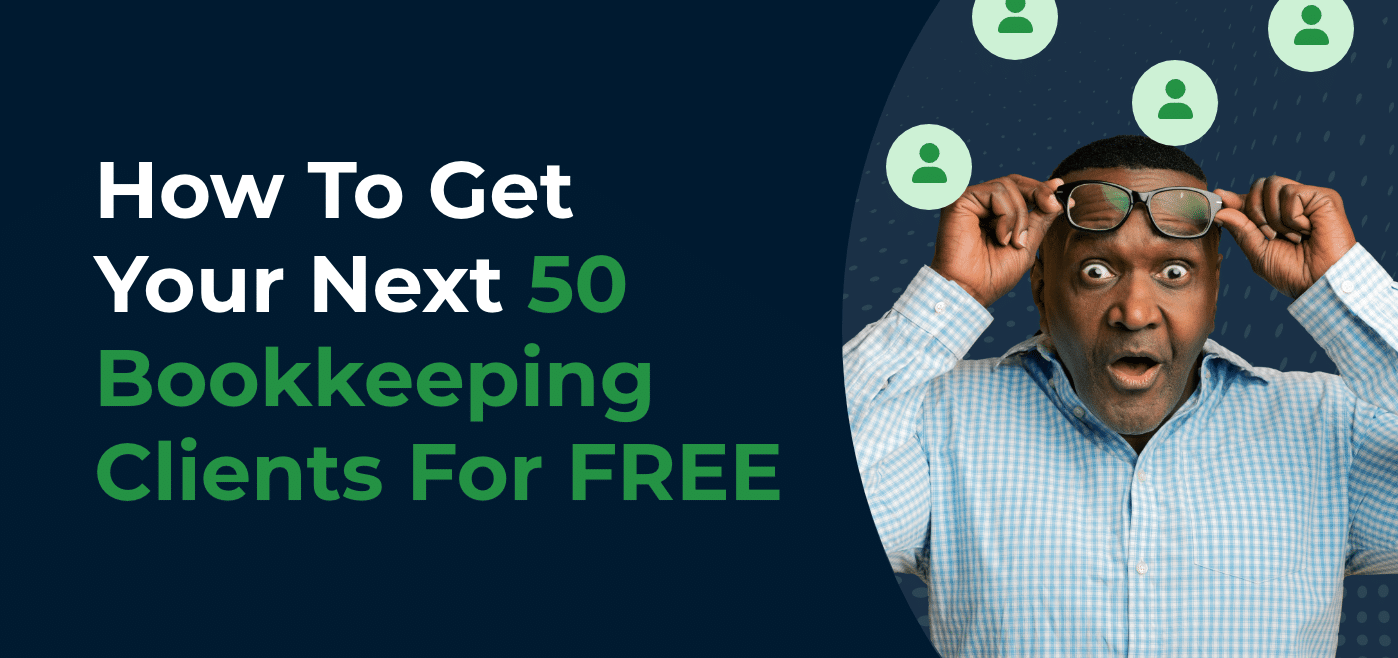 Whether you're starting from the ground level or an established bookkeeping firm, finding new bookkeeping clients is one of the most difficult…
Sep 26, 2018 | 10 Mins read