7 Essential Features of an Accounting Project Management Software
Author: Financial Cents
Accounting project management software has been around for years, but productivity is something only a few accounting firms have been able to actualize.
That is because success in accounting project management requires not just the decision to:
Ditch unreliable spreadsheets for a workflow management software solution, but also;
Choosing a project management tool designed for the needs of the accounting community.
Because if you use project management software that was designed for every industry, you will struggle to make it work for your team. And that may be at the risk of losing sensitive project information, among other things. Amanda Birch of Birch Accounting captured this well.
Asana needed so much workaround that you could accidentally click on something and hit a spacebar and it's gone. But in Financial Cents, before you can delete something, you have to get into that area to (intentionally) delete it."
Amanda Birch
, President of Birch Accounting and Tax Services
At the end of the day, the industry that a project management software is designed for determines the features it will have now and in its roadmap.
What Is an Accounting Project Management Software?
An accounting project management software is a tool that gives accounting teams the features they need to simplify operations and meet their unique project management needs, such as workflow (visibility and automation), time-tracking, and better collaboration (with team and client).
Why You Should Invest in Streamlined Project Management Software for Accounting Firms
As a client-oriented aspect of your firm, accounting project management software solutions give your team the clarity and organization to:
i. Not Hitting Deadlines
Since the average accounting firm is constantly trying to meet client deadlines (especially during tax seasons), you need to use a project management system that you can interact with to find the information you need and automate to complete manual processes and meet client deadlines.
In the 2023 State of Accounting Workflow Automation, firm owners said they spent an average of 10 hours scheduling and assigning tasks and reviewing and updating work status, which is all critical aspects of project management software.
Only 15.2% of accounting teams could successfully collaborate with their teams and with clients.
ii. Inability to Properly Track the Status of Accounting Tasks
"I used to be able to "hold" the whole business in my head. Recite our client list, recall what month each one was billed out through. One day I was in a new client interview and they asked me what other clients we worked with and I couldn't remember. I realized then we'd grown beyond my working memory."

—Christina Grimm Owner, CG Bookkeeping (Financial Cents User)
Tracking work status is never a problem when you have just a handful of clients. But if increasing clients and staff strength is a part of your growth plan, it's just a matter of time before projects start slipping through the cracks.
iii. Lack of Collaboration (With Team and Clients)
Firm growth also requires you to create a system that enables your team to exchange files and ideas on demand. This might mean:
The ability to comment on projects.
@mention team members to draw their attention to your comment.
Share client notes in the projects to guide your team.
Without this ability, your team will spend more time coordinating projects than actually doing the projects.
iv. Not Managing Team Capacity
You are likely handling several projects at any given time, and your employees are assigned several tasks across projects. Inability to track your employees' workload to see who is overworking, you might run some of your staff to the ground with too much work while delivering inaccurate work.
The 7 Features Every Firm Needs from Their Accounting Project Management Software
No two accounting or bookkeeping firms have the same project management needs, but the following features are critical to the success of all accounting teams' day-to-day client and admin work.
1. Workflow Dashboard
The workflow dashboard is the homepage of most accounting project management software. The primary goal is to help you see your projects' critical information at a glance. This usually includes the project title, the client it is for, the start, and due dates, so you can get a bird's-eye view of your firm's projects just by scrolling through your workflow dashboard.
Accounting project management software automatically updates the projects in the workflow dashboard as your team members complete each task.
To see more granular information about any work, you can open it to find what you need.
Here's a workflow dashboard in Financial Cents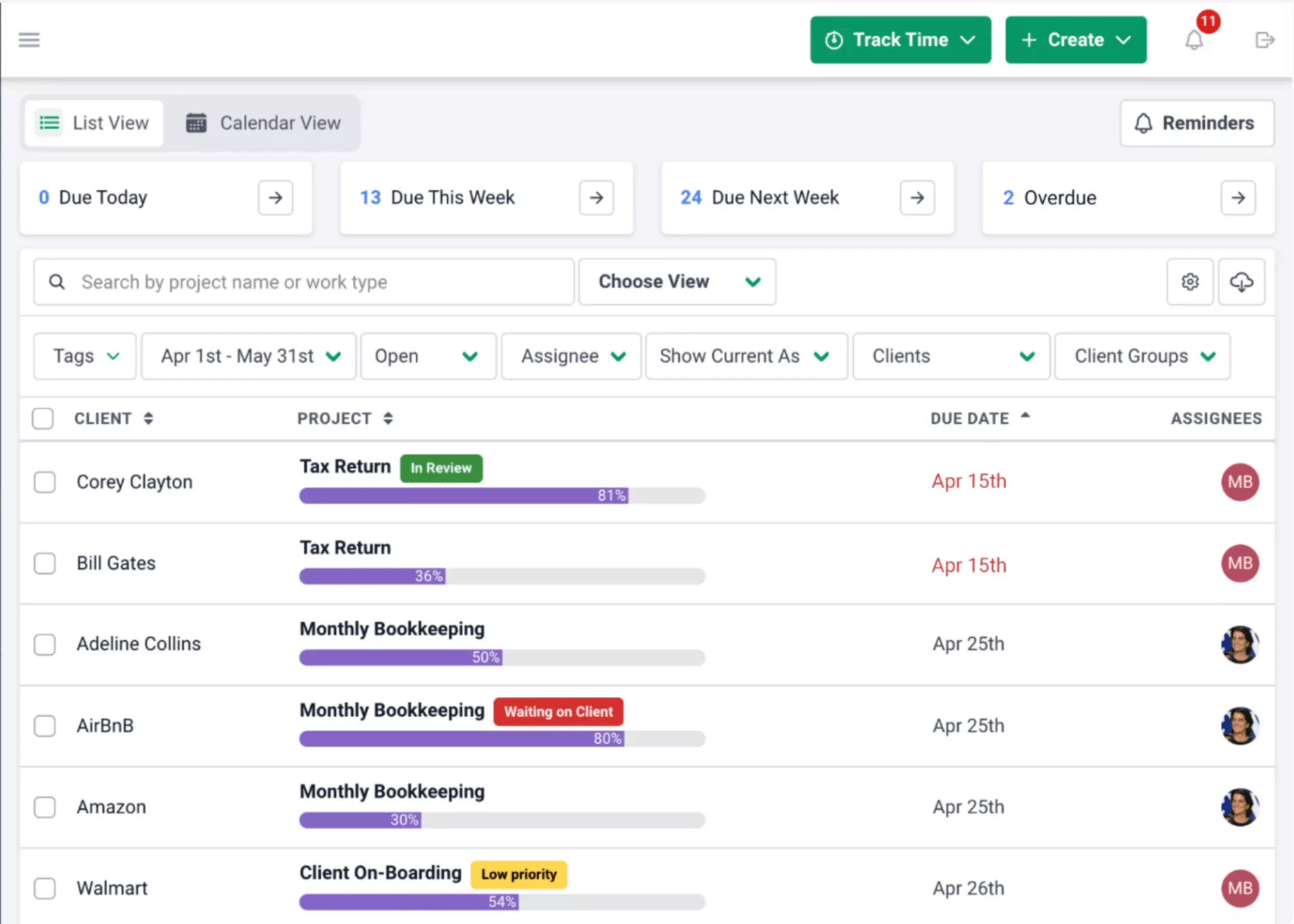 In addition to the project title, client name, and due date, Financial Cents workflow dashboard also comes with a progress bar that allows you to see how much work has gone into the work. This allows you to gauge your chances of meeting clients' deliverables.
Clicking on a project will show you more information about the project, such as related emails, client files, and who is assigned to which task.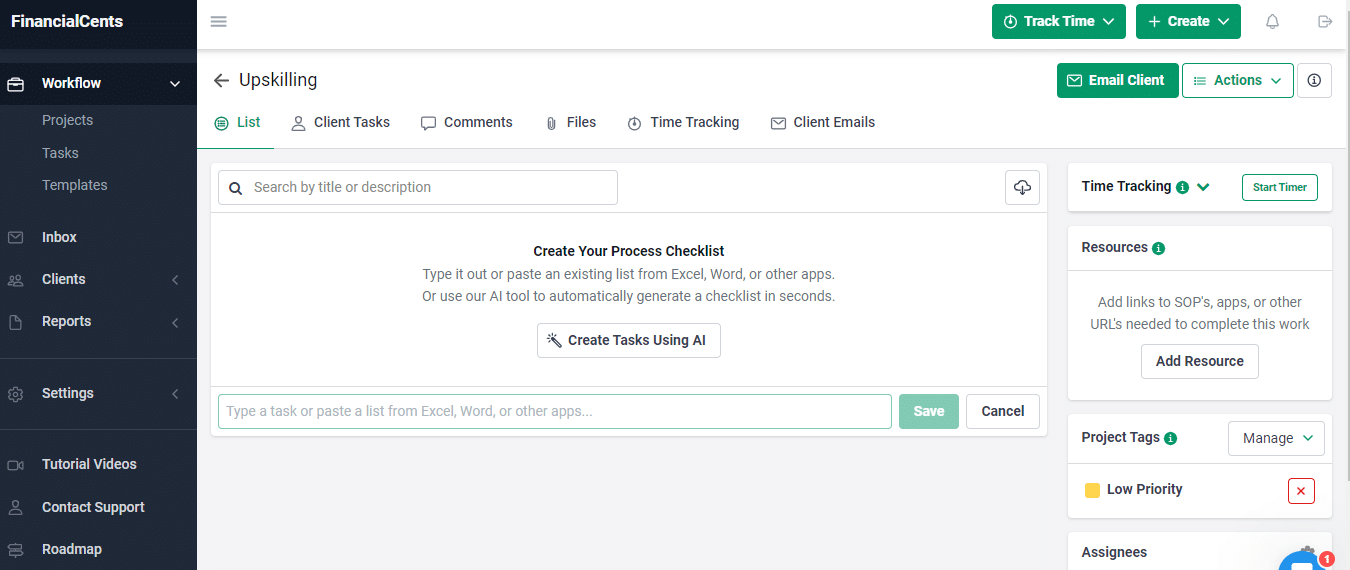 You Can Manipulate the Workflow Dashboard in financial Cents With
Filters that allow you to quickly pick out specific information or to see a decluttered view of your dashboard, especially if you have lots of projects in your dashboard.
You can filter your dashboard by assignee, due date, client, client group, or tags.

2. Automating Recurring Tasks
The recurrences feature in accounting project management software helps firms to recreate the projects they complete for clients regularly.
When your weekly, monthly, or quarterly projects recreate automatically, you'll reduce the planning and initiation hours. That will give your team more time to focus on completing the project to the best of their abilities.
If not, you will depend on calendars to remind you to recreate those tasks. And if, for whatever reason, the calendar system fails, that project will be at risk of delay and missing the deadline. That is why 70.5% of firm owners consider recurring tasks their most valuable feature in accounting project management software.
Financial Cents offers two types of recurrences:
Default Recurrences (that recreate a project 30 minutes after it is marked completed or overdue)
Custom Recurrences (that recreate work on more complex schedules like several months in advance or a specific day of the month).
You can create recurrences in Financial Cents when creating the project by
Selecting the Recurring
Setting the intervals (like repeating every day, week, month, six months, or year).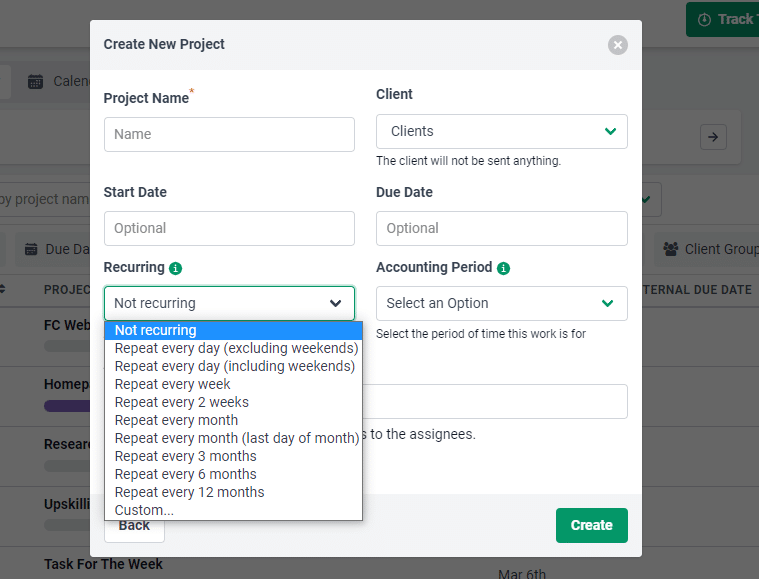 For custom recurrences,
Select the Custom option above to set the interval (as below)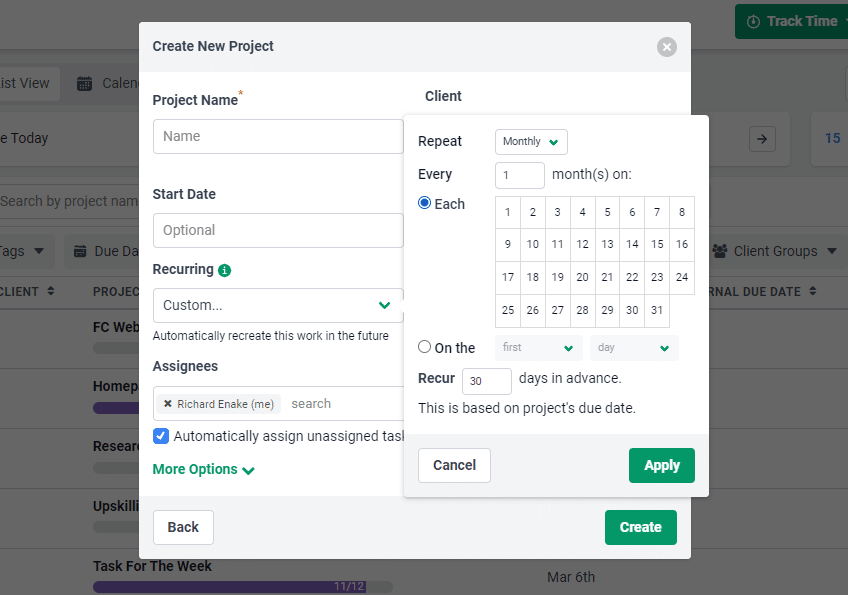 3. Due Date Tracking
This feature shows you which projects are closest to their deadlines, usually by seeing the stated due date in your workflow dashboard.
But you can also filter the dashboard to see when each project is due to measure your team's chances of completing the work by the due date.
This saves you the time to scroll from client to client to find when their work is due, which can be overwhelming and could cause you to miss deadlines like the 51.5 of firm owners in this report.
Here's how Financial Cents helps you track due dates
Your projects are automatically sorted (usually in list format) by their due dates, which lets you see where each work stands compared with their due dates.
You can also filter by the due date, which lets your team see what is Due this Week, Due Next Week, and Overdue.
Tags automate the progression of projects through the stages.
You can set up Due date reminders to automatically remind your team of projects approaching deadlines.
You can also use internal due dates to get your team to complete projects ahead of the due date you promised your client.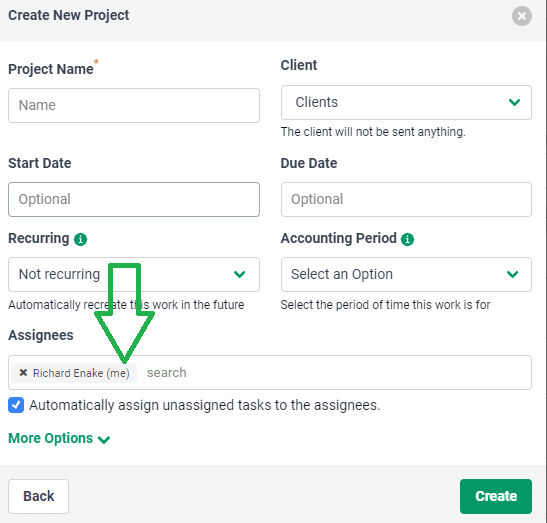 You can check here for detailed due date tracking tips and software for accountants.
4. Assigning Projects or Tasks
The project (or task) assignment feature enables you to make someone in charge of a project.
If you do this well, you'll prevent some employees from overworking (and burning out) while others may not be doing enough. This feature allows you to take work from some employees and give it to others with more time on their hands to complete them.
Each team member is automatically assigned the projects they create, but you can hand it to anyone on your team while creating the project.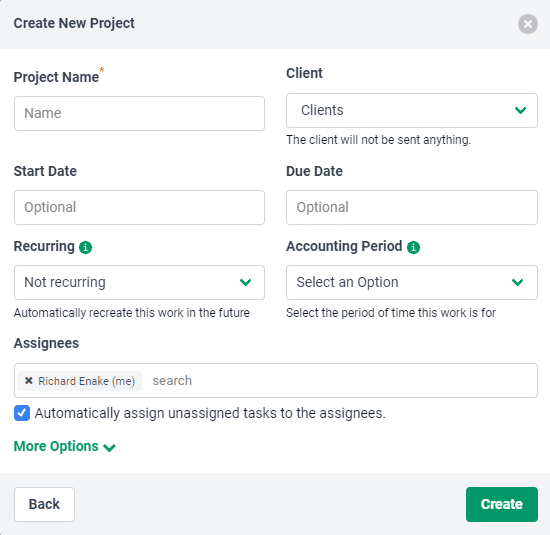 You can also assign the tasks in the project to different team members by clicking the assignee avatar to the right of your screen. It will show you your team members, so you can select who to assign the task.
5. Time Tracking
What is project management without the ability to monitor how much time is going into the different aspects of client projects? Doing this on paper or spreadsheets is fraught with errors and is too time-consuming for you to be productive.
But using the time tracking feature inside an accounting project management software allows you to stay on top of your firm's time with the click of a button or two.
This helps you to understand how much time your team spends on clients, where you are not billing clients adequately, and where your employees are wasting time.
If you use Financial Cents, these are some of the things you can do with its time-tracking feature:
It has a Start-and-Stop Timer that lets your team start/stop/pause/resume time tracking on demand.
Manual Entries that lets you log in time manually.
Time Tracking Reports: for analyzing where your firm is losing time and why.
Time Budgets for allocating time to clients based on the scope of their work and the amount you're billing them.
Effective Hourly Rate for tracking how much you're charging your clients versus how much your hours are worth.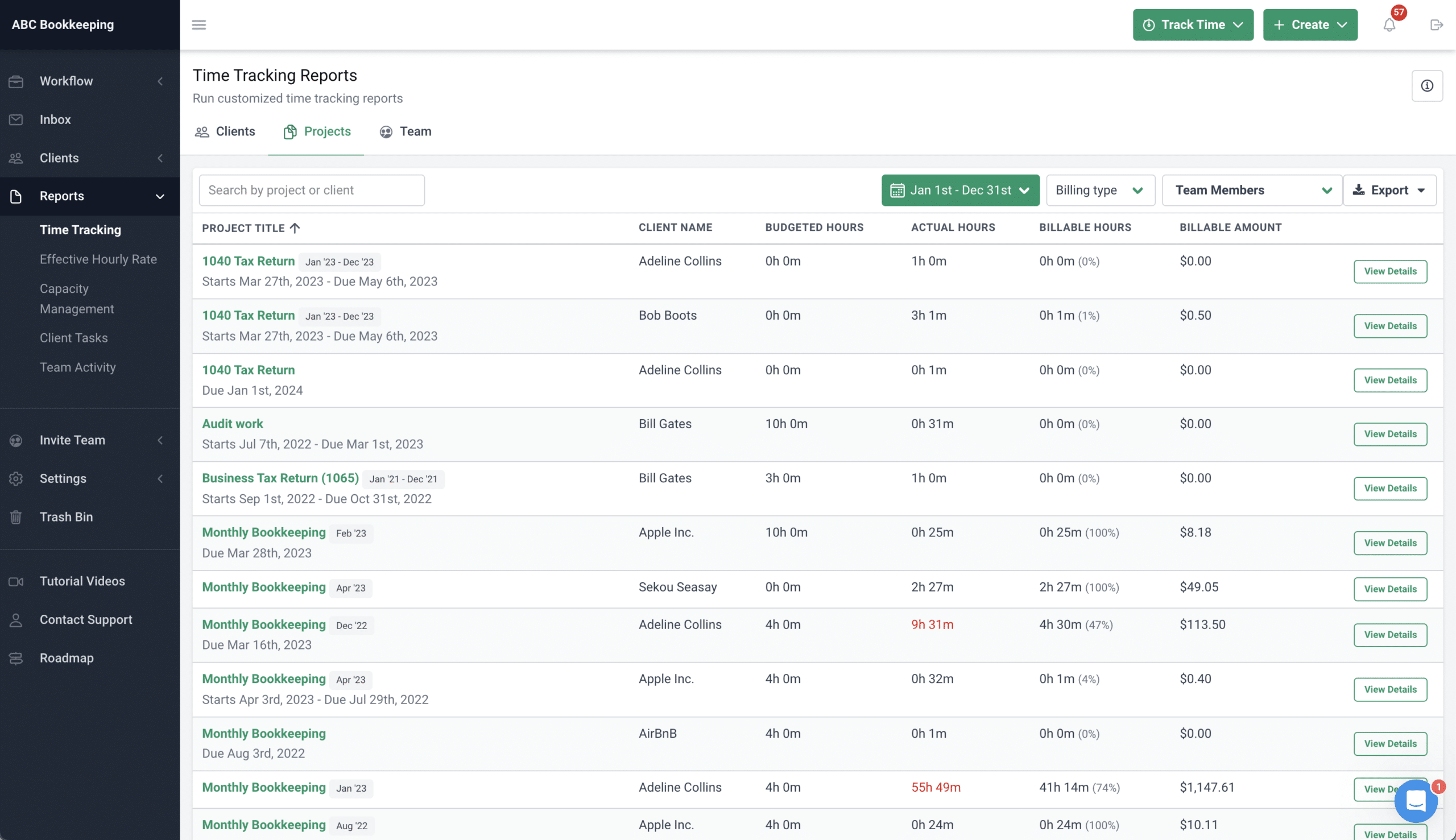 (You may be interested: The best time tracking and billing software for accountants in 2023)
6. Workflow Templates
Workflow templates help accounting teams streamline their processes by documenting the steps that go into completing their client and administrative projects.
They save time (by allowing your team to work faster, complete more work and serve more clients), remove guesswork (especially for your new hires) and keep your work quality consistent by ensuring all employees are following the same procedures.
Despite their huge benefits, creating these workflows can be a time-consuming project in itself. That is why any good accounting project management software must have preset workflow templates that you can easily customize to suit your unique project needs.
In Financial Cents, workflow templates are accessible from your workflow dashboard. A click on the Templates tab on the left-hand side will show you 40+ templates that you can use to complete your monthly bookkeeping, tax returns, and onboarding work in a shorter time. You can download them directly or use them inside Financial Cents.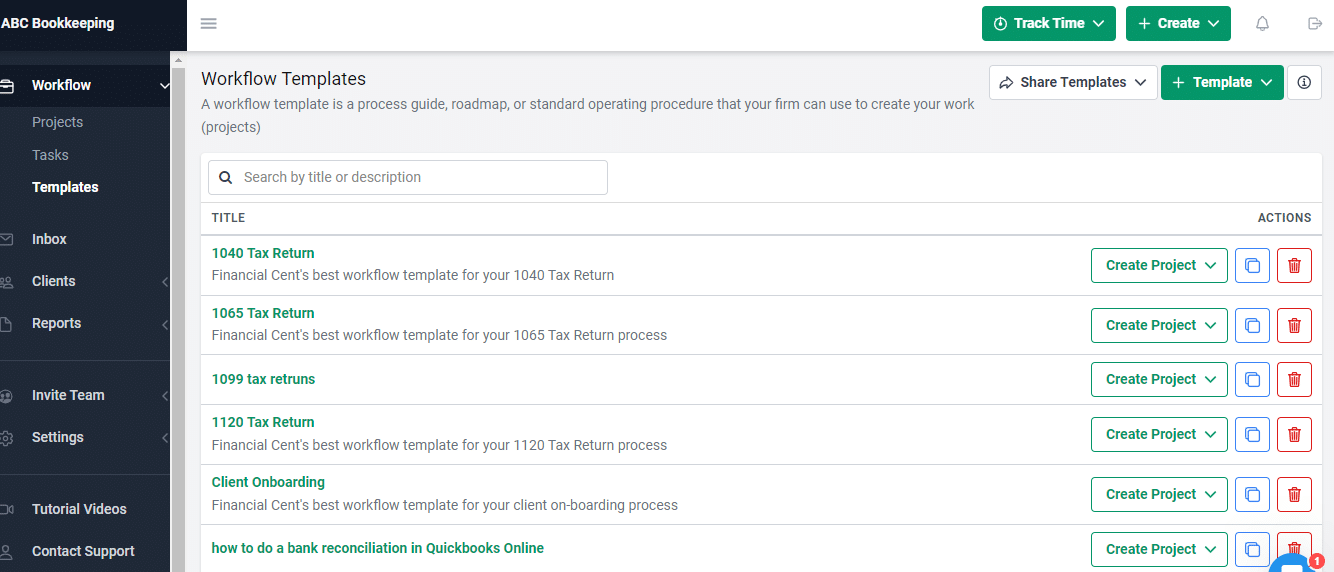 We created a blog with a step by step guide to help you create a bulletproof accounting workflow checklist.
7. Client Requests
This feature addresses the struggles accounting teams face when they need to get work-related information or documents from their clients.
Your clients have their businesses to run, and sending you the information and files you need to complete them can be so forgettable that they need automated reminders to get it done on time.
In some cases, clients are not sure which information you need, but this feature also gives you the chance to describe what you need your client to do in clear terms.
To access this feature Financial Cents,
Click on the client project
Select the Client Task tab at the top of the screen
Click on Create Request List
Describe the task you want them to complete.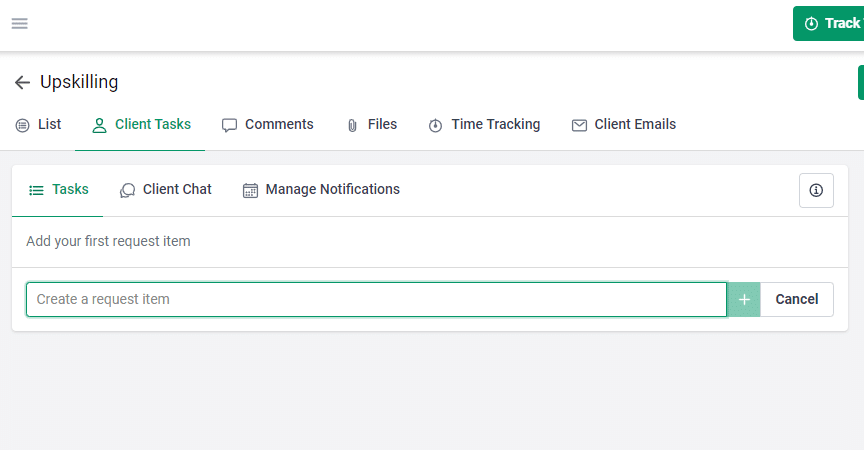 Once you have created the task, proceed to automate the process by
Clicking on the Auto Reminders tab
Click on Start Date to set the start date for the auto reminder.
Click on Number of Days Between Reminders to set the interval for the reminders. You also have the option to set a one-time notification.
Once set up, your clients will receive emails from you according to the timing you have set for it.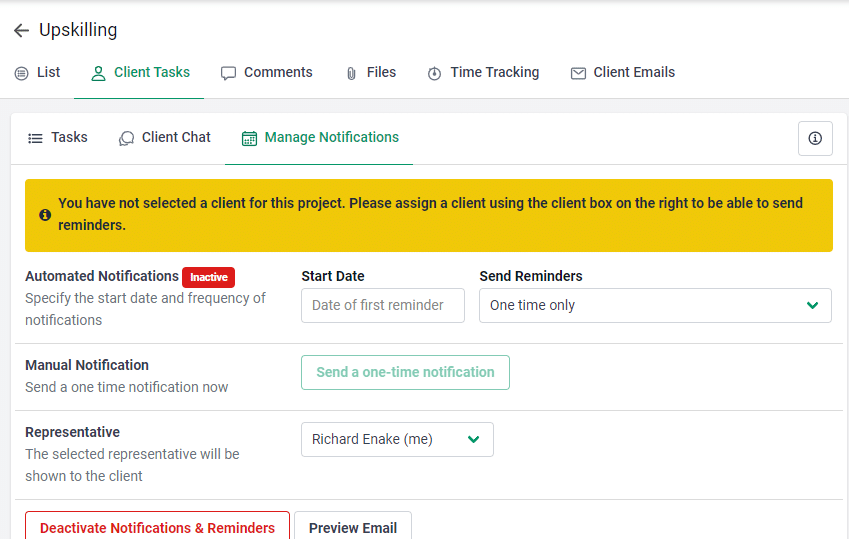 There is no need to delay further; your staff can start enjoying these features and more for free today.
Instantly download this blog article as a PDF
Download free workflow templates
Get all the checklist templates you need to streamline and scale your accounting firm!
Subscribe to the blog
We're talking high-value articles, expert interviews, actionable guides, and events.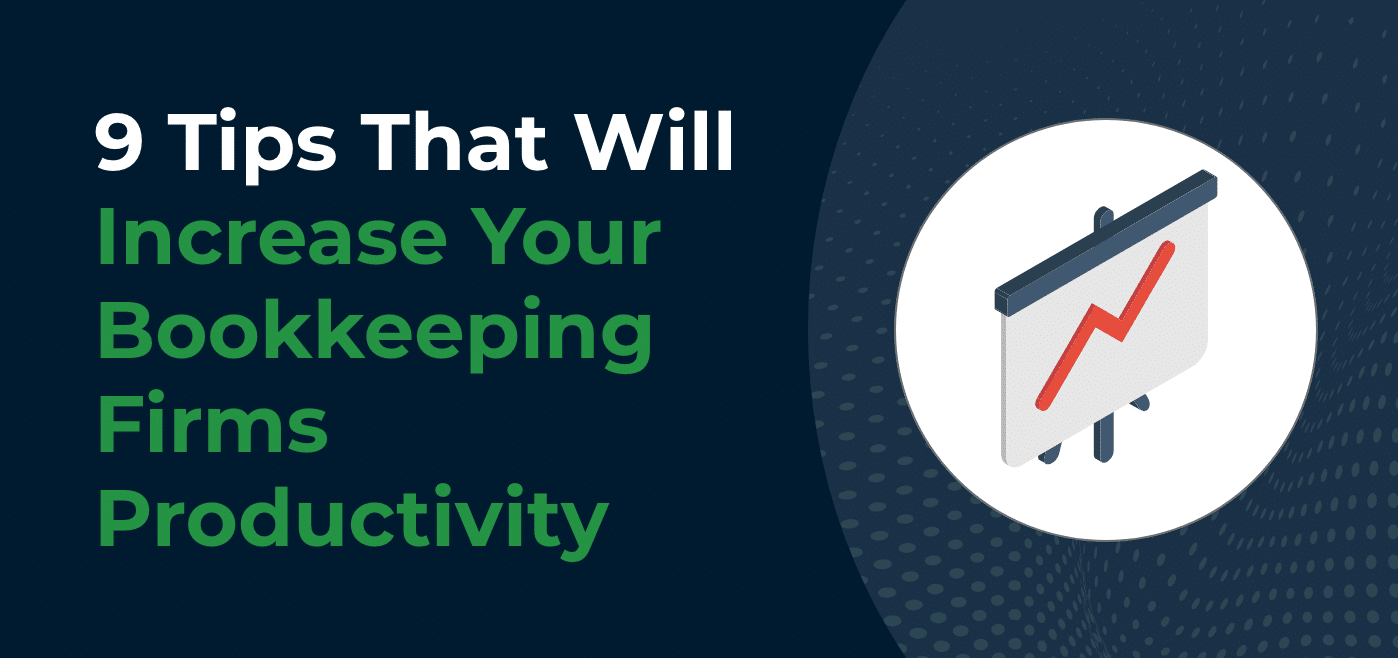 As an accountant, you always have a lot going on, which makes it tough to find enough time in the day to…
Sep 17, 2018 | 5 Mins read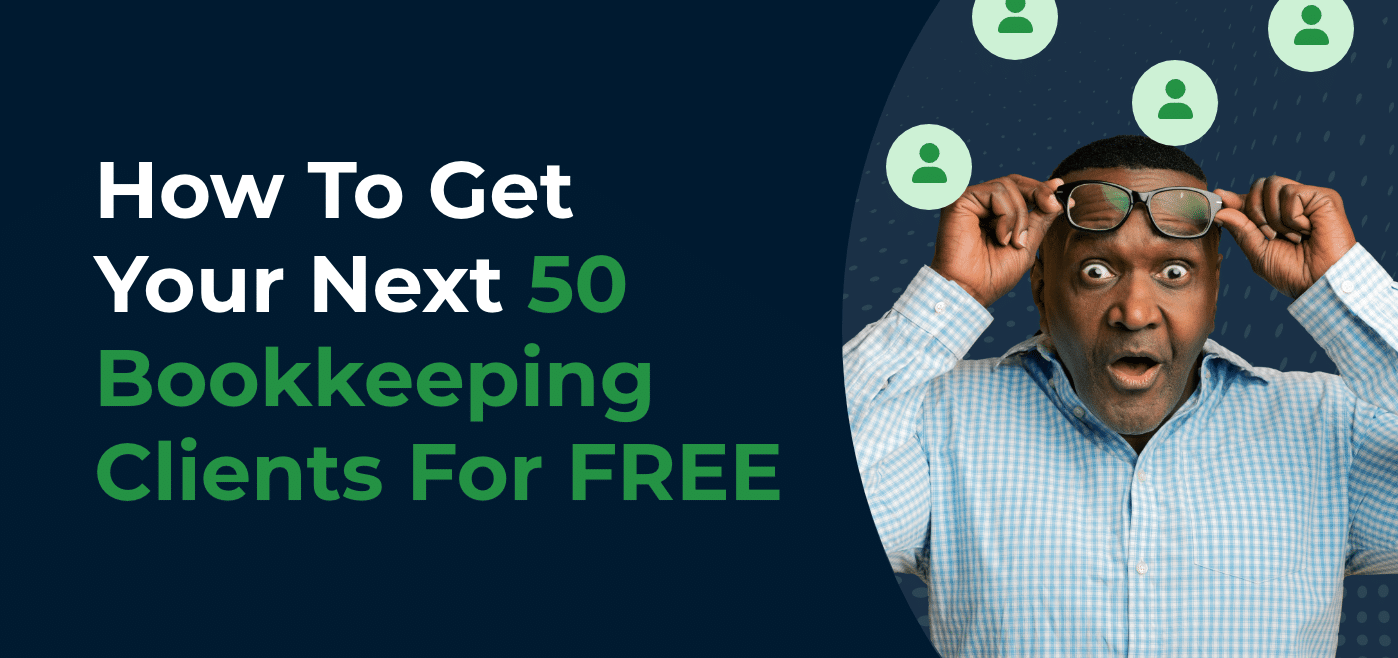 Whether you're starting from the ground level or an established bookkeeping firm, finding new bookkeeping clients is one of the most difficult…
Sep 26, 2018 | 10 Mins read