6 Work Management Software Options for Accountants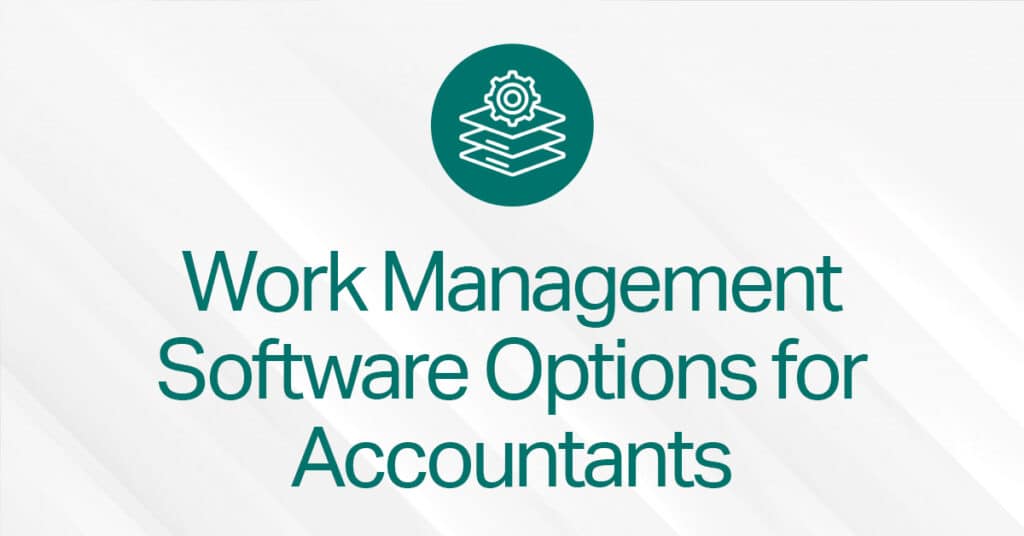 Getting a work management software solution should help you hit your deadlines, standardize your work processes, improve work quality, and store important data in a centralized place.
But despite the many options to choose from, many accountants still end their work days drained and unsure of where things stand. Like when they managed work with spreadsheets and sticky notes.
Here's the problem:
Most of these tools are built for virtually all industries. And because they are trying to serve every working person, some industries—accounting being one, due to its unique project needs—almost become an afterthought in the scheme of things.
So, the next time you struggle to find the features you need to complete core accounting and bookkeeping work in generic software, remember;
A work management software that was built specifically for your industry does not only meet your current needs but also puts your future needs on the developer's roadmap.
WHAT MAKES A GOOD WORK MANAGEMENT SOFTWARE FOR ACCOUNTANTS?
The usefulness of the work management software you chose should depend on how well it can help your firm:
Manage Work
Your work management software should allow your team to easily start and complete client work.
Bearing in mind that in between starting and completing work, there are processes like:
Creating, using, and automating workflows (SOPs) to streamline execution.

Assigning work to team members.

Viewing where all work stands.

Storing all work related documents in one place so the team can quickly access them.
Collaborate
Teamwork makes firms tick, and it's all about the ability to communicate and gain clarity to deliver work to the client's specifications.
Your accounting work management software should enable your team to comment on work, tag team members to draw their attention, and exchange files freely and safely.
Stay Productive
Speed and accuracy should not be a problem when you're managing two clients, but when you have tens or hundreds of clients to manage, you'll lose them in no time if you are not fast or accurate enough to meet their deliverables.
Your work management software should enable your team to automate manual processes and focus on high-value tasks.
Be Suitable for Core Accounting Processes
Your work management software should be easily customizable to your work management needs. It is difficult to do that when you are using software that was built for just about anyone. Workflow management, custom reporting, and client management are easy in accounting work management software.
THE SIX WORK MANAGEMENT SOFTWARE OPTIONS FOR ACCOUNTANTS:
1. FINANCIAL CENTS
Financial Cents is a work management software specifically built to help accountants and bookkeepers manage work, collaborate with their teams, and grow their firms.

MANAGING WORK IN FINANCIAL CENTS
Financial Cents Workflow Dashboard

comes in two views. The list view to sort and view your work with important details, and the calendar view to see what is due for the month in a more intuitive format.

The Projects

are where all client work happens. Inside the projects are everything your team needs to complete including:

Checklist

: the step-by-step guide for completing projects.

Subtasks, dependencies, work-related files, and client emails.
This is so that the assignee doesn't need to go out of the project to get the information they need to complete the task.
The accounting period

helps you classify the project in the right month, quarter, or year. If you set a monthly project to recur, it will automatically correspond with the subsequent accounting periods.

Start and due date

s to help you meet deadlines.

The assignment feature

enables you to delegate and make your team members responsible for tasks.

Recurrences

feature lets you recreate repetitive work automatically. The default recurrence for setting tasks to recur daily, weekly, or monthly or use the custom recurrence to make tasks repeat in more complex ways.

Task Dependencies

automatically notify assignees when they are due to begin their task in a project involving other assignees.

Filters:

Finding your way around Financial Cents is easy, but filters let you run custom reports to track the status of work that matters most to you. You can filter your projects by:

Client: when you want to see all projects your firm is working on for a particular client.
Assignee: when you want to see all tasks that team members have to complete.
Due Date: to see what is due this week, month, or quarter.
Tags to see work in a specific status.
Work type: to filter for bookkeeping, tax, payroll, etc.
Client Groups: to track work for specific types of clients.
TEAM COLLABORATION IN FINANCIAL CENTS
Comments:

Each task has a tab for your team to communicate when they need to ask questions, give additional information, or share updates to keep every participant in the loop.

Tags:

You can tag your team members from the project or task by mentioning them to pull them into their conversation.

Sharing files

: Each project has a tab for files, so you can directly attach files to the project for assignees to use.
INDUSTRY FIT
Financial Cents focuses on small and mid-sized accounting firms (with 50 employees and below).
This is evident in its workflow templates which accountants can use as is or easily customize to fit individual clients.
Financial Cents has a two-way integration with QBO to seamlessly sync your data between the two systems and keep your client info up to date. For your client communication needs, Financial Cents allows you to create a focused email inbox to pull all client emails (from any of your personal and business email accounts) to the focus email inbox. And prevent switching between email accounts to find client emails.
STAYING PRODUCTIVE WITH FINANCIAL CENTS
Financial Cents make you more productive with:
Workflow templates

that are built specifically for accountants and bookkeepers. These templates do the heavy lifting for your workflows.
That way, you take the guesswork out of your operation. And as you grow, you can easily plug in new team members to deliver work that is consistent with your standard since they can see they need to get it done.
Financial Cents Workflow Automation

enables you to automate manual accounting processes. With recurrences, your team does not have to recreate recurring work manually every week, month, or year. With task dependencies, you don't have to manually remind team members when it is their turn to begin work. Client task reminders help you automate client requests so you never have to chase down clients for information and documents again. All these help to cut down hours you could have wasted on processes that don't move the needle.
CLICKUP
ClickUp is a project management software that allows teams to do more from one central place.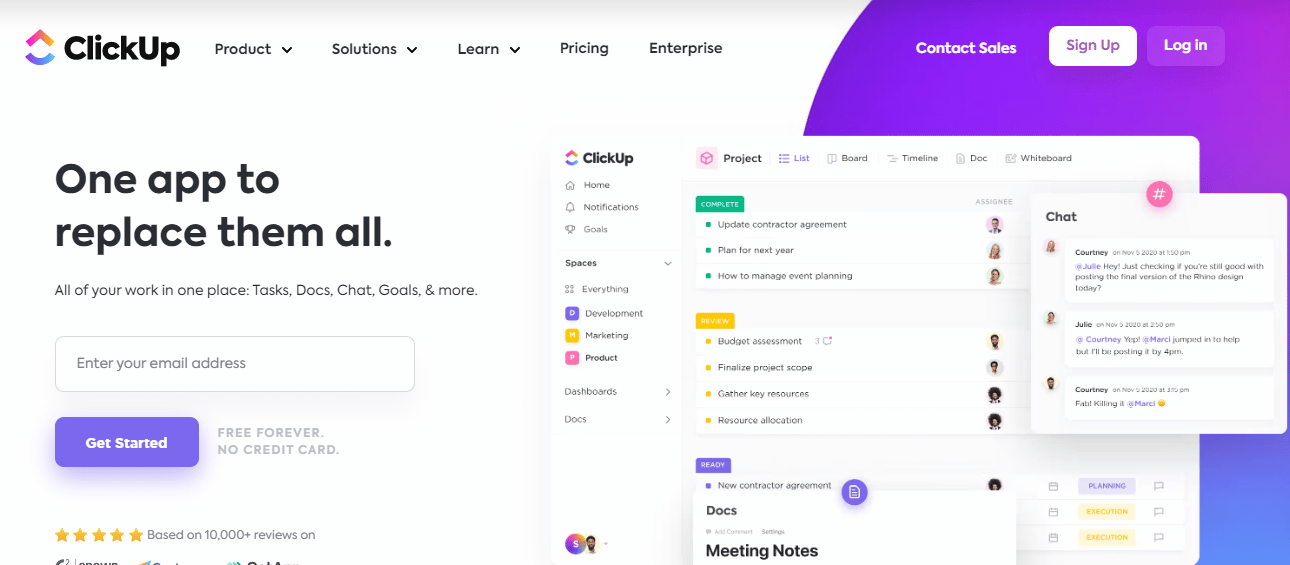 MANAGING WORK IN CLICKUP
Dashboard

: ClickUp dashboards give you a high-level view of all your firm's work so you can create work and hold your team accountable. ClickUp's project dashboard allows team leaders to distribute workload, manage task assignments by seeing the workload by assignees to measure team performance, and redistribute resources where necessary.

Task and Subtasks:

ClickUp's tasks and subtasks categories allow teams to break down complete projects into smaller parts.

The assignment

allows team leads to assign tasks and add custom fields to make the necessary information available.

Multiple Lists:

Add tasks that span multiple projects and need a cross-functional team to implement to the Multiple Lists tab to reflect any change made to it from any location.

Priorities

allow your team members to know what is urgent and what can't wait to enable your team complete the project in their order of urgency.

Dependencies

: You can set an order of performance for your firm's tasks to ensure all conditions necessary for performing a task are met before starting the subsequent ones.
TEAM COLLABORATION
ClickUp's Chat view

lets you communicate and share updates with your team.

Sharing notes:

you can add notes to project cards so that your team is up-to-date on projects.

Tags:

The tag feature allows you to mention them so they will receive a notification in their dashboard.

ClickUp Docs:

enables writing teams to work with documents like Google Docs. Write and edit with your preferred font size and styles and invite your team to work with you on projects.
INDUSTRY FIT
For one, ClickUp does not integrate with QuickBooks Online the way you expect of your accounting work management software.
You can only use QBO with ClickUp if you integrate it through Zapier. ClickUp cannot possibly serve everyone at the same level, so accountants should expect to forfeit some features if they go for generic software over niched ones.
For example, Take Financial Cents is focused on the accounting industry, making its features cover only what accountants and bookkeepers need.
STAYING PRODUCTIVE WITH CLICKUP
ClickUp makes teams more productive by letting them:
Create schedules and track time against projects to prevent wasting time on projects.

Create and assign subtasks (nested items) to team members to aid work delegation and the ability to hit deadlines.
ASANA
Asana is a project management software that helps teams plan what to do, when, and how to do it.
MANAGING PROJECTS IN ASANA
Views

: Asana views lets teams manipulate their dashboards however they like: The

List view helps to break projects into to-do lists and check them off as they complete them. The board view allows them to organize and track their work like sticky notes on the wall. You can also use the Timeline or Calendar view.

Tasks and subtasks

allow teams to break complex projects into more manageable parts.

Sections

allow you to group tasks by work type and stage of completion.

Milestones

help teams visualize project stages to measure progress.

Dependencies

allow teams to manage tasks that require other steps before completing them.

The reporting

feature allows teams to measure tasks and workload to see where they need adjusting.

Recurrence:

set the tasks your team frequently performs to repeat on future dates automatically.
TEAM COLLABORATION IN ASANA
Team collaboration is possible in Asana with:
Task comments

for team members to comment or ask questions directly on tasks to keep everyone on the same page.

Tags

:

Team members can ensure teams get notified by tagging them with the mention button.

Conversations:

teams can discuss project progress, updates, and announcements to improve team motivation.

Share files

with your team on Asana by adding them to tasks.
INDUSTRY FIT
Asana is a work management tool for teams across all industries and has no industry-specific advantage for accountants.
Using time tracking to measure your effective hourly rate (or billable time) is not available in Asana unless you use the third-party integration system it provides.
Asana's workflow templates will require time and technical efforts to customize them for accounting projects.
STAYING PRODUCTIVE WITH ASANA
Asana helps teams manage their projects by breaking them into sequences and stages. This keeps tasks streamlined and allows teams to focus on delivering quality work.
Asana's board view allows team leaders to spot duplicate tasks and save hours of duplicating team members' efforts.
Asana's Milestone feature allows teams to measure where work lags and reallocate resources to meet the target.
MONDAY.COM
Monday.com is a work operating system that helps teams manage projects and collaborate.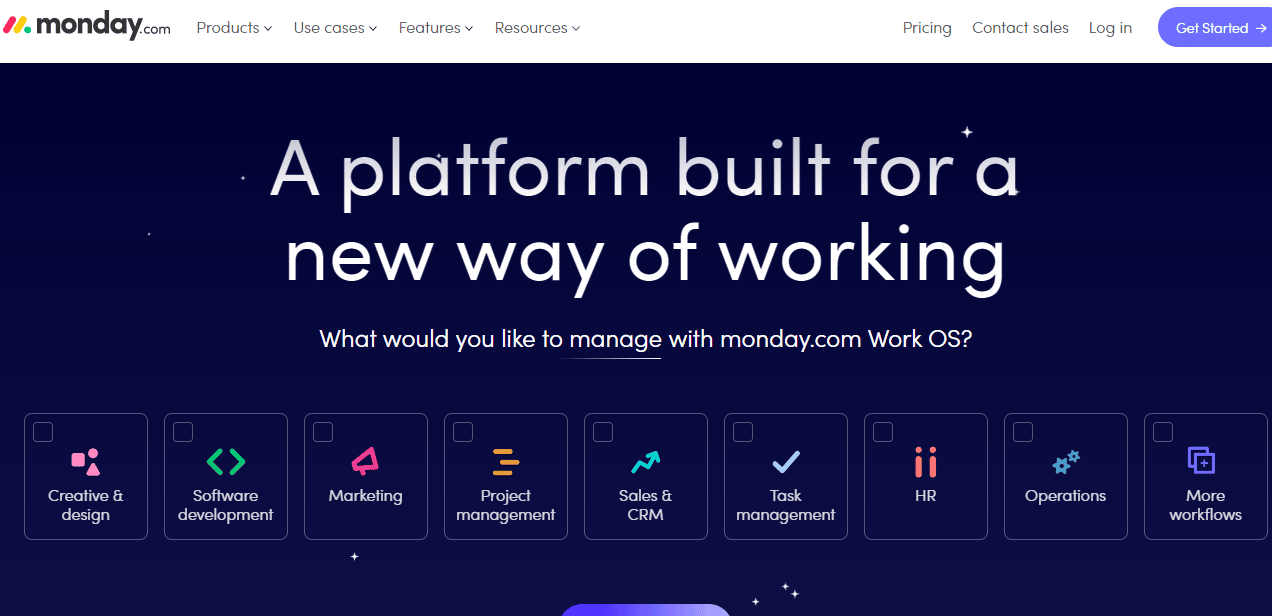 MANAGING PROJECTS
Views:

mondy.com gives teams several ways to view projects to reduce the time it takes to understand where each project stands. The views include Kanban boards, Gantt charts, calendars, and timelines.

Workdocs

allow team members to turn ideas into tasks on Monday.com boards. Like Google Docs, multiple team members can edit, share comments and move projects forward in the workdoc.

Task List

helps your team break complex ideas down into smaller parts.
TEAM COLLABORATION IN MONDAY.COM
Monday.com's workdoc

helps remote teams collaborate by creating shared documents to write, edit, and brainstorm ideas.

Live Comments

help teams ask questions to help project clarity and alignment.

Tag team members

to draw their attention to updates or comments on their work.

Forms

allow you to create and share work requests with your team or clients.
INDUSTRY FIT
Monday.com is suited for small, large, and enterprise corporations in any industry. That explains why it does not integrate with tax software.
For example, you cannot find QuickBooks Online in Monday.com's integration center. You have to create an account with Zapier to access QBO on Monday.com.
STAYING PRODUCTIVE WITH MONDAY.COM
Monday.com has an automation and notification builder that helps teams automate manual processes and cut hours of repetitive work each week.

Its dashboards help to simplify the view to understand where projects stand and ease decision-making.
TRELLO
Trello is a visual project management software that allows teams to plan projects and track results.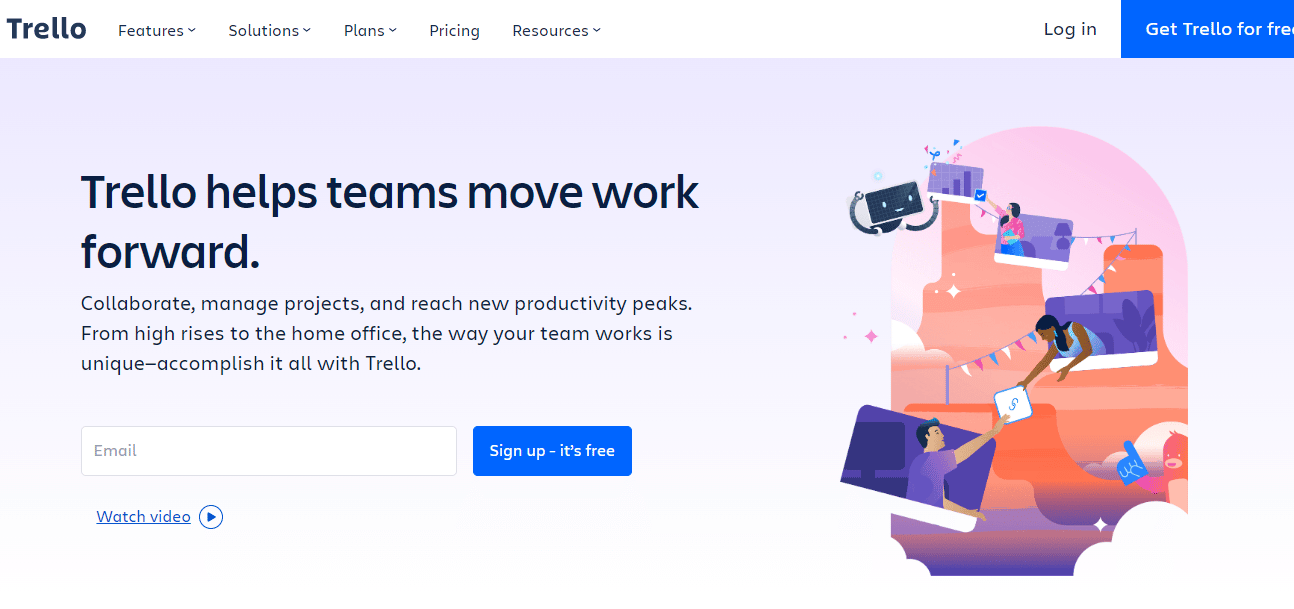 MANAGING PROJECTS
Views

: views allow teams to see project data across teams and departments. There are four views: The Timeline view draws parallels between tasks. The Table view organizes projects in rows and columns. The Dashboard view makes spotting causes of delay and seeing insights easy. And the Calendar view to see upcoming deadlines easily and plan accordingly.

Cards:

cards are tasks and contain everything you need to complete a project in Trello. Add cards to your Trello boards and move them (from To-do to Doing and Done) around until your team completes the project.

Checklists

are

within

each project card.

Members

are teammates. Add them to project cards to assign them tasks and freely view their cards to see their capacity.

Due Dates:

you can add due dates to your projects and add reminders to keep all members accountable until the project is complete.

Status Bar:

the status bar helps you measure how far projects have gone at a glance.

Custom fields:

this allows you to add new field types and data to your boards to suit your firm's specific needs

.
TEAM COLLABORATION IN TRELLO
Adding members to Trello boards gives them access to everything that goes on on that board. They will receive notifications for:
All comments by other members.

Changes in project due dates and all.

Members can share files on the board for others to use in projects.
INDUSTRY FIT
Unlike Financial Cents which focuses on the accounting industry, Trello's features are more helpful for other industries—like marketing, engineers, and sales teams.
Using QBO with Trello requires integrating QBO through Zappier.
STAYING PRODUCTIVE WITH TRELLO
Trello's views make knowing what to work on easy. By seeing everything on the dashboard, you know what is pending, who is working on what, and how the team can rally around completing it if there's a delay.
Trello Butler gives you the automation power to create any command or set rules for your workflows to free you up to focus on growing your practice.
JETPACK WORKFLOW
Jetpack Workflow is a project management software that helps accountants organize and grow their firms.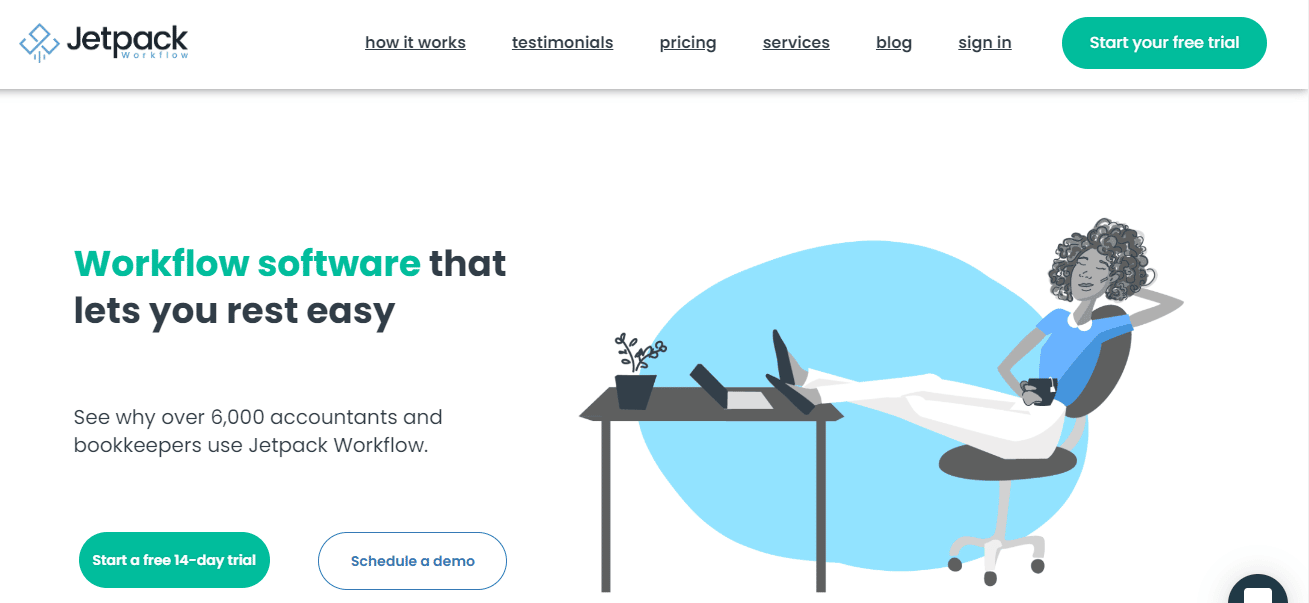 MANAGING PROJECTS
Dashboard

: the dashboard is a snapshot of how your projects stand every morning to help you decide on which project to prioritize. The jobs tab houses the four quadrants showing jobs that are due today, this week, and next week and overdue.
Within each job are the work status, the assignee, the number of steps to complete it and the due date.
Job Templates:

jetpack has a library of 70 templates you can use for your projects.

Notes:

After labeling a project to show your team its status, the notes feature allows you to give more details to your team. For example, you can leave a note telling them the kind of file you're waiting for and the steps you have taken to get it.

Filters

: this allows you to filter projects by attributes. You can filter all projects waiting on client response or by client or work type.

Progress Reports

give you an audit trail of what's going on in your firm and at what pace. You can also see how many jobs you completed on time vs. how many jobs are delayed.
TEAM COLLABORATION
Tag:

With the project note feature in Jetpack Workflow, you can mention relevant team members, and they'll get the notification in their dashboard.

Notes

allow you to communicate with your team if you need clarity.
INDUSTRY FIT
Jetpack Workflow helps accounting teams complete work with accounting focused workflow templates.
It syncs with QBO for easy billing and invoicing. You can easily set up one-off accounting jobs to avoid losing them amidst other jobs
STAYING PRODUCTIVE IN JETPACK
Jetpack helps teams do more by
Setting up jobs from client emails.

Making workflows available for accountants to implement client work with speed.

Helping team members know what's next on their tasks list, taking the guesswork out of their workday.

Repeating frequently performed tasks automatically.
CONCLUSION
The right work management software helps you align your projects, team, and client deliverables in style.
But if you don't know, you'll be doing your accounting practice a great disservice if you settle for the wrong work management software.
As you decide on getting a work management software, forget popularity for a minute and look out for a track record of meeting the needs of the firms in your industry. That way, you can also use software that holds your brain and put everything in your firm at your fingertips.