11 Must-Attend Accounting Conferences in 2023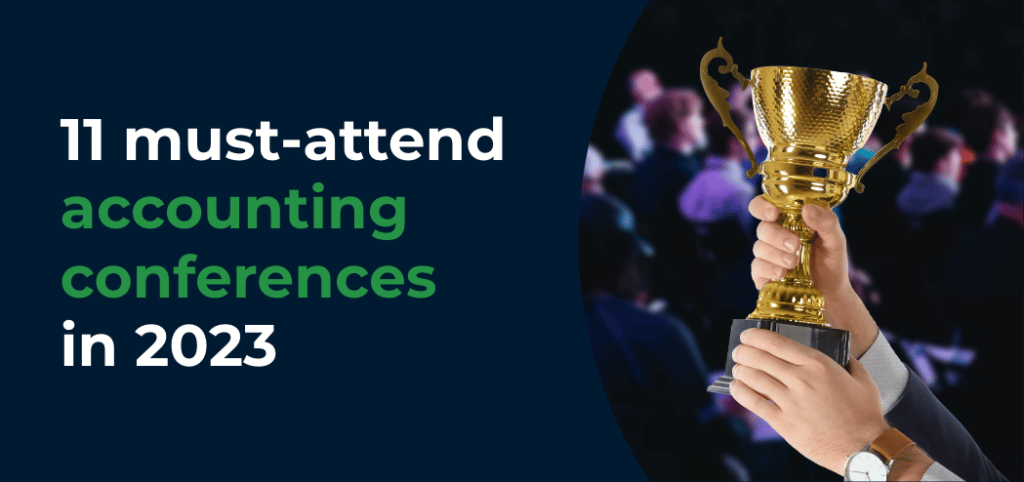 Mahlon Fisher, partner at Computer Bookkeeping Solutions is a regular attendee of Woodward's
Scaling New Heights
, he had this to say about the conference:
"Each time I attend Scaling New Heights, I come away with more than I expected to receive. The training and community have been invaluable in business and my personal life. Woodward strives to fulfill their vision of empowering small business advisors. I am grateful to be a part of the community."
Those words perfectly capture the essence of accounting conferences. You not only see how fast the landscape is evolving but get equipped to catch up
Regulations are rapidly changing. You need to adjust your procedures to remain competitive.

New technologies are coming up quickly. Failure to adopt them will affect your productivity and efficiency, which may cause clients to take their businesses elsewhere.

Business needs are changing and new revenue opportunities are opening up for accounting firms.

Work cultures are advancing. Keeping your employees satisfied will depend on how well you've implemented the right strategies.
You need the right skills, resources, and approach to keep pace with the latest developments. And operating in isolation might soon render your systems too out-of-date to be efficient and profitable.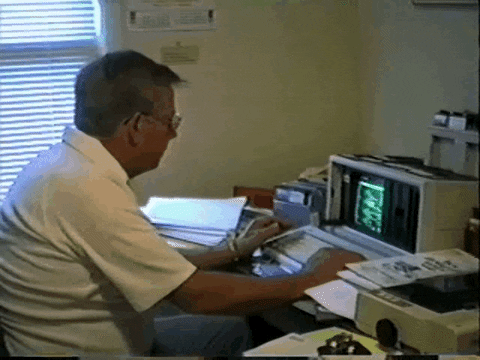 Accounting conferences are lifetime opportunities to:
Network with Other Accounting Firm Owners
You will meet and connect with accounting professionals from all industries and regions. They can become sources of various forms of referrals – client, technology, and knowledge platforms.
Find the latest technology to scale your firm
The trade show exhibit halls in accounting conferences are platforms to meet industry vendors, providing you with insights into the technologies other firms are using to scale their firms.
Enjoy Breath-taking Interactions
Some conferences include local tourism, parties, and other fun activities that refresh the mind.
A good blend of fun and work will help you and your team achieve a better work-life balance, which improves work quality.
Sharing your ideas with people at accounting conferences demonstrates your industry knowledge.
Being seen as an expert can earn you invitations to speak at events or contribute to accounting publications, which will help to
boost your brand authority and trust.
Must-Attend Accounting Conferences in 2023: How We Came Up With This List
For any conference to benefit your accounting firm, the organizers need to know the industry well enough to create programs that address real problems.
The organizers of each of these conferences have influenced developments in the industry for years.
The conference's target audience determines the invited speakers, program schedule, venue, and everything else.
So, we restricted the list to only those conferences that will empower firm founders and accounting team leaders to overcome pressing challenges to take their firms to the next level.
Past Attendee Testimonials
Who better to speak on the effectiveness of an event than its past participants?
To estimate the impact these conferences will have on your firm, we snooped around to see what past attendees have to say about each of them.
We wanted to understand the essence of these conferences.
We wanted to ensure that we present only those with immense value for your firm.
Accounting Conferences in 2023 You Should Attend
Here's our list of 11 Accounting Conferences to Attend in 2023: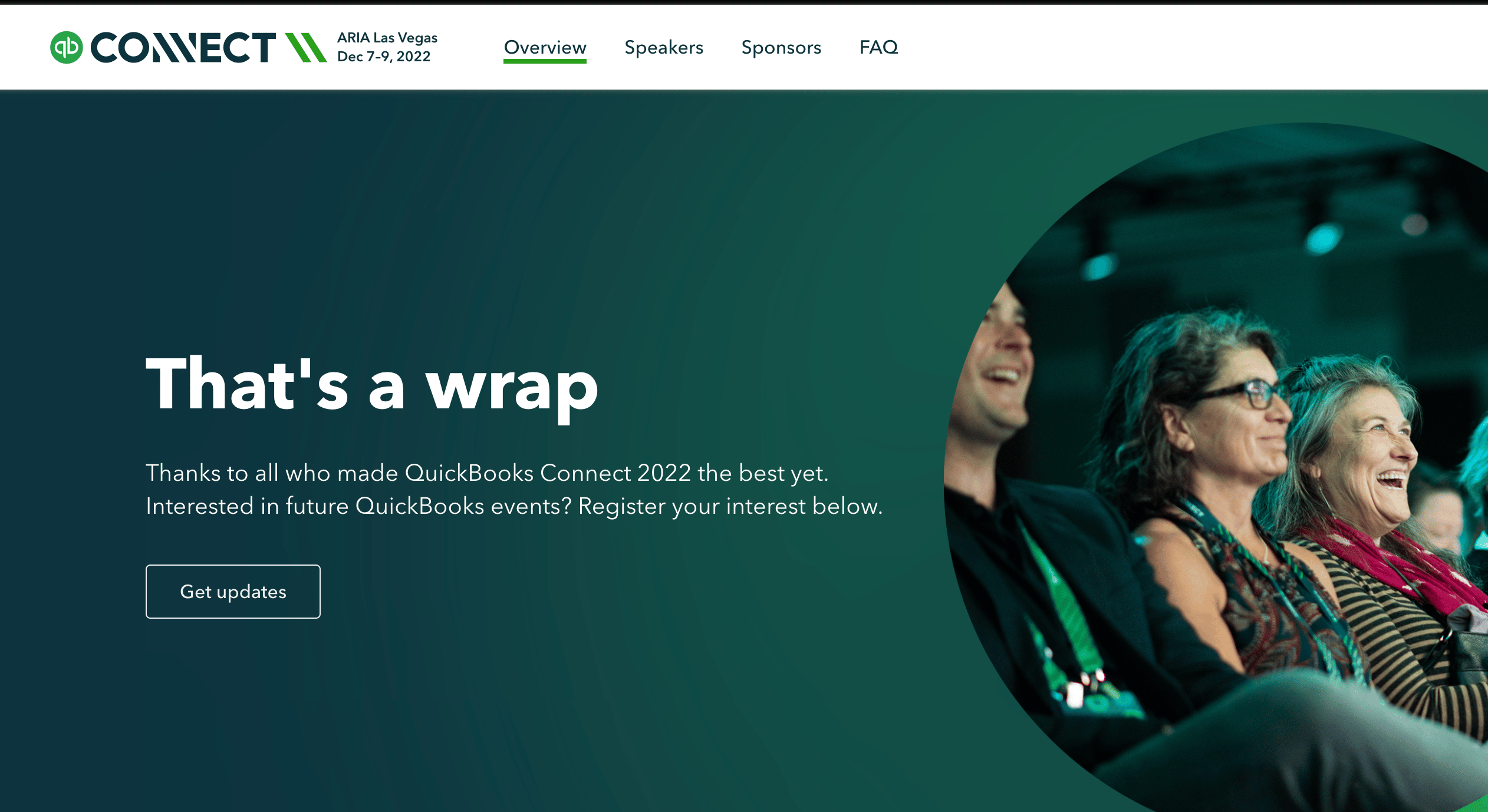 QuickBooks Connect is on this list because it is an annual conference (its 2022 edition is currently ongoing in Las Vegas).  The conference brings together accounting professionals and   QuickBooks platform partners to learn, build relationships and explore the latest accounting software solutions to grow their practice. This year's event is currently (December 7-9) ongoing in LAs Vegas, USA.
Why You Should Attend
QuickBooks Connect's Peer-to-peer learning will help you engage your peers in marketing and sales to help you win more clients.
Because participants include QuickBooks users of all experience levels, you will learn how other firms are leveraging QuickBooks–one of the most popular accounting software–to grow their firms.

Conference Details
| | |
| --- | --- |
| Date | To Be Announced (We'll update it here when it is announced). |
| Target audience | All QuickBooks users, regardless of their experience levels. |
| Cost | QuickBooks Connect 2022 costs 749. We'll update the 2023 price here once it's out. |
| Attendance Mode | In-person |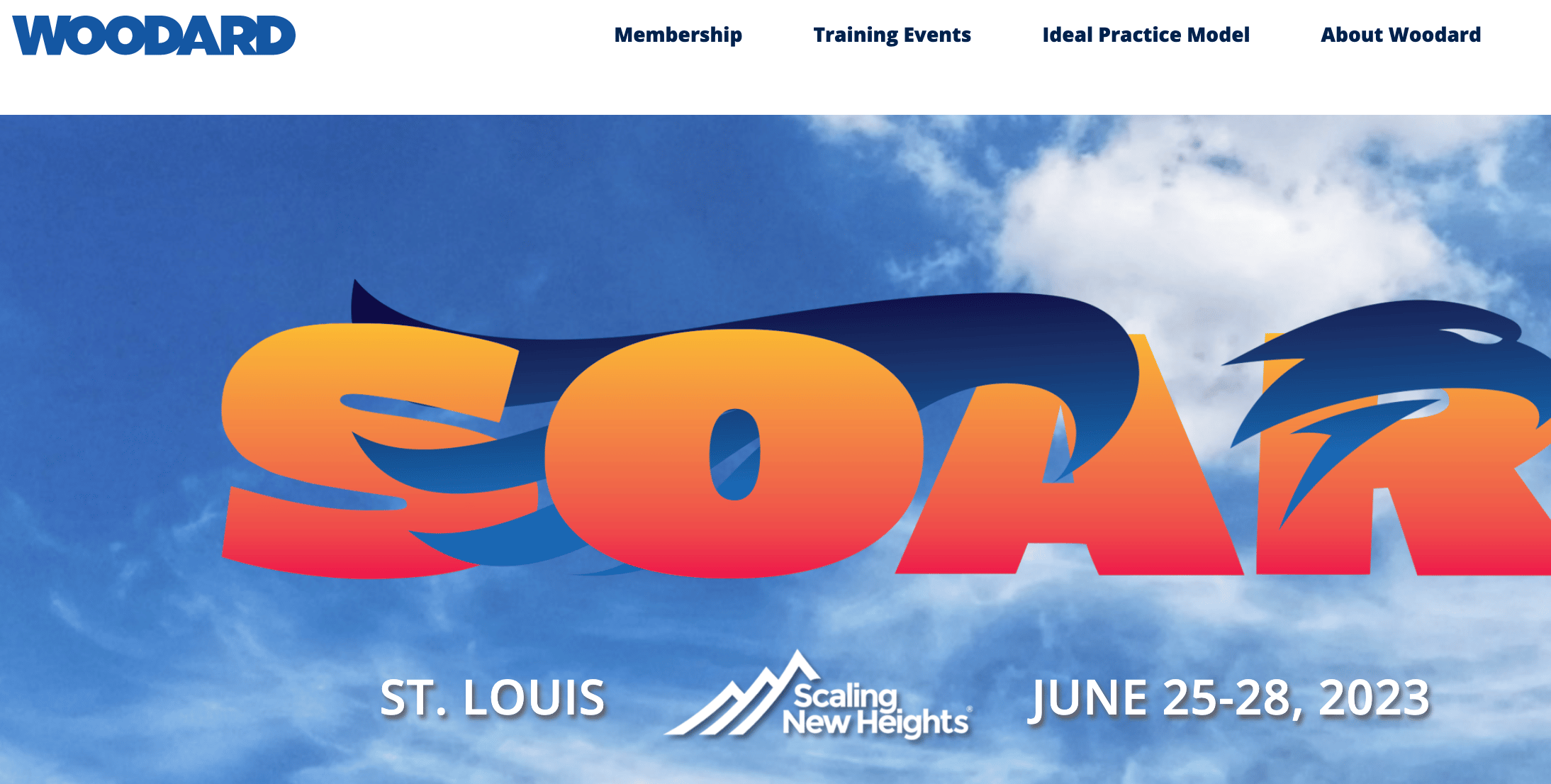 Scaling New Heights is the place to be if you want to overcome friction—like process inefficiencies, limited capacity, dated technologies, and collaboration challenges—in your accounting firm.
The conference will help attendees to find ways to tackle the issues that prevent them from scaling their practice.
Why You Should Attend
The conference topics usually explore pricing, hiring, automation, and practice management skills and strategies.
You will also be able to test accounting software solutions like QBO, Xero, and Zoho Books, to see if anyone can improve your accounting processes and systems.
Conference Details
Date

June 25-28, 2023

Target audience

Accounting firm owners

Cost

$795

Attendance Mode

In-person (

America's Center)
With ENGAGE 23, you will begin to see the challenges of a rapidly changing accounting industry as opportunities.
Its topics include strategies for the high-Income individual, advanced accounting and auditing, and corporate finance and controllers. They are all designed to give you exclusive insights and develop the competency you need to scale your practice at your own pace.
Why You Should Attend
ENGAGE 23 promises to give you access to exclusive content that explores current challenges from an opportunity in the accounting industry. The tracks will help you build the soft and hard skills that will accelerate your accounting career beyond your imagination.
Conference Details
| | |
| --- | --- |
| Date | Jun 05 – Jun 08, 2023 |
| Target audience | Accounting professionals |
| Cost | $945 – $2,395 |
| Attendance Mode | Virtual and in-person (Las Vegas) |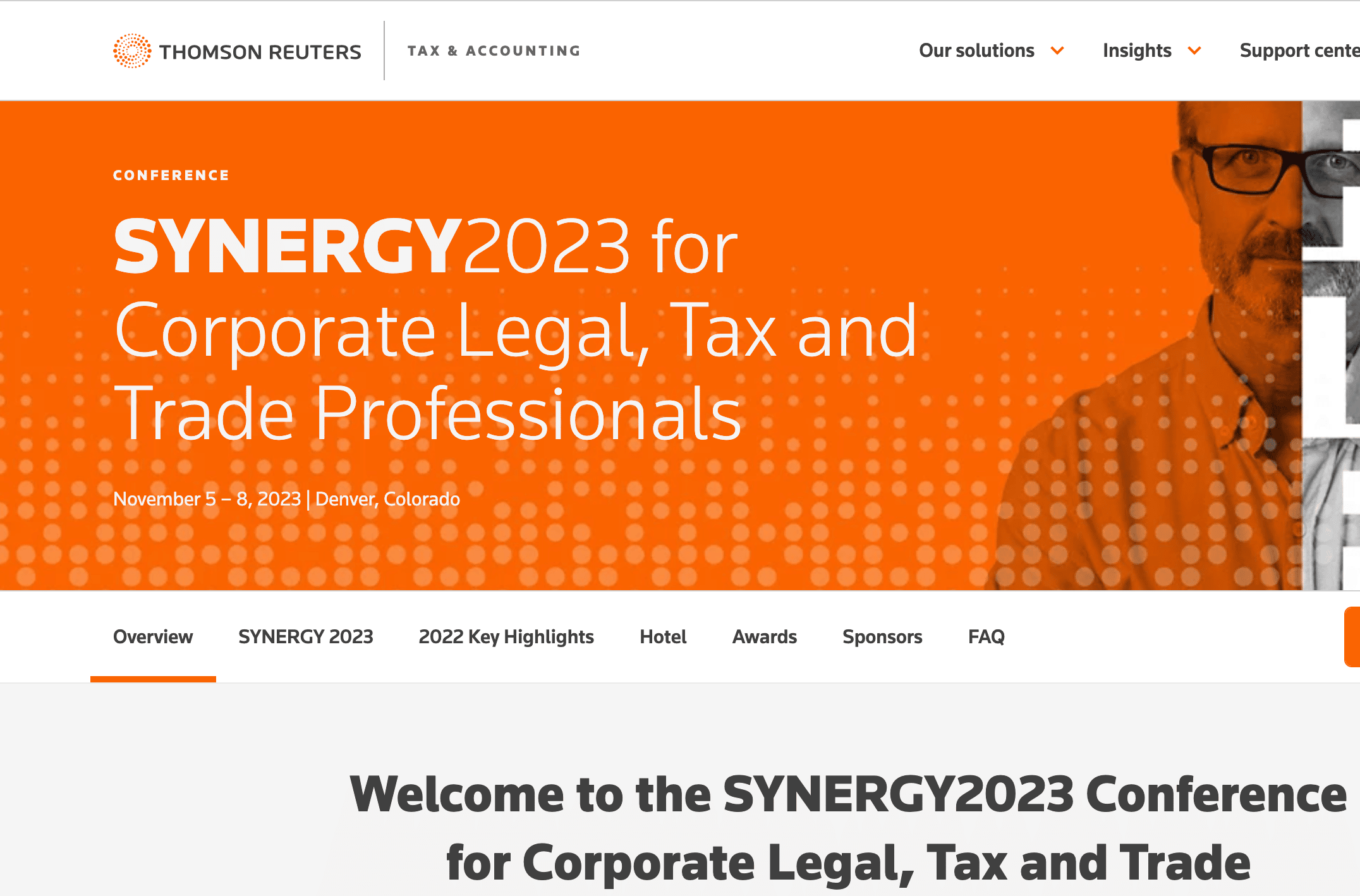 SYNERGY2023 is an in-person conference for legal, tax, and trade professionals from all over the world. It promises to teach you how to navigate complex regulatory developments and challenges to future-proof your practice.
Why You Should Attend
This is crucial for accounting firms who are comfortable with challenging the status to find ways to improve the effectiveness of their tax department.

Conference Details
Date

November 5 – 8, 2023

Target audience

Corporate tax and trade Professionals seeking to maximize Onesource, Checkpoint, and other Thomson Reuters solutions.

Cost

BEFORE DECEMBER 31, 2022:

$1,999 first attendee from a firm

$1,899 for each additional attendee

 

DECEMBER 2, 2022- APRIL 30, 2023:

$2,199 first attendee from a firm

$2,099 for each additional attendee

 

FROM MAY 1, 2023:

$2,399 first attendee from a firm

$2,299 for each additional attendee

Attendance Mode

In-person (Gaylord Rockies Resort & Convention Center in Denver, Colorado)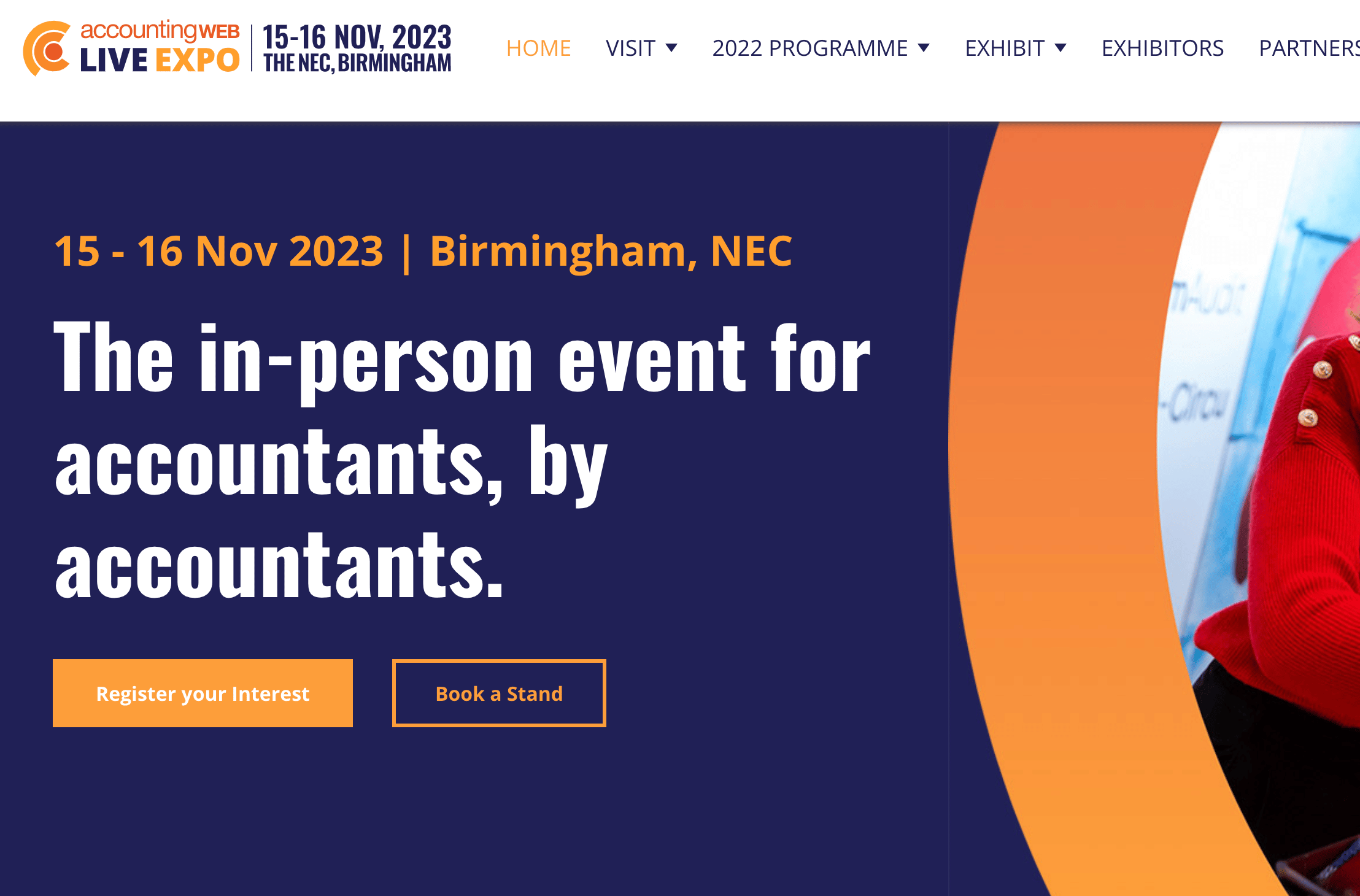 AccountingWEB Live Expo provides expert insights and connects accountants with a network of successful firm owners and accounting solution providers to exchange ideas and grow their practice. With over 20 years of accounting industry experience, AccountimgWEB's community engages accounting professionals through high-quality content.
Why You Should Attend
This conference is an opportunity to gain insights, engage in conversations, and discover technological opportunities in the accounting industry.

 Conference Details:
| | |
| --- | --- |
| Date | 15 – 16 Nov 2023 |
| Target audience | Accounting and finance community |
| Cost | Free |
| Attendance Mode | In-person |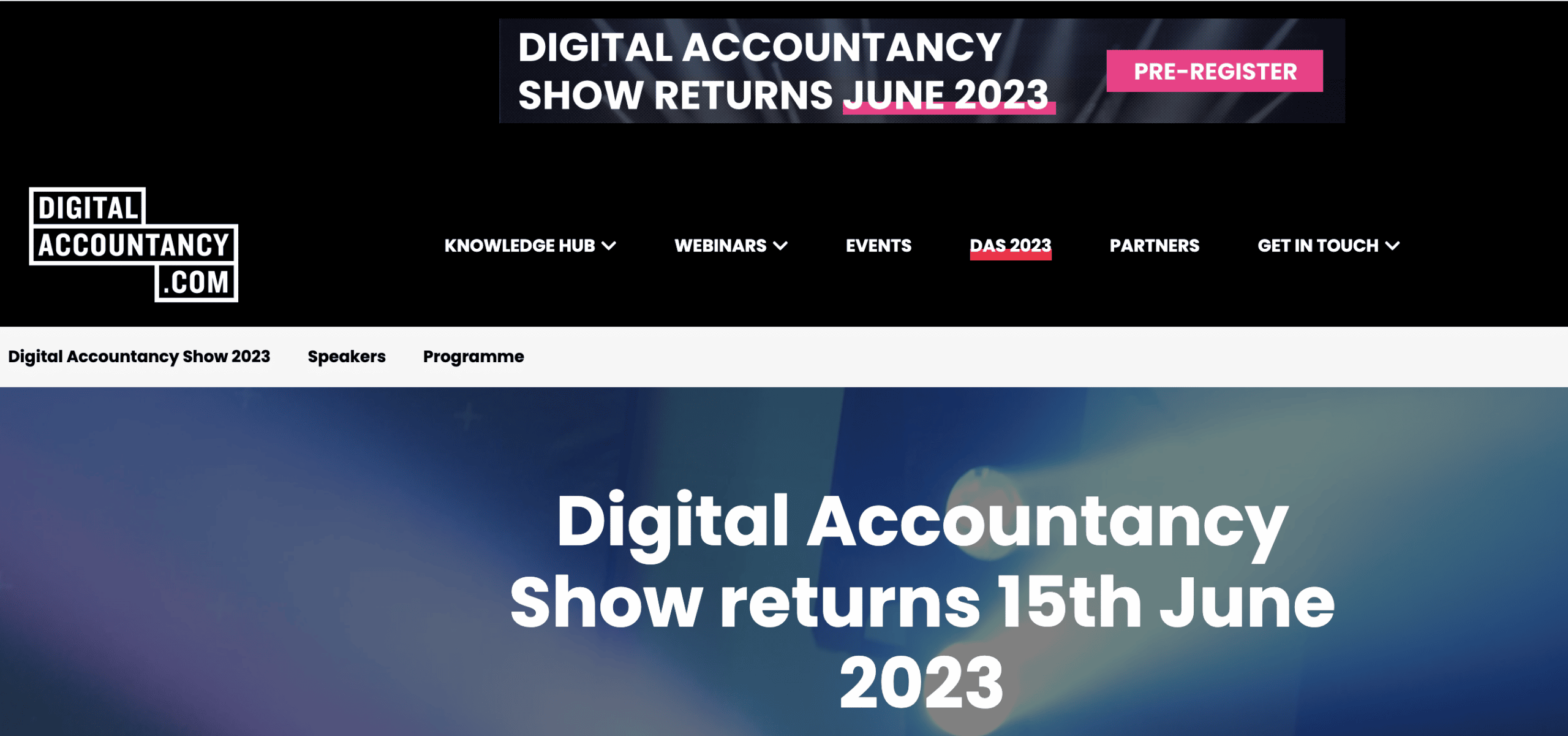 DAS 2023 is a platform for those who want to gain practical insights and network with accounting innovators to learn new ways of making their practice more productive and efficient.
Its sessions include a fireside chat where attendees can learn about the many ways digital transformation is helping other firms to scale their accounting practices. 
Why You Should Attend
Accounting is replete with repetitive tasks that software solutions perform much better. This conference will be helpful if you don't know why or how to get the most out of the digital tools available. The stories of other accounting firms will help you put the pieces together.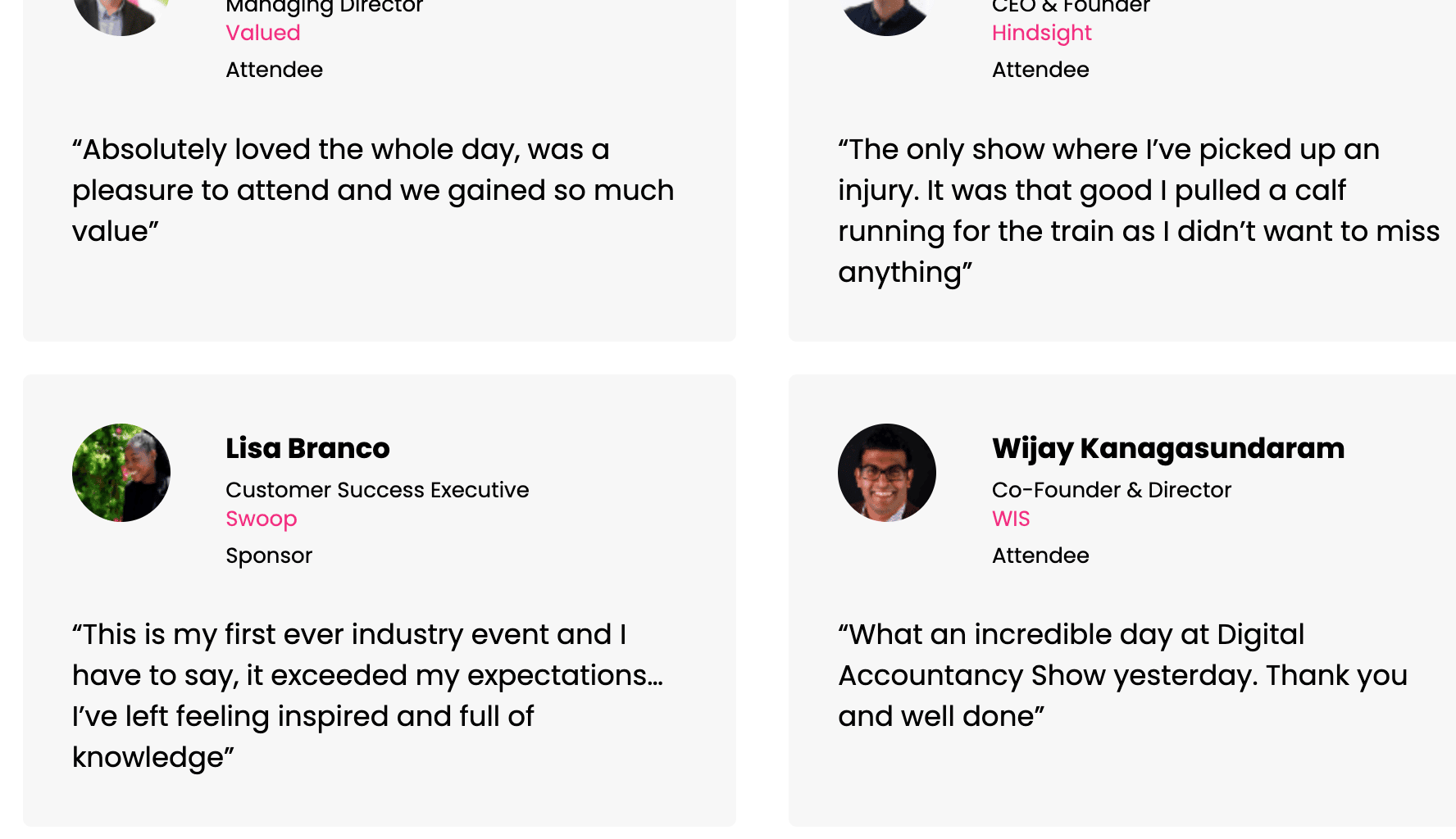 Conference Details
Date

June 15 2023

Target audience

Accountants and bookkeepers.

Cost

:

Free

Attendance Mode

In-person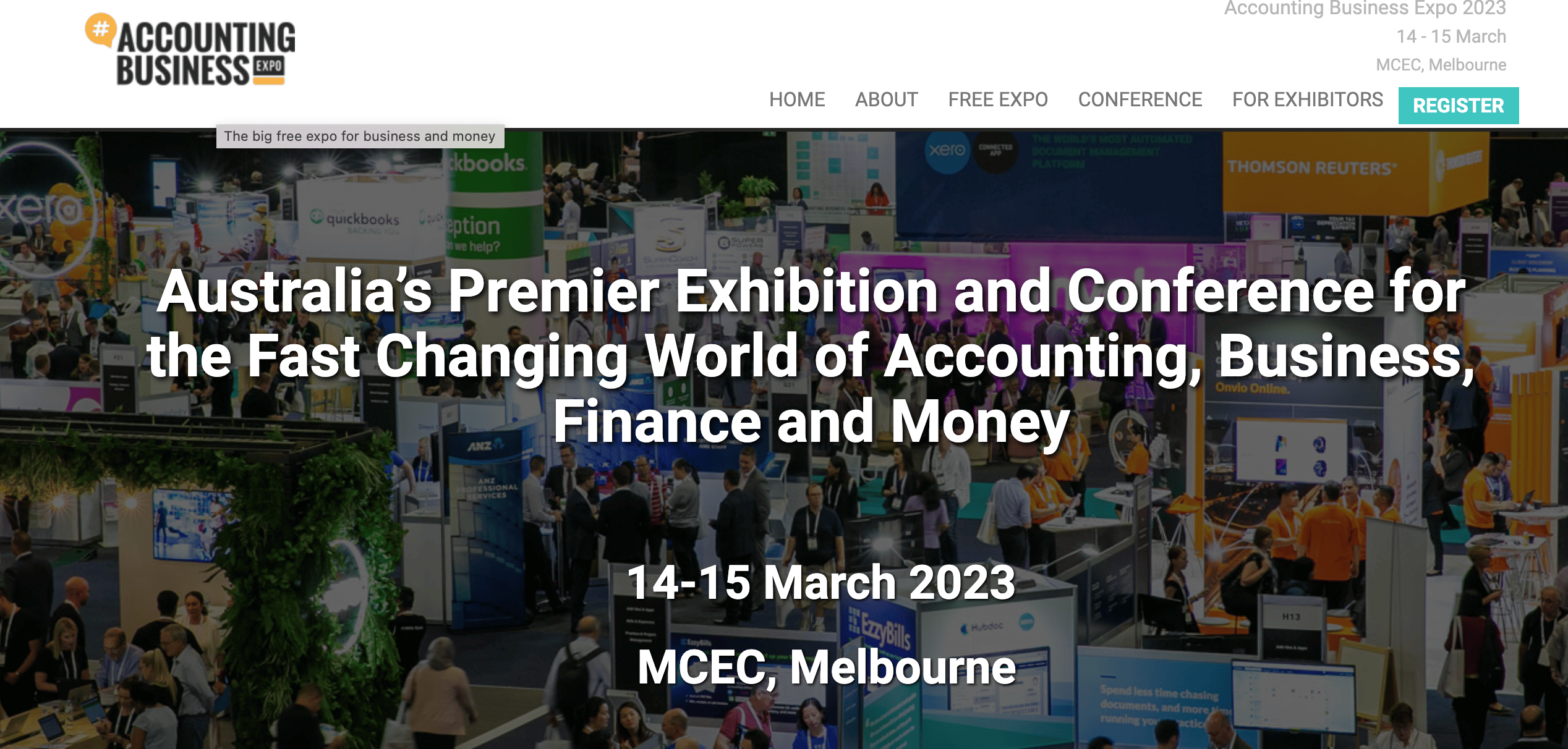 Organized by Terrapinn, the Accounting Business Expo is Australia's premier conference for accounting and finance professionals. It empowers accountants and bookkeepers to tackle industry challenges and improve their value proposition by adjusting to changes in technology and business needs. 
Why You Should Attend
Accounting Business Expo will give you and your team a high-level view of everything new in the accounting profession to help your team get the most out of available tech solutions.
You can try several digital solutions in the exhibition hall to see which one you can add to complement your team's effort for peak performance.
Conference Details
| | |
| --- | --- |
| Date | ABE is held twice a year. 14-15 of March in Melbourne and 22-23 of March in Sydney in November. |
| Target Audience | ABE is for everyone responsible for the financial function of their business. Accountants, Bookkeepers, auditors, tax consultants, Finance professionals, etc. |
| Cost | Free |
| Attendance Mode | In-person |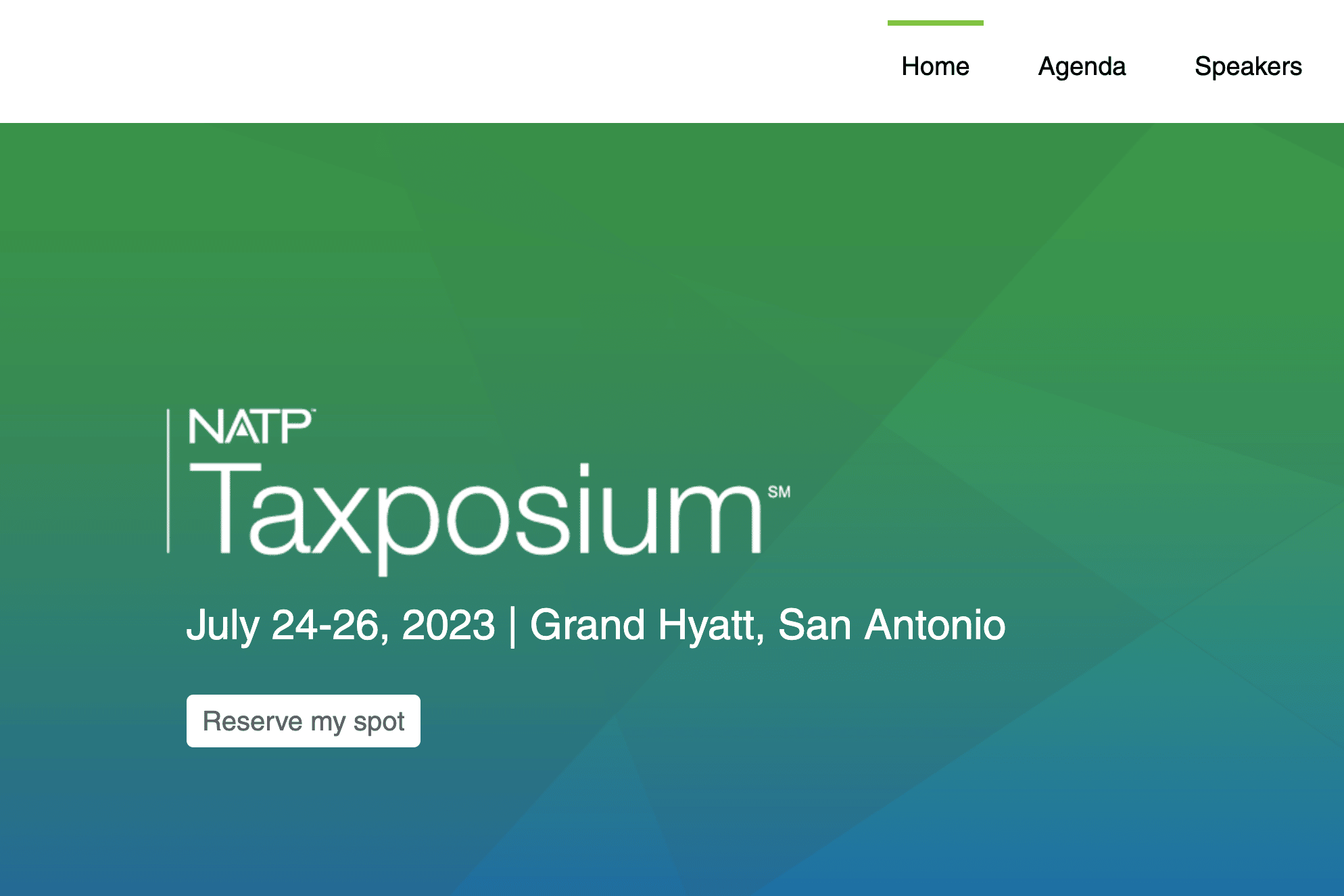 TAXPOSIUM is organized by the National Association of Tax Professionals. It educates tax professionals about industry hot topics, practice management strategies, and evolving technology. The conference also helps accountants connect with tax law experts and IRS representatives.
Why You Should Attend
In addition to the inspiring topics that will be discussed, the conference features a river walk boat tour, which will help you relax and recharge your mind.
The conference also provides a CPE opportunity and access to NATP's TaxCon.
Conference Details
| | |
| --- | --- |
| Date | July 24-26, 2023 |
| Target audience | Tax accountants who want to update their knowledge of tax law from tax educators. |
| Cost | Free |
| Attendance Mode | In-person (Grand Hyatt San Antonio, San Antonio, USA) |
Women Who Count is an annual conference organized by Accounting and Financial Women Association (AFWA). For four days, Women Who Count helps accounting and finance professionals to learn and network across several topics, including tax, finance, leadership, and communications.
Why You Should Attend
Apart from teaching hard accounting skills, the Women Who Count conference helps attendees to learn the soft skills that will give them a competitive edge in the industry. It also features continuing professional education and career resources.
Conference Details
| | |
| --- | --- |
| Date | October 23, 2023 – October 27, 2023 |
| Target audience | Accounting and finance fields (especially women). |
| Cost | The 2022 edition was $749. You will get the 2023 edition at the same price if you register early. The price goes up after that. |
| Attendance Mode | In-person |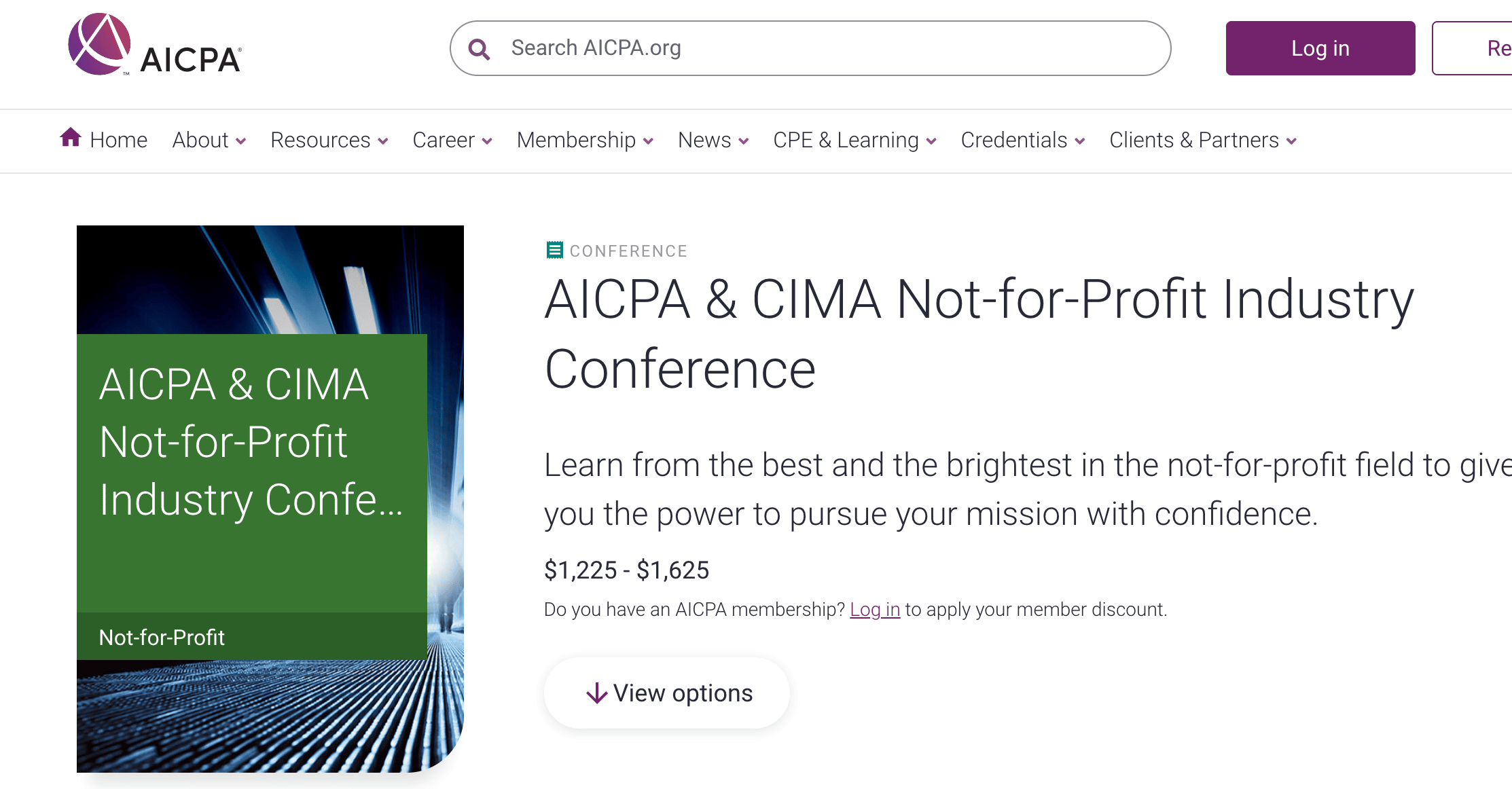 This AICPA & CIMA conference is an opportunity to build relationships with Not-for-profit accountants and generate qualified leads. Its selection of speakers and topics will empower you to run your not-for-profit accounting practice with confidence.
Why You Should Attend
This is one of the few conferences for not-for-profit accounting firms. it'll give you a big-picture view of not-for-profit accounting. It will help you keep tabs on changes in the not-for-profit tax reforms, accounting standard updates, and Uniform Guidance.
Conference Details
| | |
| --- | --- |
| Date | 19-21 Jun, 2023 |
| Target audience | All financial managers with not-for-profit clients, including CPAs, accountants, tax advisers, auditors, etc. |
| Cost | $1225-1625 |
| Attendance Mode | Virtual and In-person (Gaylord National, National Harbor, MD) |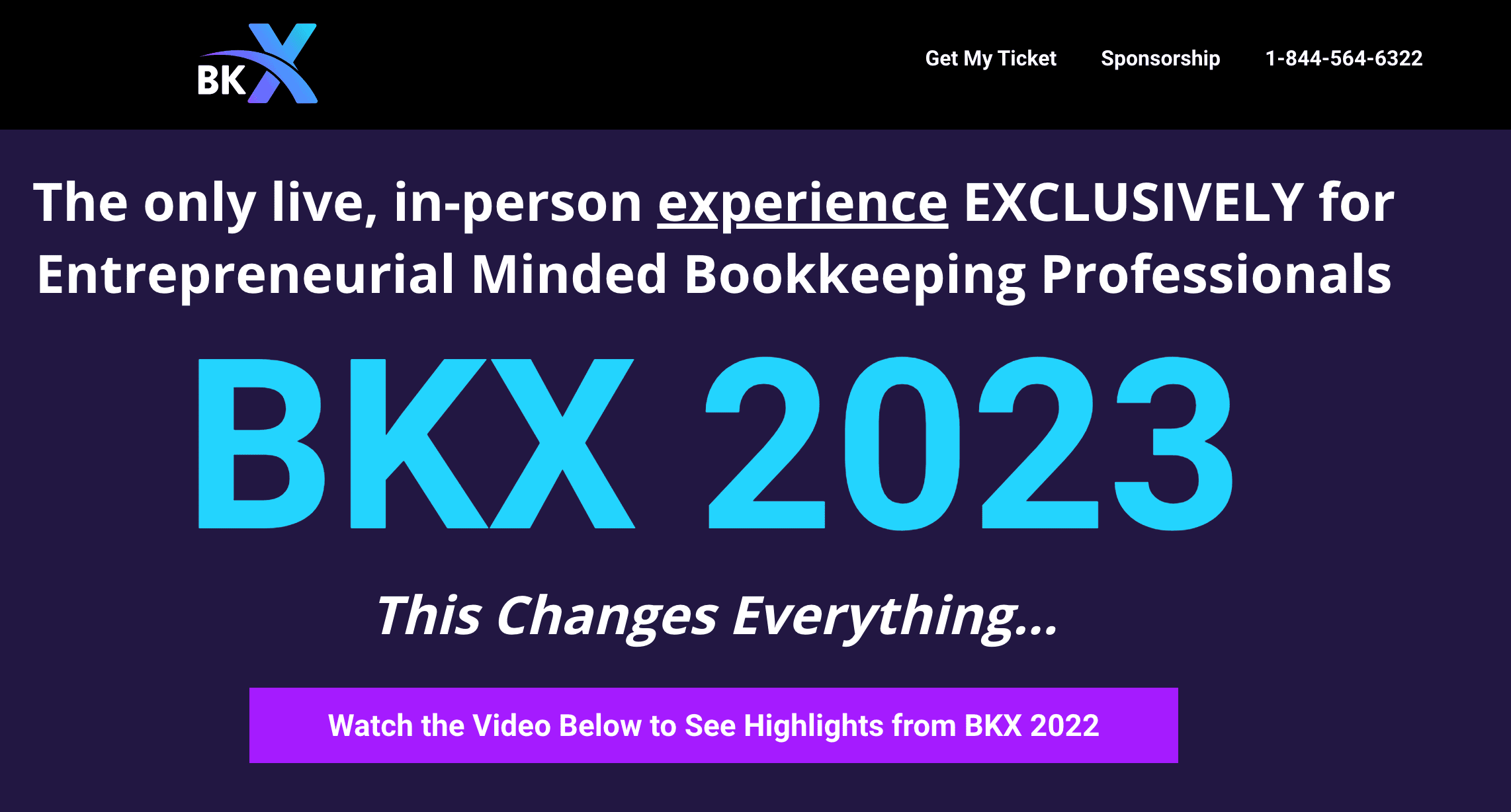 BKX 2023 is a conference organized exclusively for bookkeepers. It aims to help them generate new ideas, enhance productivity and find ways to solve the problems that keep them from growing their practice. Its selection of topics bothers on growing, scaling, and optimizing a bookkeeping business.
Why You Should Attend
You will attend BKX 2023 if you want to:
Keep up with the latest trends to remain relevant in the ever-evolving bookkeeping landscape.

Build life-long friendships with high-flying bookkeepers.

Meet and network with industry leaders to improve your sphere of influence.
Conference Details
| | |
| --- | --- |
| Date | June 23-27 2023 |
| Target audience | Solely for "entrepreneurial-minded bookkeeping professionals." |
| Cost | $600 |
| Attendance Mode | In-person |
You're one bookkeeping course away from unlocking your next phase of accounting success. Whatever your skill level may be.
But there are more bookkeeping courses than your schedule can take. On a bad day, you may even end up spending the time you don't have on a course you don't need.
We want to help you prevent that.
This list of bookkeeping courses will improve your bookkeeping performance. Whether you're a job seeker or an experienced bookkeeper.
Frequently Asked Questions About Accounting Conferences
1.   Are Accounting Conferences Worth It?
Accounting conferences are worth it. You wouldn't reach your potential in today's landscape if you only rely on what you can learn from courses and the internet.
Apart from the invaluable face-to-face connections, accounting conferences are gold mines of time-sensitive information you can't get any other way.
2.   How Can I Maximize Accounting Conferences?
The first thing is avoiding distractions.
 Distraction will keep you from benefiting from the sessions that could improve your practice significantly. So, keep your mobile devices away and minimize work interruptions, so you can focus on what's happening at the venue.
The second is applying the lessons you'll learn.
The effectiveness of any conference depends on your ability to apply what you've learned. Note the sessions most relevant to you and be extra attentive to them. If there are exhibition stands, try out the available software solutions. Your ability to take your firm to the next level may lie in one tech solution or the other.
Accounting Conferences are Investments in Your Firm
The techniques that brought you here can't take you where you want to be. And With technologies changing the way businesses and accounting firms operate, you need to keep in step with industry developments.
Accounting conferences are opportunities to keep up with regulations, tech innovations, and revenue opportunities to avoid breaking the law or missing opportunities for growth.
With some accounting conferences also offering personal and professional development courses, and other prized resources, they will help you to build the firm of your dreams.
Build a Successful Accounting Firm with Financial Cents' Work Management Solution.