You've built your accounting firm from the ground up – putting in countless hours of blood, sweat, and tears to be successful.  
As your firm grows you hire more staff and serve more clients. It feels so good! 
But, before you know it things start slipping through the cracks. You aren't sure which team members are working on which project, you miss an important deadline, and you can't find the information you need for important client work. 
This time, you aren't feeling so good – and what's clear is that managing your firm on spreadsheets, paper checklists, and sticky notes isn't working anymore. 
At Financial Cents, we feel your pain! 
Thankfully, there is good news.  
A robust accounting practice management software can absolutely revolutionize your business, and keep your trajectory steadily moving upward. 
We also know that there are a ton of unanswered questions about management software for accounting firms. That's why we're here – to dig into every corner of the subject, and make sure you can make a good decision. 
Ready to start learning? To get started click on any titles in the table of contents or read through the article from top to bottom! 
What is accounting practice management software?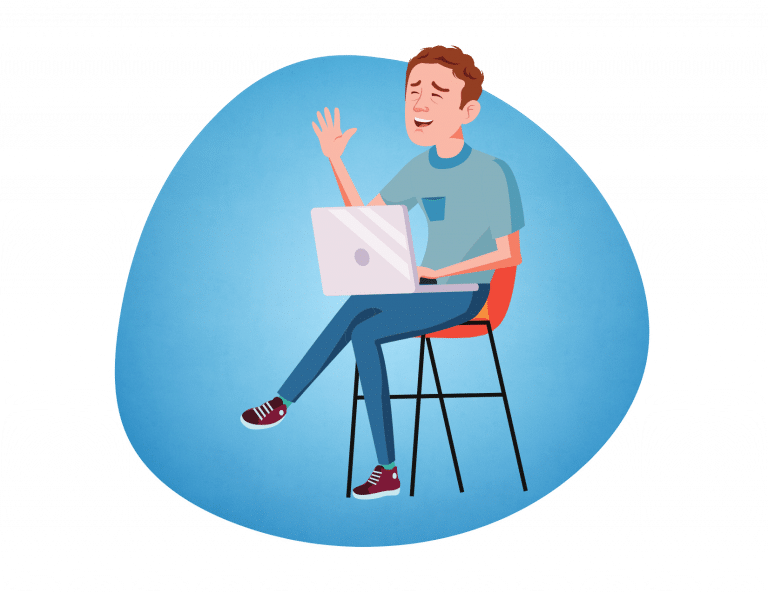 Let's start at the very beginning: what exactly is accounting management practice software? 
Accounting practice management software manages the front and back office operations for accounting firms. 
Cut out the jargon and that means that accounting firm management software helps you delegate, track and complete client work on time.. 
The best systems even have features that allow you and your team to easily  collaborate on this work, meaning you'll be more efficient than ever. 
Practically, an accounting practice management software allows you to do things like:
Easily track performance (like how long it's taking your team to complete work, and whether deadlines are being met).

Automate time consuming parts of your process.

Effortlessly keep tabs on all the tasks you are working on for every client you have – all in one program. 
As an accounting firm or tax professional that completes hundreds – maybe thousands of tasks each day – you can easily see how valuable this is. 
Rather than feeling like the wheels are constantly about to drop off of your business, you can keep everything organized to create an excellent team and client experience.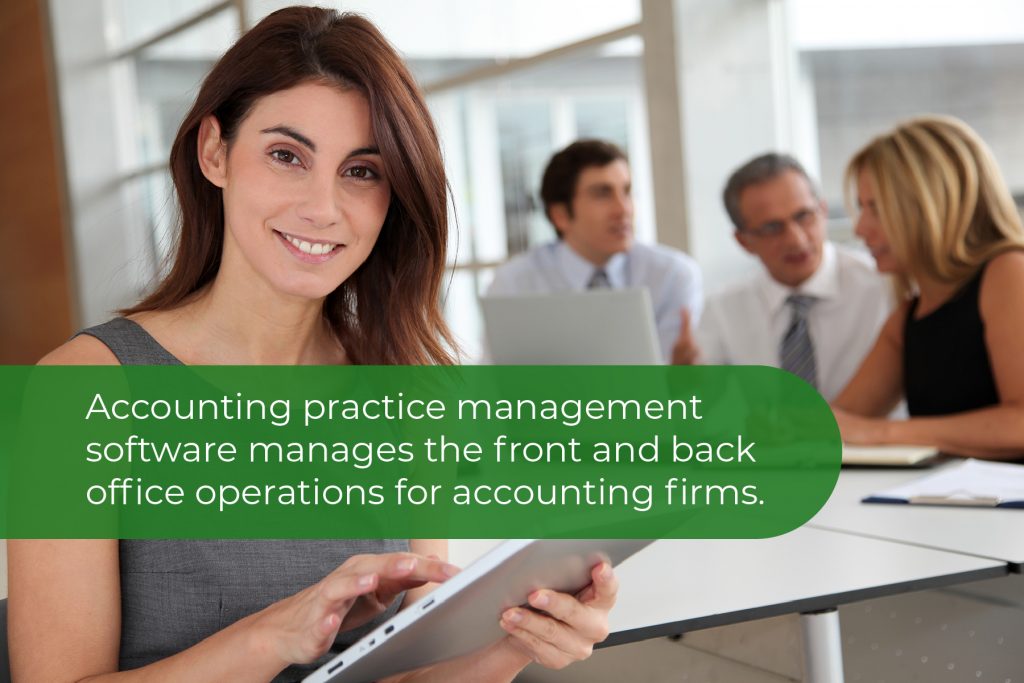 6 Challenges Facing Accounting Firms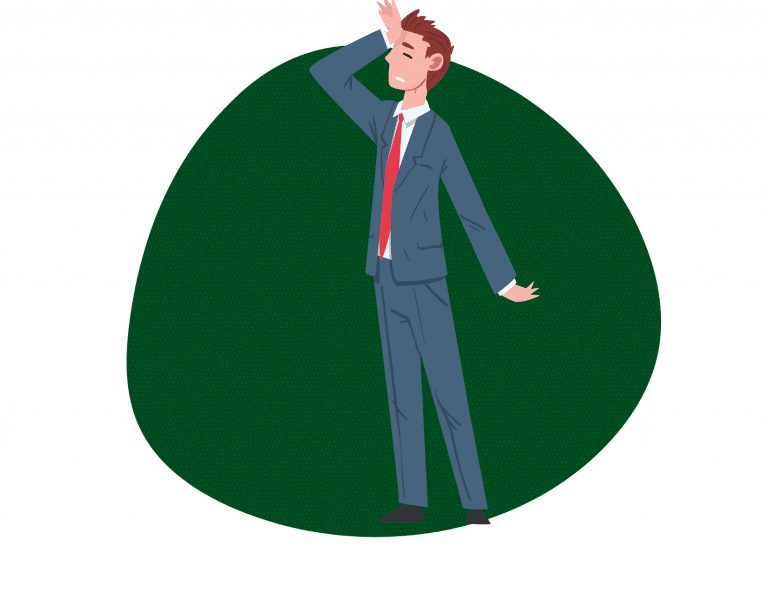 We can easily see that accounting practice management software is helpful. 
But is it really meeting the biggest needs that accountants are facing? 
To answer that question, we dug in deep and started asking "What IS the biggest problem accounting firms are facing?"
The results of our quest were absolutely intriguing. Let's explore the biggest challenges accountants and tax professionals are facing and see if management software is a good fit for the industry. 
1 – Visibility Across The Entire Firm
Let's run a scenario and see if it sounds familiar: 
What you know is that you have a client work that is due in 3 days. Unfortunately, that's all you know! 
You aren't sure if the task is almost completed, or if there is still a lot of ground to cover. Beyond that, you aren't sure which team members are working on the project, so you aren't positive who to follow up with. 
In three days, you'll be scrambling wildly, trying to pull together the final details, get reports from team members, or in the worst case – simply finish the project on time. 
If that resonates with you, you're not alone. 
High-level visibility across accounting firms is one of the biggest problems we encountered multiple times. Leaders don't know where anything stands, who is working on what, or if work has been completed on time.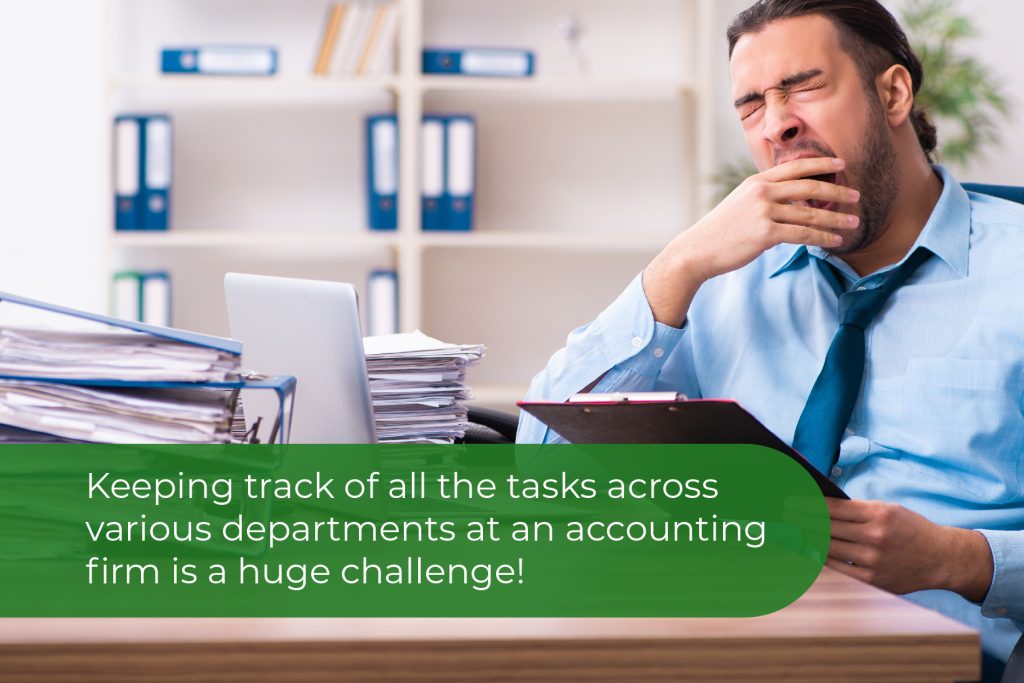 The result is a chaotic business that isn't growing. 
Talk about how accounting firms struggle to get visibility across their firm. They don't know where anything stands, who is working on what or if work has been completed on time. This causes work to fall through the cracks and deadlines to be missed. Etc. This is the biggest problem that we solve for and that will resonate with firms 
2 – Retaining Talent
Retaining top employees as competition intensifies is a key challenge. In fact,  8 in 10  accounting managers are concerned about keeping valued employees. 
The two biggest areas of concern? 
Low morale
Heavy workloads
Guess what? 
Both of these issues can be addressed with a great accounting practice management software. 
Studies have proven that a sense of working together is very important for morale – and that's exactly what accounting practice management software does. Rather than each employee being an island working on their own tiny project, teams can easily collaborate together to finish tasks. 
Beyond that, it also gives you the ability to manage the amount of work each team member is doing. This allows you to identify which team members have too much work on their plate so you can even out the workload and help your team avoid burnout. 
In the end, firms boost their efficiency, and as a result reduce the strain of heavy workloads on employees.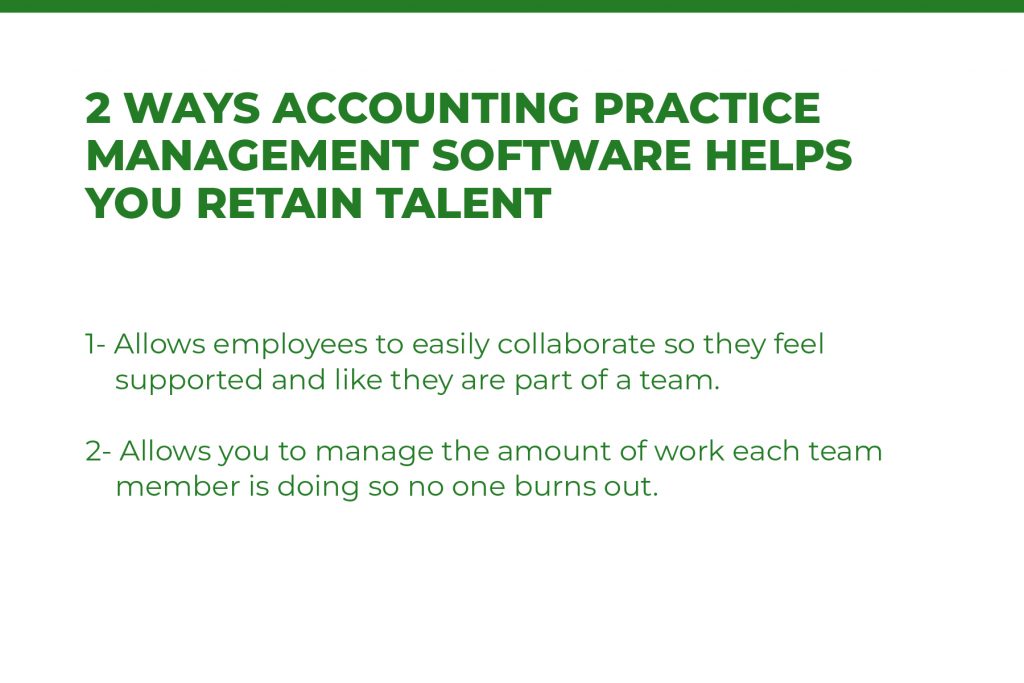 3 – Delivering consistent quality deliverables 
As your accounting firm grows so does your client base and workload. You can't do all the work yourself – even if you have the best intentions in the world. 
You have to hire a team to keep up with the work. 
This creates new challenges. As you hire new staff members, the quality of your work can suffer: 
Each team member has their own way of doing things creating a lack of

standardized processes

You don't have enough energy to manage everyone

People aren't held accountable
The result? 
Firms end up not delivering on what they promised – and if the work does get done, it may not be done to proper standards.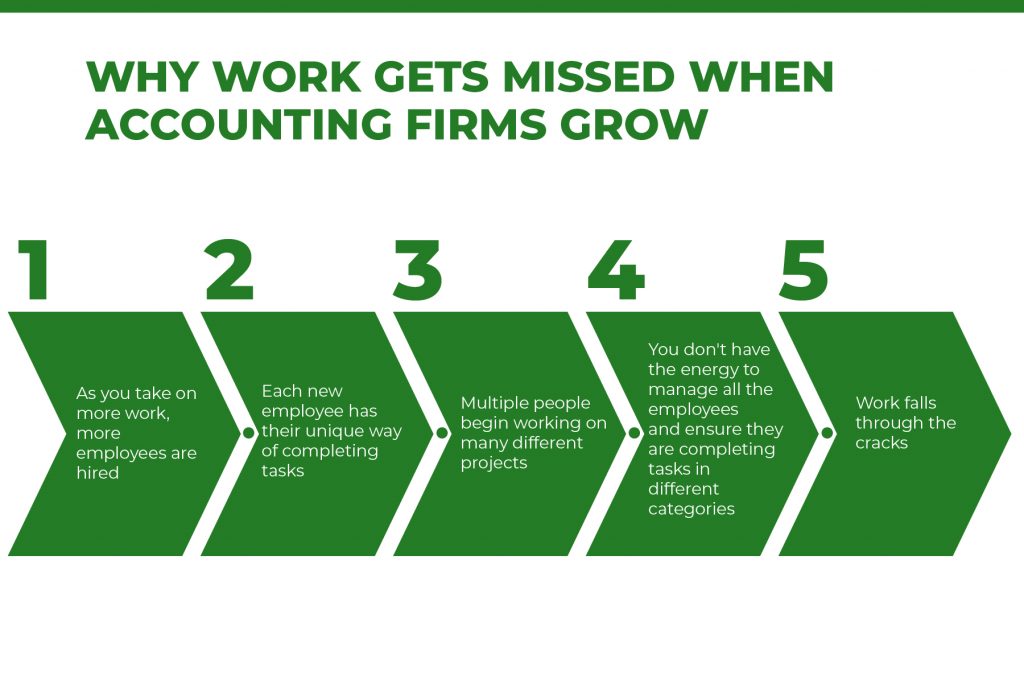 Of course, no one wants miss out on their deliverables – but the best of intentions don't make up for a lack of stand processes and business organization. 
4 – Working Remotely 
Like many other industries, most accounting firms will not be returning to the office. 
Some 77% of accounting professionals would like to continue to work remotely. 
But remote work brings challenges to accounting teams – who for decades have done tasks such as month-end close by means of long nights in the office. 
Remote work makes team collaboration even harder than when you are working side-by-side in an office. You can't just tap the person next to you on the shoulder to ask them a question or get an update.
That's why it's more important than ever to have systems in place that allow your team to stay accountable, collaborate, and get work done! 
5 – Cybersecurity
Imagine that you are a cybercriminal hoping to get your hands on some money. Who is a logical person to target? 
People who handle other people's money! 
Accounting teams regularly receive emails with attachments or links to invoices, and it's not hard to see how easily a malicious link or attachment could make its way unnoticed into a workflow.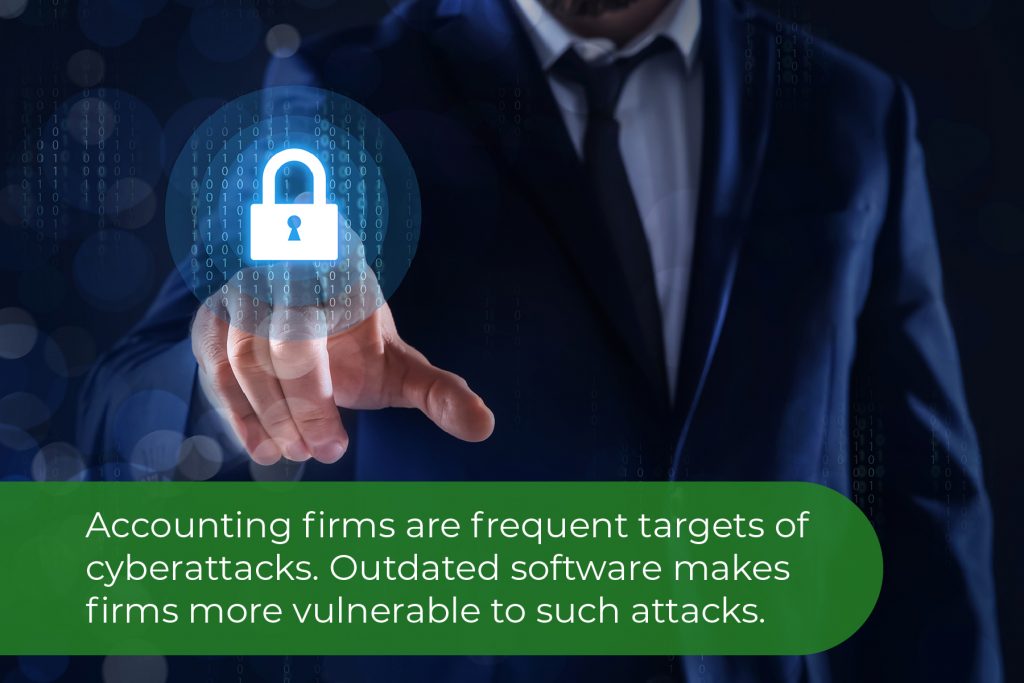 Unfortunately, the results of a cyberattack are disastrous. In fact, it takes an average of 280 days to identify and contain a data breach and the average cost is $3.86 million. 
For many accounting firms, that's enough to send them under.   
And remember – outdated software can increase the success rate for malware and ransomware, so getting good accounting practice management software can really help with this problem. 
6 – Meeting clients' expectations
Years ago, accounting firms were viewed as service providers, but now clients are expecting a lot more from them.
Clients expect to receive valuable suggestions, stellar assistance, and strong customer support service. They want their problems to be resolved and their business to be flourishing.
To surmount this challenge, you should know your clients' needs and expectations. Stay in touch with your customers and ask them about their needs and suggestions. 
Of course, this is easier said than done – and if you don't have an easy way of tracking client work it's next to impossible. 
Again, accounting practice management software can help you have phenomenal communication with your clients, and keep them happy. 
Benefits of accounting practice management software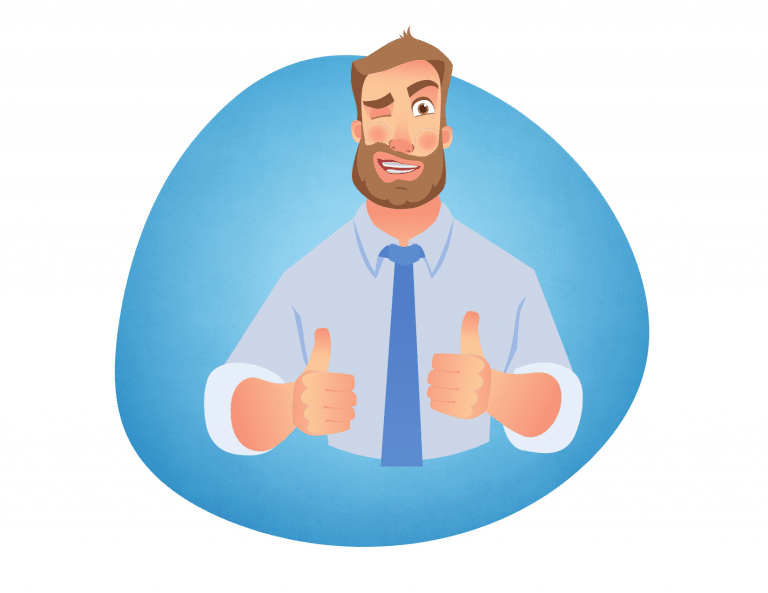 We can see that good accounting practice management software directly addresses the greatest needs accounting firms are facing. 
Now, let's pull out all the stops and get to all the practical nuts and bolts of what accounting practice management software should do for you. 
Let's start by asking a question: what are the keys to serving your clients well? 
There are many answers to the question, but here are a few things most experts agree on:
Prompt communication

Delivering on deadlines

Personalized advice and services to meet their needs

Proactively addressing issues before they even know they are. 
This is just the beginning – but you can already see how difficult these would be when you have to track down information for different customers in different places. Things slip through the cracks super easily and you end up missing important communication and whiffing on critical deadlines. 
A good accounting practice management program helps to alleviate these problems. 
For example, this type of software can: 
Provide you with an overview of all the services you give each client that you can understand with a single glance.  

Highlight your upcoming tasks and deadlines so don't miss any of them.

Break down client jobs into chunks that are more easily digested and managed.
That means your clients get better service, fewer missed deadlines, and increased communication.
The result is more and happier long term clients! 
The right practice management software creates more time
How many times have you had to track down an elusive email, ask a team member several times to complete a project, or take several minutes to pull together scattered notes and documents for an important meeting? 
For most of us, this happens far more than we wish. The result is that you end up spending valuable time and energy doing menial tasks. 
Think it's not that big of a deal? 
The average financial department uses about 59% of their resources on manual processes.
Now just imagine having 59% of your time back to pour into the most important parts of your firm. 
You'd be sure to experience business growth like never before!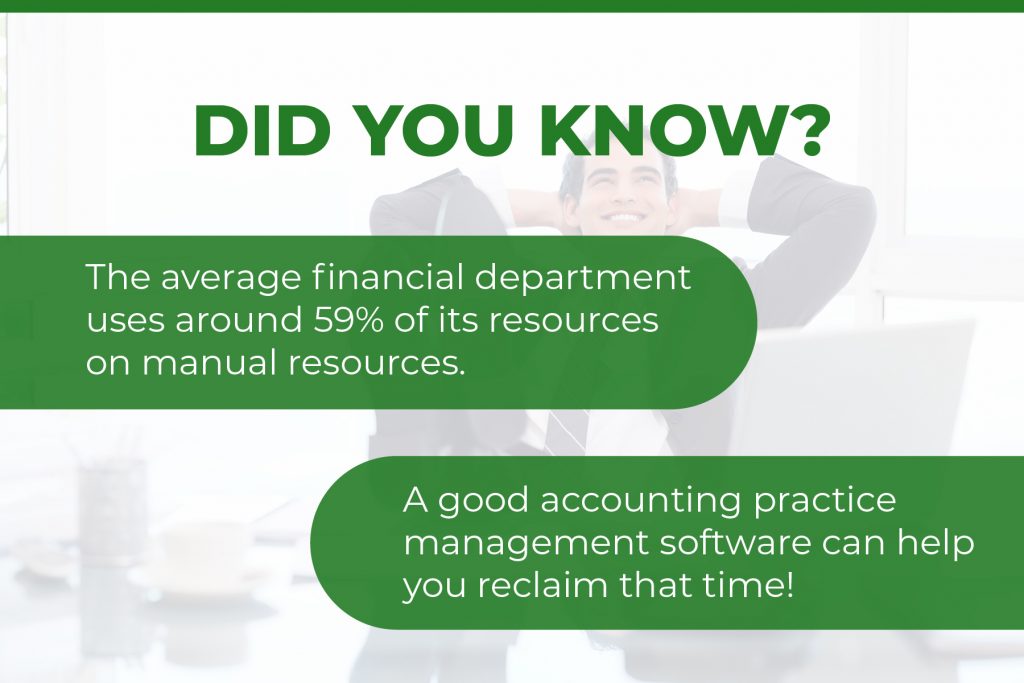 Good management systems improve your team
Have you ever experienced failing miserably? 
Even though you know you should bounce back and try to forget your failures, doing so is incredibly difficult – especially if your lack of success occurred in an important task or time. 
Motivation ebbs, you lose self-confidence, and you prefer to hide in the shadows, content with just trying to avoid mistakes. Forget actually being creative, proactive, and motivated.
The same happens to your team when they aren't equipped with the tools they need to finish a job. Small mistakes quickly snowball into train wrecks. 
On the other hand, when employees feel successful, they bring incredible value to your team. 
Thankfully, accounting practice management software equips your team with the tools they need for success – and you can almost always count on this truth: a healthy team equals a healthy, growing business.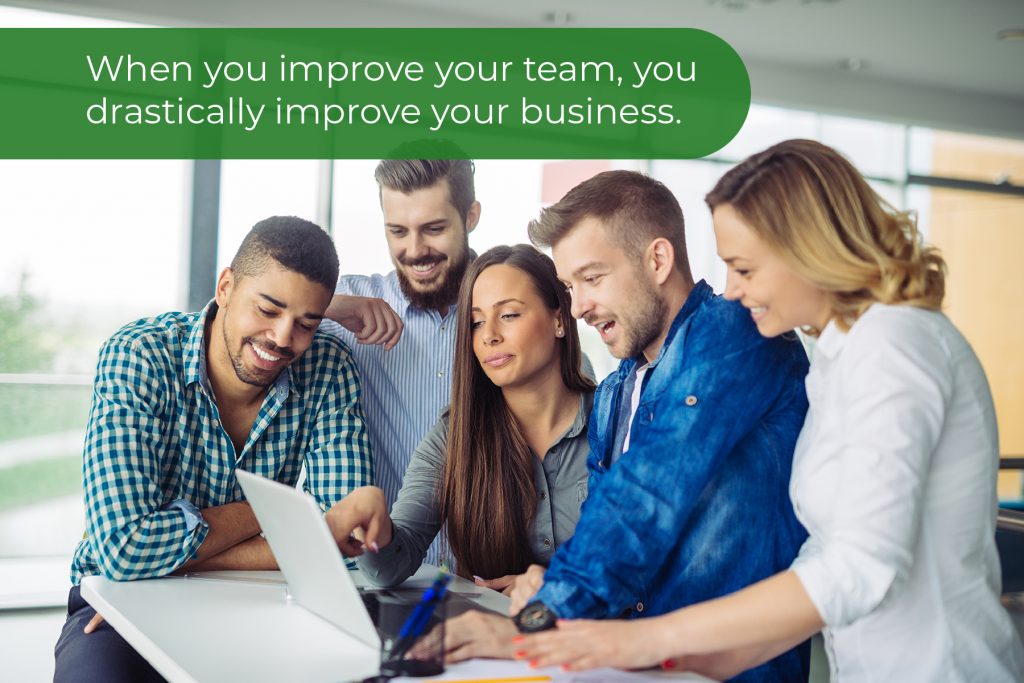 Boost revenue with management software for accountants
Think about it: 
Your team is healthy with time to focus on what is important

You are offering great customer service – going beyond basic bookkeeping, and hitting your deadlines
What's going to happen? 
First, you are going to retain the clients you already have. 
Second, your clients will be more likely to refer leads to you, so you'll be able to better market your services and the team will bring in more revenue from those clients.
Plus, management software allows you to do things like identify workflow bottlenecks, identify your most effective clients and employees, and know what actions will maximize your resources.
The bottom line? 
You're going to boost revenue and become more profitable. 
Having accounting practice management software lets you scale your firm
Before you knew how to read, you weren't aware that there was a whole, exciting world of thoughts, stories, and vicarious experiences available to you in books. 
Your lack of knowledge kept you from experiencing the delightful world of settling down in a cozy chair with a book and transporting to another world.  
It was there the whole time, you just didn't know about it! 
Here's the analogy for an accounting firm: you can't fix things that you don't know about. 
Is a particular client costing you money? Are you going over budget on certain tasks? 
It's no fun when things like this are happening, but it is much better to be aware of the issues and address them than to be ignorant of them.
After all, your company can't grow when you aren't aware of the obstacles keeping you from growth.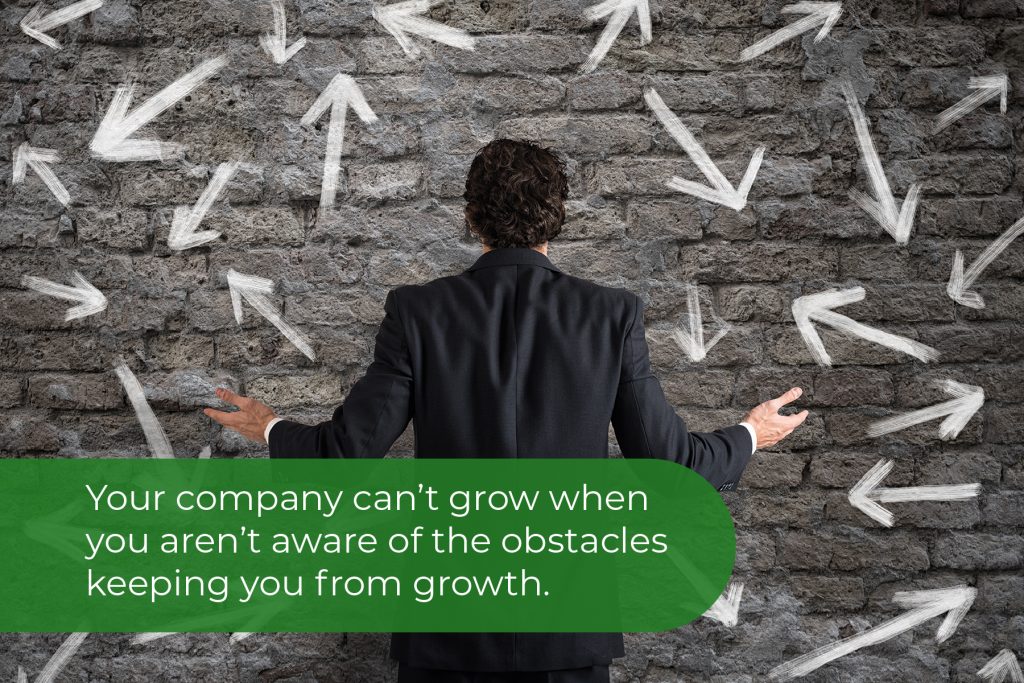 Thankfully, accounting management programs allow you to do things like identify workflow bottlenecks, pinpoint your most effective clients and employees, and know what actions will maximize your resources.
That means you can recognize the obstacles that are holding you back, address them, and scale your business. 
5 Key features every accounting practice management software should have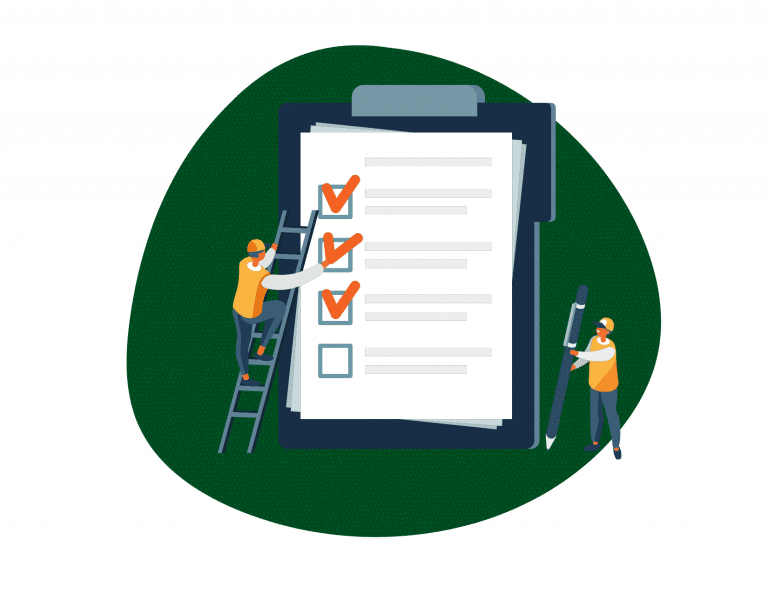 Not all management software is created equally. 
Some are missing vital features while others have components that are extra and not really needed. 
Our goal is to cut through the fluff and identify the most important features that every accounting practice management software should have. 
Let's get started! 
It's not very glamorous, but every day when we clock into work, we work to complete tasks and meet deadlines. 
Having a system that effortlessly manages all these workflows is critical. 
For example, having a superb workflow management system allows you to do things like: 
Put yourself in your client's shoes: is there anything more frustrating than expecting a project or report and not getting it? 
We are talking about money here after all – something people don't want to play games with! 
A good management software should allow you to view your firm's workload in one simple view to ensure nothing falls through the cracks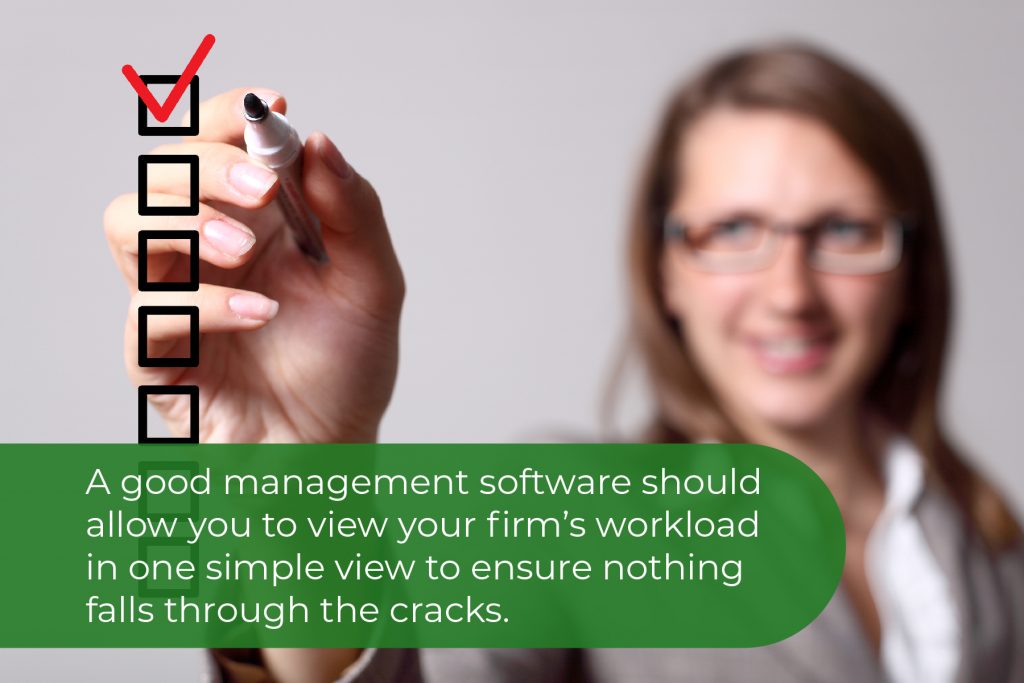 Stay informed with team collaboration:
Communicating and collaborating with team members is a notoriously difficult and sticky scenario.
Accounting management practice software should allow you to discuss tasks, ask questions, share files, and get notified of team activity within your workflows. 
Track ad hoc email requests from clients

:
Maybe you have a good way of tracking the projects you are working on and need to do. You have things automated and they are sailing smoothly along. 
But what happens when something abnormal comes along – like an out-of-the-blue request from a client? 
These things are super easy to forget, but some software allows you to turn such emails into projects and track them so you don't forget them! 
Remember Steve Jobs and his black turtlenecks? He wasn't wasting energy deciding what to wear each day – and you shouldn't waste energy on projects that happen every day either. 
You should be able to set work that you do on a regular basis to automatically recur so you can automate your process. 
And the best part?
The best accounting programs don't limit you to one type of recurring event. You can choose things like repeat daily (excluding weekends), repeat daily (including weekends), repeat weekly, or repeat monthly. 
Templates are one of the best ways to make repeatable and daily tasks super easy. Find a management software that has workflow and bookkeeping templates to streamline your processes and maintain work quality, even as your team grows.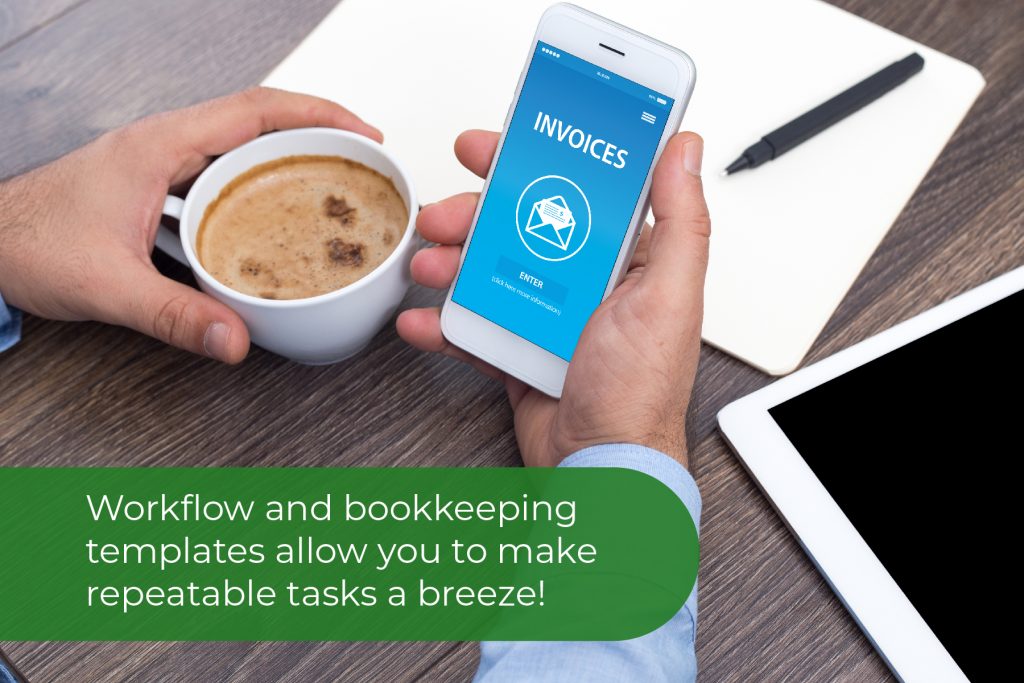 You should be able to tell where you are spending your time, as well as what work is most profitable for your firm with just a glance. 
For example, your accounting practice management software should: 
Track time where the work is getting done:

 
Stop using multiple different apps or pieces of software to manage bits and pieces of your firm. Get an accounting practice management software that has a built-in time tracker so you can seamlessly track time, in the same place you are working
Get insights with time tracking reports:
It's one thing to fail. It's a whole other ballgame when you aren't sure if you are failing or not. 
It's disconcerting!
You should be able to run reports so you can see where your firm is spending time. This also allows you to carefully track profitability, manage payroll, and more. 
Make your firm more profitable:

 
Let's face it: every accounting firm has ideal clients and then those that aren't so ideal. 
The more ideal clients you have, the more profitable your firm will be. 
That's why accounting practice management software should easily identify your least profitable clients and all you to make adjustments to boost your profitability.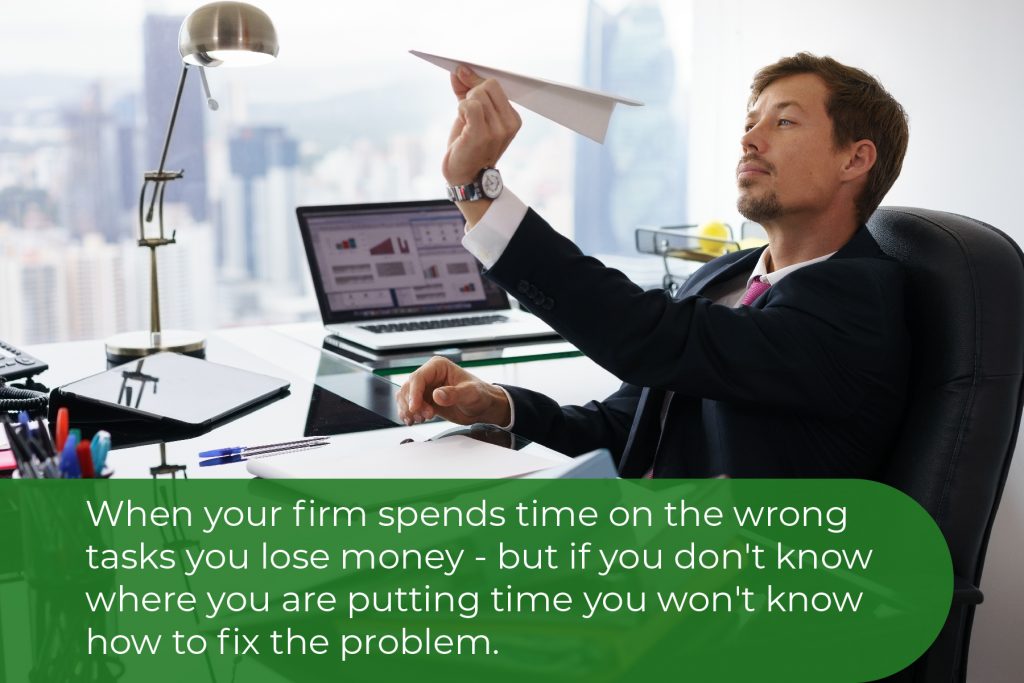 As we already mentioned, working with clients' money can be tricky business. 
Do things wrong and you'll find yourself out of a job in a hurry. On the other hand, when you do good work, you gain trust, and along with it long term clients. 
Here are a few things that your software do for you so you can make sure client relationships are smooth sailing: 
An audit trail of your team's clients interactions:

 
Sometimes something goes awry when working with a client. 
If they can point their finger at you and it turns into a "you say, they say" type of game, there's a good chance you won't keep that client for long. 
However, keeping close track of the work and communication that happened with clients can help you avoid this. 
That's why your program should show you who last contacted a client, when, and about what so when a client calls you know exactly where you stand. 
View all your client info in one place.

 
What's the one word that describes the feeling when you're on the phone with a client and they ask for something you can't find? 
Panic. 
Thankfully, good software for accountants keeps documents, contact information, passwords, notes, and more in one view for when your staff needs it.
Securely store client passwords for your team

: 
Remember when cybersecurity was mentioned as one of the biggest challenges facing accounting companies? 
Every access point into your business is another place for a cybercriminal to target, so minimizing the platforms your use can be helpful. 
Make sure to get a management system that securely stores all your client passwords and other sensitive information for your team to easily access and get their work done.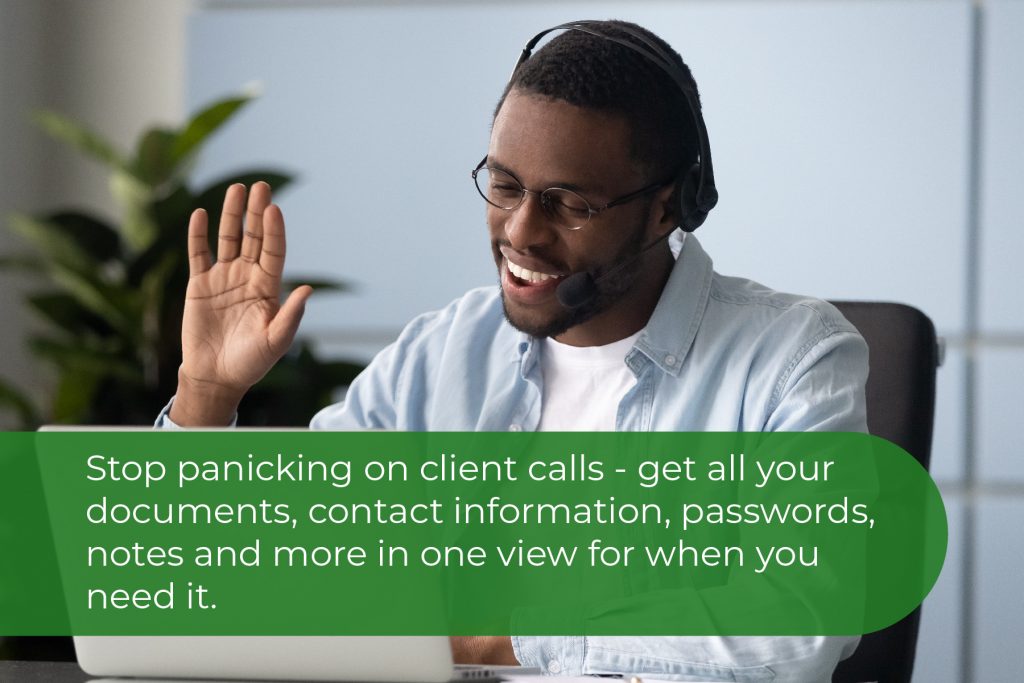 Sometimes accounting firms are expected to complete a task, but don't have the information they need from the client to do it. 
It's incredibly frustrating – looming deadlines create uncomfortable pressure, but there is nothing you can do about it! 
That's why accounting software should make communicating and collecting data from your clients a breeze. 
In particular, here are a few tasks management software should be able to do for you: 
Have a super easy to use client portal:

 
No matter how great your accounting practice management software is, getting clients to sign up or download an app can be quite a challenge. 
That's why getting your clients started should be incredibly simple. 
In our opinion, the best software doesn't even require your client to create a username or password. After all, they aren't there to create a pretty profile – they are there to get their accounting done.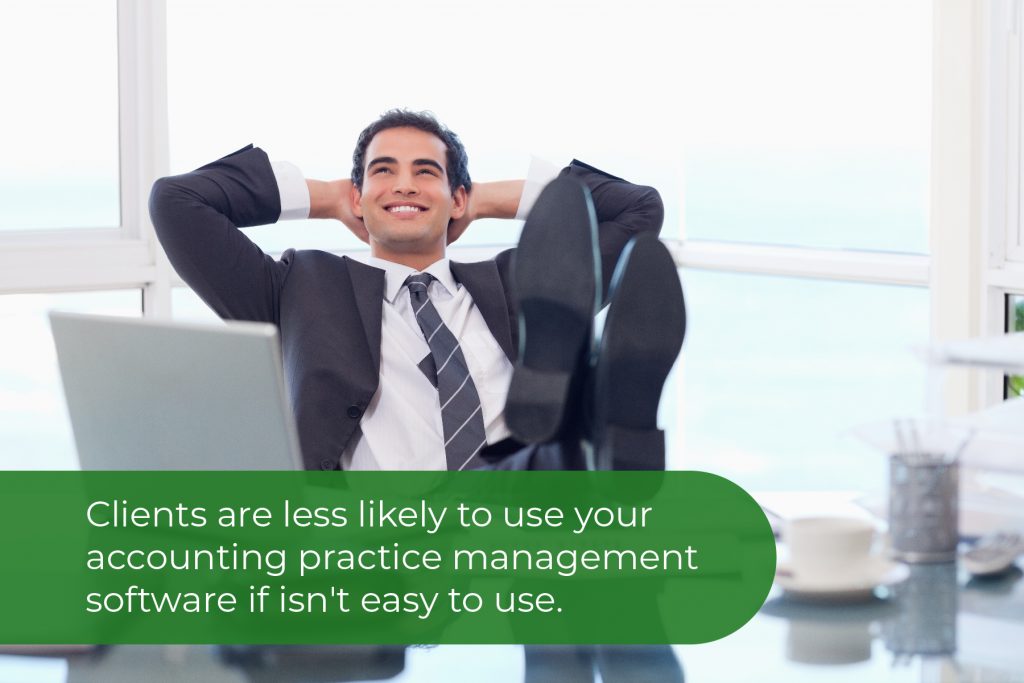 Automated client reminders:
We all hate sending follow up emails. 
Sometimes the work has to be done, but you tend to feel like a nuisance when you have to remind someone about a task that needs to be done. 
And if you have to send a follow up to the follow up? Let's not go there! 
This is exactly why we think it's important to be able to set up client tasks directly within your management system. 
Your clients get a simple notification that you've requested that they complete a task – then automate follow up emails get sent until your client completes the job. 
You get to avoid wasting that valuable brain space tracking down projects, and steer clear of the dreaded follow up emails! 
Streamline client communication:
Are you tired of communicating with clients through tons of different platforms like email, Slack, Trello, text, and phone calls? 
Ensure that your software has the ability to communicate with clients from inside the workflows so you can answer their questions and get clarity around the documents they have uploaded. 
Managing your team's workload is essential if you don't want them to burn out. Having a capacity management feature makes sure that the work is spread out evenly. 
Here are few features to make sure your accounting practice management software includes: 
View your entire team's workload in one view: 
When you have one or two employees, keeping track of them isn't hard. But as your team grows you need a central dashboard where you can easily see what each team member has on their plate. 
The result is less overworking and better use of everyone's time.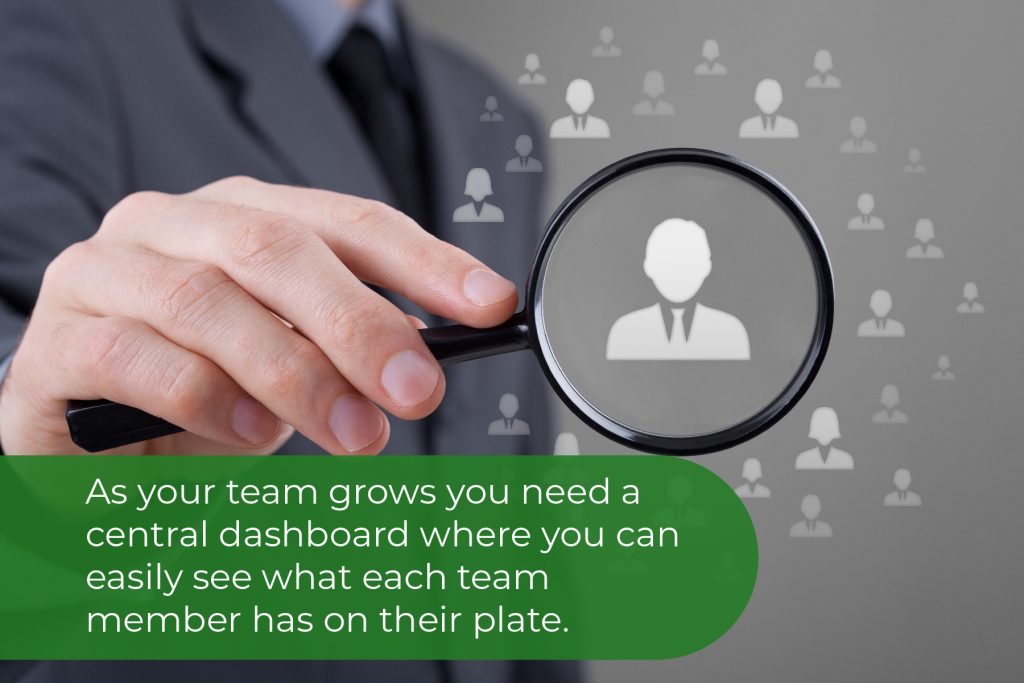 Set capacity limits for staff members:
Do you have an employee that is working themselves to death? Take time to appreciate their hard work, and also let them know that you value their time. 
We suggest setting the number of hours each person on your team works every week so you can identify which team members have too much work on their plate.
Then your software should allow you to quickly see how many hours over capacity your team is so you know exactly how much of an adjustment you need to make.
When you notice that someone on your team is overworked, or that an employee won't have time to complete a critical task, you want the ability to easily reassign jobs to other team members. 
Thankfully, there are good accounting practice management systems out there that allow you to do all of these tasks: 
If you want a way to see all the benefits of a good accounting practice management software, make sure to check out our infographic at the end of this article! 
P.S. Looking for a side-by-side comparison of the best accounting practice management systems. Check out our blog: Review of the Best Accounting Practice Management Software. 
Onboarding and training accountants with accounting practice management software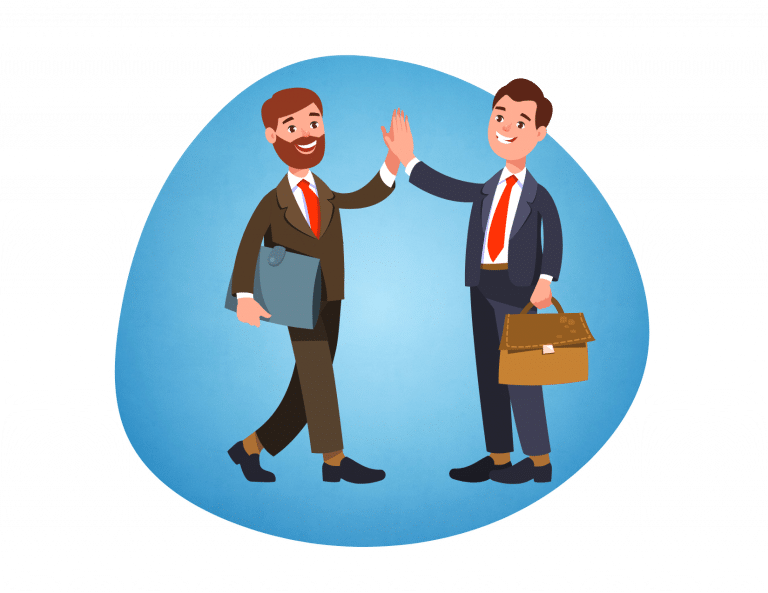 The benefits of management software are clear – and we know that the solutions offered through good software directly address the pain points accounting firms are facing. 
Now, you know which key features to look for when you decide to invest in software for managing your accounting firm. 
So what's holding you back? 
For many it's the daunting thought of learning how to maneuver their way through a new piece of software. 
You might be relieved to know that you don't have to be worried! 
There are accounting management softwares available that make the onboarding and training process easy. Here are a few things to keep your eyes open for: 
User friendliness of the software
This is simple: some software is extremely to use, while navigating others is like trying to find your way through a jungle. 
Take time to watch some demo videos and read reviews, keeping a close watch on what users have to say about ease of use.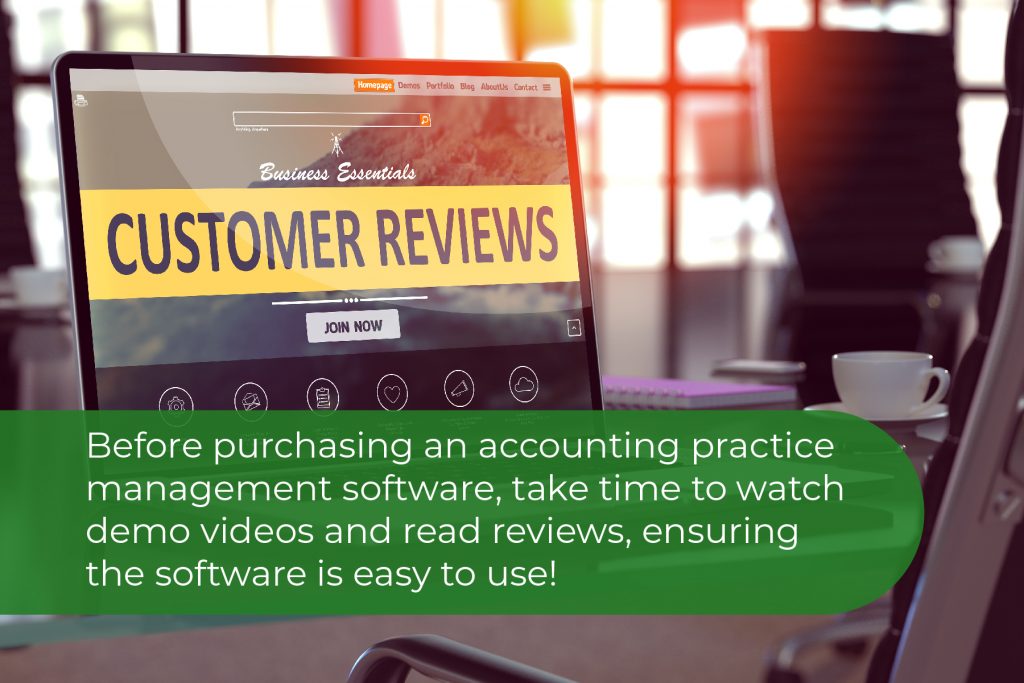 Tutorial videos and great customer service
No matter how easy a particular piece of software is to use, you may find yourself stuck at times. 
That's why we recommend software that includes lots of tutorial videos that can help you when you get stuck. 
Even more important is phenomenal customer service that is ready to help with any problem you bump into along the way. 
Ability to import clients and data
If you've been in business for a while, you probably have a ton of client data and information that would take days, maybe even weeks to enter into a new management system. 
It is absolutely critical that your new software has the ability to import all your data from other platforms with just a few easy clicks. 
Pre-built workflow templates
Do you remember laboring over math problems in school, only to have the teacher easily explain them in a few minutes? 
The teacher's knowledge, expertise, and work made your job much, much easier. 
Amazingly the same can be done with accounting practice management software. 
Make sure you get software that has plenty of  pre-built workflow templates that you can start using as soon as you get started with the software. This gets your firm up and running at high efficiency in no time at all! 
Even better is when the software allows you to copy a template across your client base. If you can get your hands on a piece of software that does this, you are in a winning situation!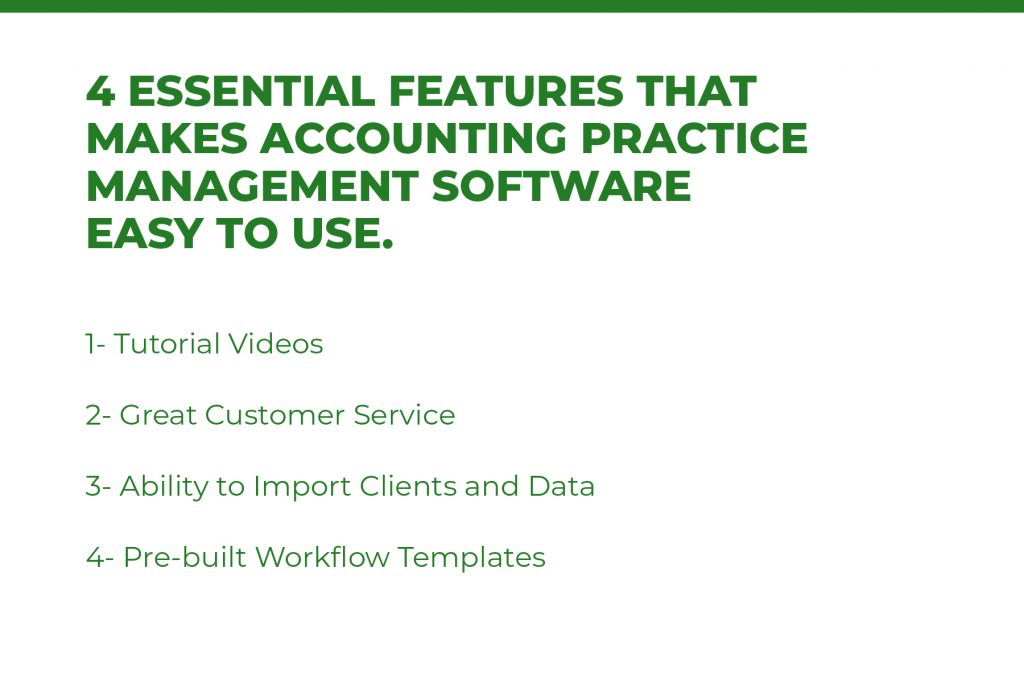 Financial Cents accounting practice management software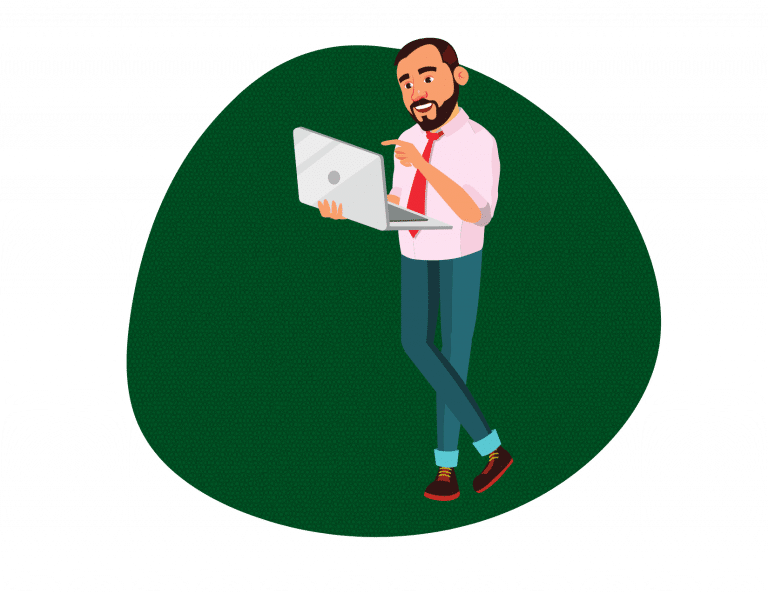 If you're still searching for software to manage your accounting firm, let us suggest Financial Cents. 
Before Financial Cents was founded, its creators spent over a year interviewing hundreds of accounting firms to learn about the most significant problems when growing their firm. 
That means Financial Cents was created to directly address the real, everyday problems that accounting firms were facing. Maybe that's why Financial Cents incorporates every one of the key features for accounting practice management software listed in this article. 
But don't take our word for it! 
We've won multiple accounting firm software awards like "Easiest Setup," "Fastest Implementation," and "Best Customer Support" 
Where recommend you check out our customer tutorials where you can find tons of comments like these: 
"Highly recommend! Great price, time saver and better than the other options I tried like Jetpack and Aero"
"A task management tool with a simplistic design. Helps organize our tasks by the due date, track time which integrates with QBO & allows us to communicate with our clients. Implementation and transition were smooth and easy."
"Financial Cents is AMAZING and does almost everything we need to manage our client work, track billable hours and communicate internally and with clients."
We're so confident that you'll love this software that we want you to try Financial Cents for free! If we haven't boosted your accounting firm within 14 days, you're welcome to opt-out.  
Go ahead and contact us today. We look forward to hearing from you!