What Is Accounting Workflow Management?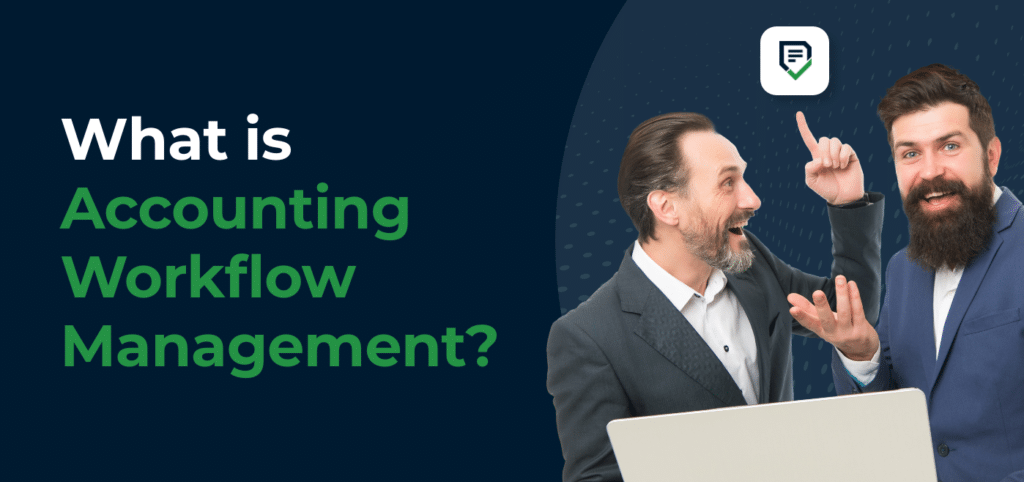 Most accounting firms believe you need to be tech-savvy to use workflows. But that's not true.
When Larisa Lopez found that managing her accounting processes with spreadsheets and paper to-do lists was holding her firm's growth back, she only needed to find an effective workflow software to take its productivity to the next level.
She said,
"I've been able to document more of my workflows and processes, and I've been able to delegate my work to free up my time, and that delegation has been key for my sanity."
That's why this article seeks to help you understand the ins and out of accounting workflows so that you can leverage them to keep growing your firm.
So, What Is Workflow?
Workflow is a set of tasks you do to complete accounting processes in your firm.
What is Accounting Workflow Management?
It is the process of defining, optimizing, and automating your workflows, eliminating bottlenecks so your team can complete tasks seamlessly. An accounting workflow software lets you track client work and see employee workload and availability.
Examples Of Accounting Workflows
You can create a workflow for literally any of your accounting processes, but the most common include:
Client Onboarding Workflow to help your firm set the tone for client engagement.
Individual Tax Return Workflow to guide your team when filing Individual tax returns.
Year-End Review Workflow to help your employees conduct an annual review of client books.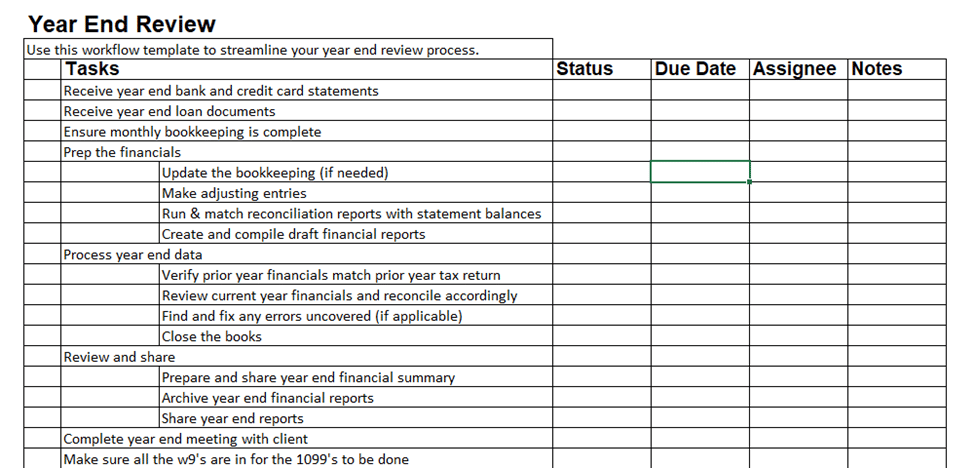 Types Of Accounting Workflow Management
Workflows are sequential when the end of one task (step) triggers the start of the next task in an orderly manner. The second task can only start when the first has been completed, and the third step only begins when the second is completed.
But you might ask, what if some tasks in the accounting process are best done concurrently?
Well, that's where this type of accounting workflow falls short. The period between such steps costs more time than necessary. In such cases, the next type of workflow is more suitable.
This type of workflow is best for when your team needs to perform multiple tasks in the same accounting process simultaneously. Since the tasks are not ordered, and the first step doesn't have to be concluded before commencing another, this workflow allows your team to achieve multiple milestones in an accounting process simultaneously.
Why You Need Accounting Workflows
You do need accounting workflows to:
Delegate work effectively
Much has been said about delegating work to free up capacity for those things only you can—or need to—handle. But not enough about the nagging fear that your new employee might not deliver work to your standard.
Workflows can help you with that. By breaking processes down in their order of performance, it becomes easier for anyone to run with them and achieve the same results. And you can rest assured that things can run well without unnecessary hand-holding.
Provide Consistent Client Deliverables
Workflows help you break work down and equip employees to excel in areas they are not so familiar with since following documented accounting workflows lets them know what to do, when and how to do it.
This drives consistency across your team so your clients get the same quality of work every month no matter who on your team is doing the work.
Maintain Freedom and Flexibility
Most firm owners struggle with overtime work every week because the firm cannot run properly without them. This reduces your overall productivity, social life and increases the risk of burnout.
When you are able to easily delegate work and still ensure consistent client deliverables, your business will run well without you. It will also help you buy back time for a proper work-life balance, which will help you manage your firm better.
Accounting and bookkeeping firm owners reported that workflow automation enabled them to reduce the time spent on manual tasks by at least 50% in 2022, in this state of accounting workflow automation report.

Scale Your Firm with Ease
"The reward for work well done is more work (money)" says Will Wright.
Your firm is as good as the systems it runs on. If you don't implement the proper systems your firm will struggle to grow.
Streamlining your accounting processes will make it much easier for you to double, triple, or even quadruple your firm without any growing pains.
What You Should Include in Your Accounting Workflow
Workflows come in all shapes and sizes, but an effective workflow needs the following elements to fly:
Process Checklist: The actions your team takes to complete the tasks in the workflow.
Detailed steps: The detailed process your team must follow to complete each step correctly in the checklist.
Related information:

the resources you need to complete a step in the workflow.

Assignee: The person that is responsible for performing each step in the process.
You may be interested in:
7 Basic Accounting Workflow Templates (+ Free Diagrams & Flowchart)
Manual Or Automated Accounting Workflow: Which is Better for You?
Manual Accounting Workflows
Manual workflow requires human coordination and a ton of paperwork. You have to be on hand to do the heavy lifting—reporting progress, notifying assignees, storing documents, following up with busy clients, and all that tiring stuff. And oh, you can forget a thing or two (because you are human) and mix things up that can cost you a client, two or three, depending on the gravity of the error.
That's why firms create, optimize and manage their workflows with software. Accounting software is consistent, mood-less, and gives you what you need any day.
How To Create Your First Manual Workflow Checklist
Don't waste time overthinking workflow checklists, like most firms do, until they run out of the motivation to implement them.
Creating workflows for your accounting processes doesn't have to be complex—perfect. You can start one right now.
What accounting process do you currently have in mind, Monthly Bookkeeping? Great!
Can you brain dump all the process that goes into a paper or spreadsheet? Remember, it doesn't have to be perfect.
Let's create an accounting workflow checklist for monthly bookkeeping work:
Get a piece of paper or open your spreadsheets.

Set a timer for 5 minutes. This will help you stay accountable and prevent you from overthinking this process.

Start listing everything you do to help your clients do theirs, assuming that the client has been onboarded already.

Arrange them in a step-by-step order from the first step to the last.

If you missed a step? Simply add it where it belongs and keep it moving.
Are you done? Cool! What do you have on your page?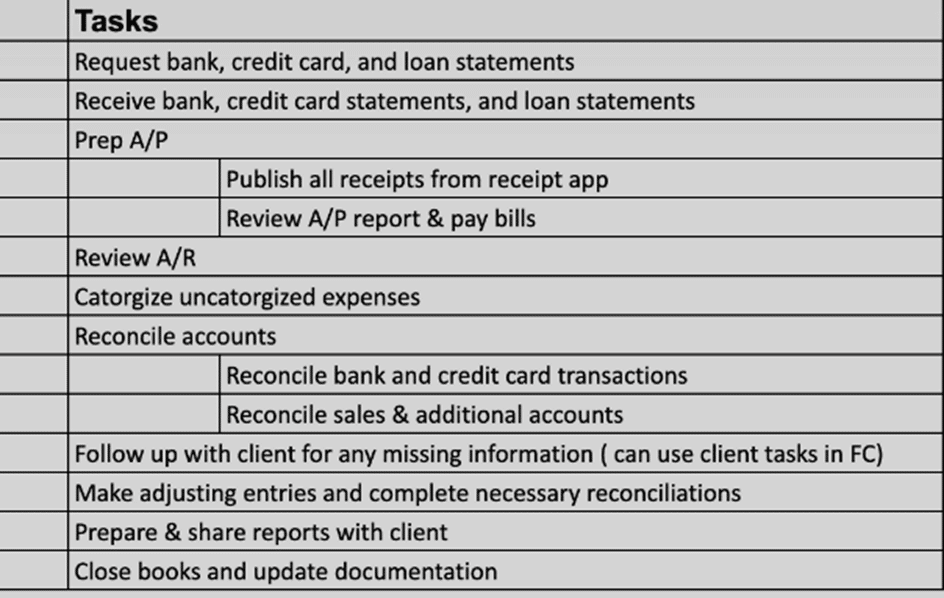 Here's the outcome from our end. Is yours the same? Why not, if not? Let us know in the comments section.
Once you sort that out, you can:
Assign the steps to relevant team members
Link client documents with relevant information.
Automated Accounting Workflows
Automated accounting workflows handle your team's repeatable tasks from start to finish to keep things moving nice and smooth. Since they are machines and are not subject to human challenges, they rarely mix things up, which helps you to conserve your strength to focus on the 20% of work that brings 80% of your results—The vital few over the trivial many.
Accounting workflow tools provide your team the platform and all you have to do is:
Decide the workflow you want to create.

Enter the name in the space provided.

Add and assign tasks to relevant employees.

Upload client documents in the space provided
How You Can Use Accounting Workflows in Your Firm
Your team can leverage accounting workflows in several ways, but the benefits you get ultimately depend on the particular software you use. Using Financial Cents as an example, your team can:
Create Workflows from Checklists
Save time by using a library of best practice workflow checklists to quickly streamline your accounting processes.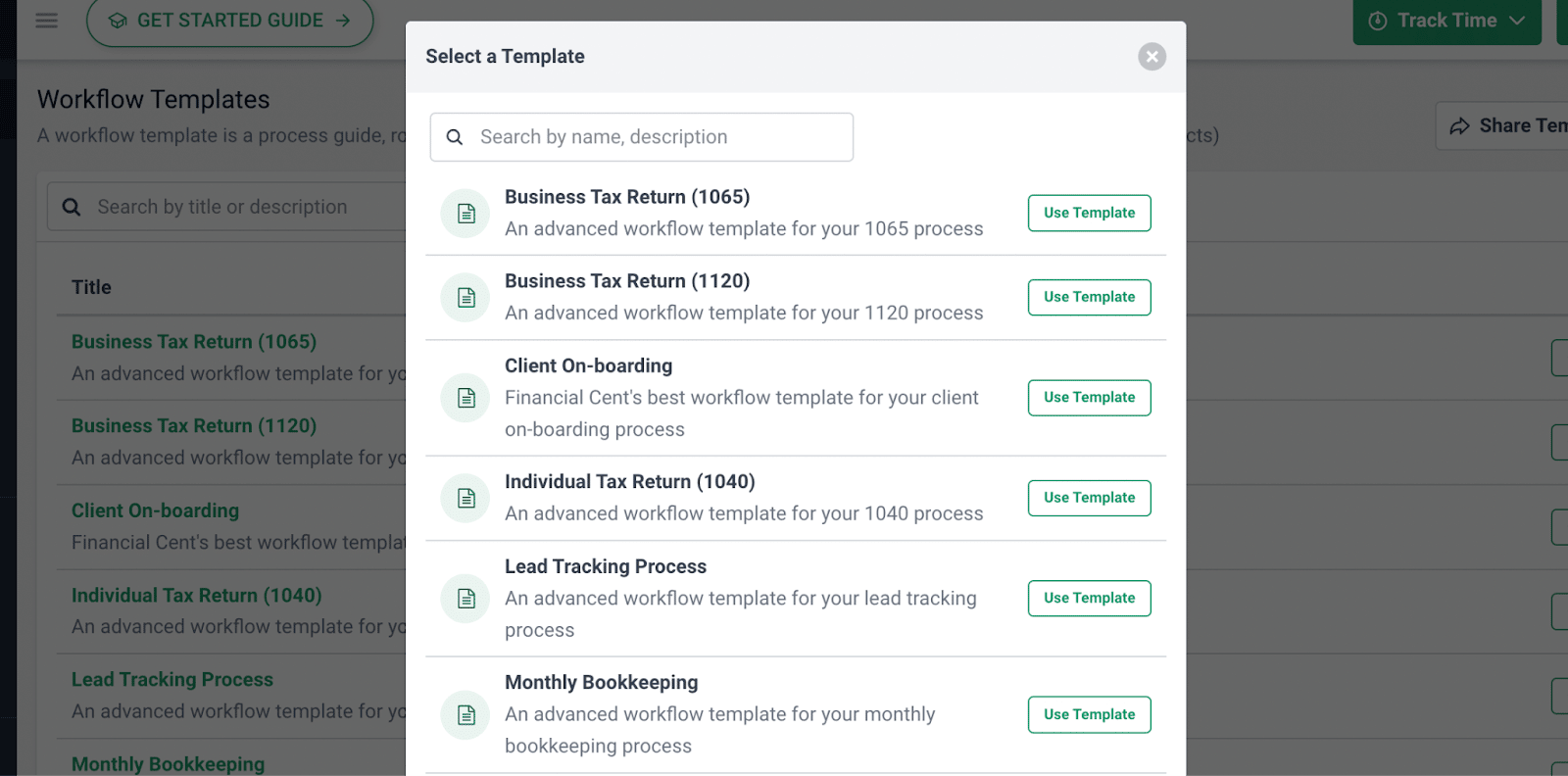 Once created, you will be able to view and track the progress of the work on your workflow dashboard.
This is where the work gets done in Financial Cents. Your team will have their own personal to-do lists to see what they need to work on and you will have a universal view to track the status of everyone's work in real time.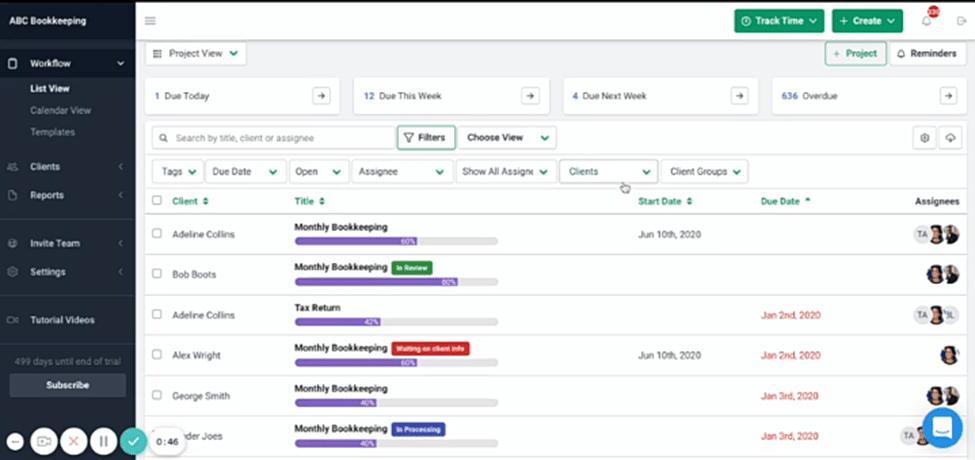 You can also use filters to filter down your view and run custom reports. For example, you can run a report to see all work waiting on client information or in review.
You can store client data (Documents, usernames, passwords, social security numbers) on the work so your team members can access them to get their work done.
All these allow your team to:
Effectively collaborate on work

And get their work done on time
More resources for you:

Download – Our Library of Workflow Checklists
 
Read – How To Quickly Create Your Accounting Workflow Checklists

Listen – Learn How To Systemize Your Accounting Firm with Jessica Fox
How To Manage Accounting Workflow with Software
Creating your accounting workflow checklists are important. But that is not all. You also need a solution to help manage your workflow checklists. You need a system that will allow you to easily:
Delegate the work.

Track the status of that work.

Measure team performance.

Reassign work to balance capacity.
What Makes a Good Accounting Workflow Software?
Any accounting workflow software can benefit your firm, but getting a tool that feels tailor-made for your team at a good price is where many workflows software come up short.
The following questions will help you choose a tool that serves your specific business goals.
Is It Easy to Use?
The reason you're trying to streamline your operations is because there is already so much to do. The last thing you want is to add a tool that takes your team months to understand and implement. The earlier your team can use the tool; the higher your chances of maximizing its benefits.
James Castaldo speaks of Financial Cents' ease of use and simplicity.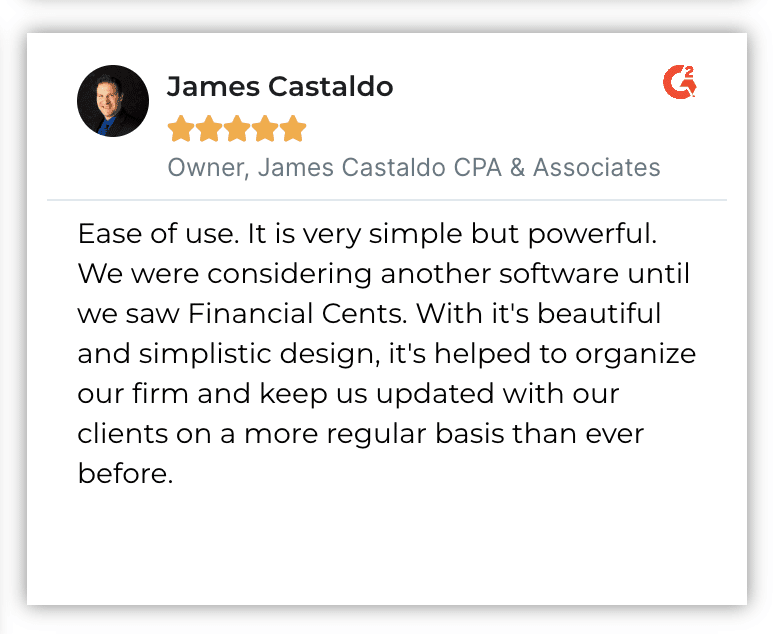 Does it Integrate with Other Relevant Software?
Integrating all your digital tools to boost efficiency is essential for workflow management software. You don't want to have important information siloed off and have to manage several different client databases.
For instance, Financial Cents' integration with QuickBooks makes it easy for users to import client data from QBO to Financial Cents and keep it in sync.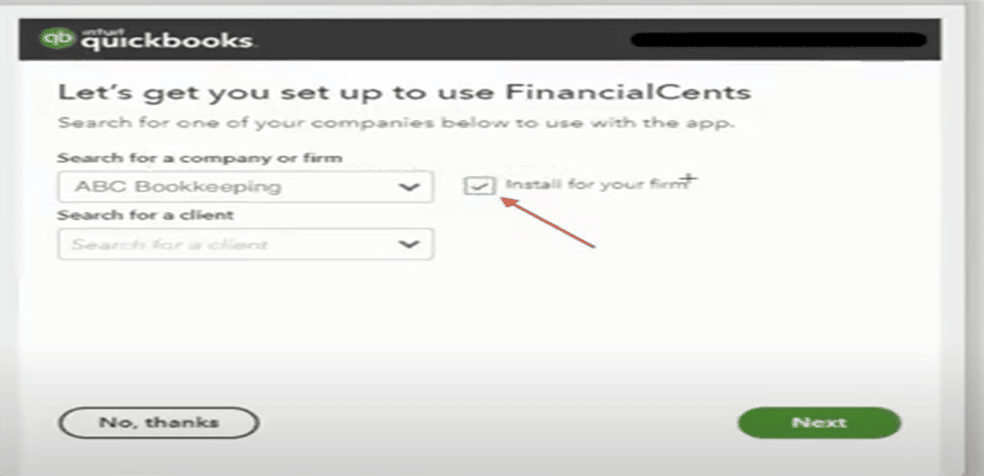 You probably already work with several digital tools. You might need to use more as your firm grows. Choosing an accounting workflow manager that lets your team do so much from one place will further help you streamline your accounting processes.
Does it Allow You to Track Progress?
An effective accounting workflow software should allow you to see tasks at a glance, know the status of your clients' work and who is working on it. This is essential to ensuring nothing slips through the cracks so you hit all your deadlines.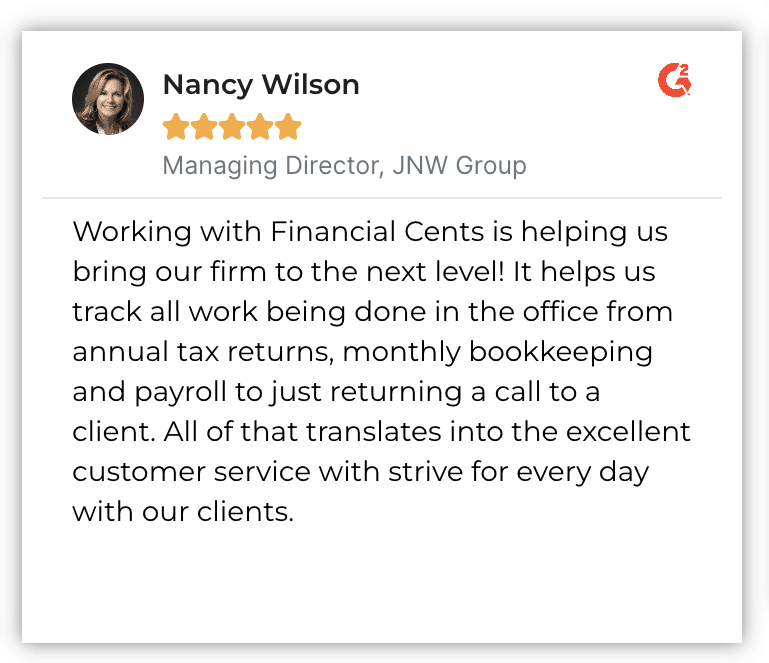 Is Their Customer Support Within Reach?
Choosing the best accounting workflow software under the sun wouldn't add much to your firm if your team can't figure out how to use it correctly.
If you can't easily access tech support a lot can go wrong for your firm.
Check the company's website, or look them up on Capterra, G2, or the good old Google. Most customers are eager to share their experiences on these platforms and you'll know what to expect if you decide to go with it.
You should also consider if it has has a ChatGPT integration which makes accounting and Bookkeeping tasks and workflow creation easier.
More resources for you:
3 Steps To Optimize Your Accounting Firm's Workflows [& 4 Major Benefits]
3 Internal Workflows Every Accounting Firm Needs To Streamline & Scale Their Firm
Why Do You Need a Workflow Tool?
Here's your chance to remind yourself of the reason you're in the market for an accounting workflow software. Now, stack your pain points or desired results against the benefits each accounting software promises.
Two Tips to Guide Your Accounting Workflow Management
Document your workflows
It seems obvious but it bears repeating that documenting your workflows might take you a fair bit of time. But it's a small price to pay for the level of results it gives your team. Besides, you don't need to squeeze out an extra minute to document your workflows.
You can simply set your screen to record you as you do a client's work, and when you're done, share the video link with your team. Read more about how to use video to document your workflows here.
Refresh your Workflow
As your firm grows, your team might find better ways of getting things done. When that happens, check in with your workflow checklist to ensure they're still in sync with your new accounting processes. Chances are that your old processes are causing bottlenecks already. This is your chance to adjust them to fit the current accounting processes.
Build your Accounting Workflows with Financial Cents
Unless it's part of an exercise routine, walking several miles for a meeting when you can use a taxi is pointless. Why would you want to bury your team in paperwork and spreadsheets when workflow software can help you create, and manage your workflows at scale?
With an accounting workflow software like Financial Cents, you can manage all your accounting processes from top to bottom in one place.
More resources for you:
8 Accounting Workflow Checklists To Streamline Your Firm
Two Reasons to Use Financial Cents FOR FREE Today:
Financial Cents Makes It Easy to Get Work Done 
Beyond the accounting workflow checklists, Financial Cents lets you delegate tasks, see who is working on what, and collaborate with your team. This helps you to track client work and hit your deadlines.
Financial Cents Makes Using Your Templates Easy 
Managing templates is as important as creating them but it gets overwhelming. With several templates to work with, your employees can spend significant time looking for which template to use for a task. That's why Financial Cents creates a central location to store all your templates so that employees can pick and use them.
Create and Manage Your Workflows with Financial Cents Today to save five (9) hours per employee every week.